For those of you who simply could not wait until Selection Sunday to find out what the Selection Committee was thinking, the top-16 teams were revealed in a sneak preview on February 11th. This was not a crystal ball previewing exactly which schools will be protected seeds on March 11th…although 3 of the #1 seeds from last year's preview DID become #1 seeds last Selection Sunday (Gonzaga/Kansas/Villanova). Rather, it served as a peek behind the curtain at what the committee was thinking and what criteria they were using in their analysis of everyone's body of work. HoopsHD's Jon Teitel got to chat with Selection Committee member Tom Burnett about this week's Southland Conference tournament and "the intent to schedule".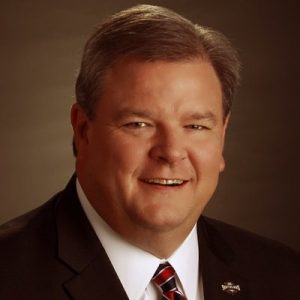 How many hours/week were you working on selection stuff last month, and what changes would you recommend to keep your fellow committee members from losing their sanity on Selection Sunday? You tend to lose track of the hours but in my 1st year on the committee as the season started if felt like I was attempting to watch everything out there even though it is impossible. As we progressed into January there is still a lot of viewing going on because conference play was starting, but by February it starts to narrow down so that you can focus your scrutiny on the best teams. I would guess that in 30 or so years of working in a conference office I have never watched as much basketball in my life.
In 2002/2003 you spent back-to-back years working for the New Orleans Local Organizing Committee on the Men's Final Four and Super Bowl XXXVII: how did these 2 amazing events compare to each other? Obviously they are both big events at such a spectacular venue with the Superdome. It was big-time competition so to have a front row seat for a lot of that was a special part of my career that I will always value. I draw upon that experience to this day and apply it to different kinds of events that I work on.
Which primary conferences are you assigned to this year, and how much weight do you give to input from representatives of these conferences? My primary conferences this year are the MWC/MAC/SoCon/Big South. As much as I would like to be an expert on all of them you need guidance from the people in the trenches. I am very familiar with that role: as a representative from the Southland I spent the past few years in the role of giving insight to the Selection Committee about teams like Stephen F. Austin.
What are the major categories that have the biggest impact on a team's seed (big road win, bad home loss, other), and why are they more important than other categories? There is so much data out there that it is like drinking from a firehose! The easy answer is all of the above but I honestly think that is the real answer. Every committee member has the latitude to prioritize the information however they wish and can change the way they do that during the season. There is no question that scheduling is a huge factor so we use a term called "the intent to schedule". When you look at teams (especially at the mid-major level) who tried to challenge themselves with road games against Power 5 competition, that is important to me: when I get in the committee room I will figure out exactly how to prioritize it. The flip side is a little harder to define if you do not schedule difficult teams…but I know it when I see it.
This season the committee has implemented a new 4-tier system that emphasizes the location of wins/losses: has it made your life easier/harder, and do you think that this new system renders the "eye test" a thing of the past? As a conference commissioner for the past 15 years I can tell you that RPI has been a big part of my life. I do not know that I have had a "eureka" moment but as other members have said, RPI is a way to sort information and put teams into a different kind of order. I do not have the direct comparison of the old system vs. the new system but am looking forward to being in the committee room next week. As far as the "eye test", the committee does not use that phrase and I have never uttered those words myself in the past. I see it used by the media and bracketology-types but when we see a great team we know it.
What role do injuries (such as Michael Porter Jr.)/suspensions (such as Terrence Phillips) have on the seeding of a team who has had to deal with such obstacles (like Missouri, even if you cannot speak about them specifically)? The committee takes player absences very seriously and we want to know everything we can about player (and perhaps even coach) availability. It has been an unusual year as we have seen: there are always injuries but as we have seen in the news some programs have had other issues as well. It is probably not the #1 overall parameter but is used on a case-by-case basis. During our conference monitoring calls throughout the year it is a huge part of our conversation: who is out, what was the competitive impact of their absence, when will they return, etc.
If a team wants to make the tourney, are they better off scheduling decent teams who they think they can beat, or great teams who they can only hope to upset, or a nice mix of both, or other? In my view it is a mix of both. When a team challenges themselves in non-conference play early on that is the 1st impression we will get of them. Certainly as we proceed during conference tourneys we will see how the programs stack up. It ties back to "the intent to schedule": the committee has talked about going on the road as being an important factor so I want us to hold ourselves to those standards. We will see where the committee lands next weekend.
The Southland Conference tourney starts on Wednesday in Katy, TX, and will feature 7 teams with overall winning records: what should fans be most excited about when they tune in, and care to offer a prediction as to who will win it all? The commissioner is never good at predictions but I think it will be 1 of our most competitive tourneys ever. There is a great story with a Nicholls State team who has not won a title in 20 years, after last year wen we had a great story with New Orleans winning the title after rebounding from Hurricane Katrina. Stephen F. Austin was very impressive in non-conference play and you have a SE Louisiana team who has not had this kind of success in more than a decade. It is wide-open and a bit top-heavy so it should be very competitive. I am struggling with it because it is my baby and I cannot be there to enjoy it: I will be the most interested observer from a distance!
Earlier this year NCAA tournament media coordinator David Worlock stated that for the 1st time you and the other committee members will see many other rankings on the official team sheets in addition to the traditional RPI (such as BPI/KPI/KenPom): have you made great use of these advanced metrics in the past, and do you have a favorite 1? In my role as commissioner I am interested in every metric out there to see how teams compare against the rest of the field. I have been a KenPom subscriber in the past and it is all valuable information. For convenience purposes more than anything they now appear on the team sheets but we have access to other data as well to enhance what we do. There is a longer-term issue about whether/how to combine predictive/results-based metrics but each committee member uses it to different degrees. I am a big proponent of it.
For the 2nd straight year the selection committee unveiled its top-16 seeds in February: what was the reaction like to this year's unveiling, and what was the most interesting part of this year's snapshot? We have seen so much competitive parity this year that the top-16 reveal was good…for about 5 minutes! Within a week it was pretty clear that we might have come up with a different decision only 7 days later. It was my 1st go at it but I thought the process was interesting. My biggest takeaway is that after the unveiling we wad up the paper and throw it away, but at that moment in time there was a consensus as to what we were all thinking. Anything can change.
What was your reaction to all the news that was reported during the past couple of weeks concerning the college basketball FBI investigation? I cannot speak for the Selection Committee but as a stakeholder in college athletics for a long time and speaking for our own conference, a lot of us are very concerned about what we saw/read. I admit that we did not have any advance information and are reacting similarly to that in the public square. I am more curious as to where the bottom is because the indication is that we just might be scratching the surface. It is such a great sport with a world-class championship: I could not be more honored to work on it so anything that puts that at risk gives me great concern. I hope that all of us can get this fixed and make it much better going forward.