On Saturday Murray State beat Belmont 68-51 in the OVC title game to become the 1st team to earn an automatic bid to next week's NCAA tournament. The Racers had a losing record in 2017 but bounced back this year to go 26-5 and claim the school's 1st NCAA tourney bid since 2012. Earlier today HoopsHD's Jon Teitel got to speak with SR PF Terrell Miller Jr. about almost beating Auburn in December and what it means to win a title.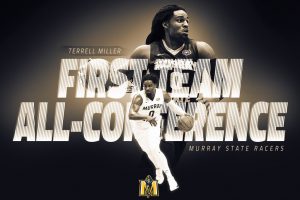 In 2016 you were an NJCAA All-American at Southwest Mississippi Junior College: what made you choose the Racers? When I came here on my visit I saw the type of offense they had, the support they had from the fans, and I grew close to the coaching staff.
You play for Coach Matt McMahon: what is the most important thing that you have learned from him? He taught us that you really have to work hard to get anywhere in life. We come in every day prepared to work and never take a day off.
Last December you had a game-high 24 PTS/15 REB in a 4-PT loss to Auburn: where does that rank among the best performances of your career, and how close did you come to pulling off the upset? It was definitely 1 of the best games of my career: I had another good game last year against Ole Miss (27 PTS/10 REB/4-6 3PM in a 5-PT loss on the road). We learned from the Auburn loss and got better from it: we felt that we had the game in our hands before they pulled away in the final minutes.
After putting up 18 PTS/18 REB in a win over Jacksonville State on Friday, in the OVC title game on Saturday you scored 11 PTS in a win over Belmont to clinch an automatic bid: what did it mean to you to win a title, and what was the reaction like when you got back to campus? It meant a lot to me: that is what we have been preparing for all season. It was our main goal coming into this year and we really worked hard for that. When we got back to campus everyone showed us so much appreciation: the fans have loved us on/off the court so it feels great right now!
In the past couple of weeks Jonathan Stark (who led the conference in scoring for the 2nd straight season) was named conference POY/conference tourney MVP: what makes him such a great player? He works hard and it shows. He is 1 of our leaders and leads by example: he deserves every single award that he has received.
Since losing 2 out of 3 in mid-January your team has won 13 games in a row: what has been the key to your team's success over the past 6 weeks? Great focus: we have been locked in on defense. Every practice we go out and compete hard against each other.
You have finished in the top-10 of the conference in RPG during each of the past 2 years: what is the key to being a good rebounder? You just have to be a dog and go get it. You need the heart to go get the ball when it comes off of the rim. As a big man that is what I bring to the table.
Your team's 30.6 3P% allowed is top-10 in the nation: how has your defensive strategy been so effective at preventing long-range shots? We just move when we are on the side of the ball. In practice we follow the ball, which helps us run teams off of the 3-PT line.
I usually think that playing with a FR PG is a recipe for disaster, but how has Temetrius Morant (12.6 PPG/6.6 RPG/6.4 APG) been able to come in and run the show right from the start? He gets rebounds, makes good passes, and has a high basketball IQ, which is what separates him from a lot of freshman. He is long/athletic and can get to the basket.
What kind of seed do you think that you deserve, and what kind of seed do you think that you are going to get? I do not know exactly how the seeding works but I will just be ready to play against whoever we get to face. I think we should be around a #10 seed but might end up as a #11 or #12 seed.