On Tuesday South Dakota State beat in-state rival South Dakota 97-87 in the Summit title game to earn an automatic bid to next week's NCAA tournament. The Jackrabbits won 18 games last year before losing to #1 seed Gonzaga in the NCAA tourney, but this year they are 28-6 and claimed the school's 5th NCAA tourney bid in the past 7 years. Earlier today HoopsHD's Jon Teitel got to speak with FR SG David Jenkins Jr. about winning the Summit title this week and being named conference ROY last week.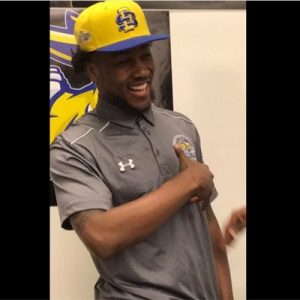 You grew up in Tacoma, WA: what made you choose the Jackrabbits? Coach TJ used to be an assistant coach at Washington and I have known him for awhile. He gave me a scholarship offer after my junior year but the only thing I knew about South Dakota is that it was cold! He made me another offer after I went to prep school and we just kept building our relationship.  I finally realized that he was the only coach in the nation who wanted me.
Last year you played at Sunrise Christian Academy with a bunch of teammates who will also be in this year's NCAA tourney (Isiah Jasey at Texas A&M/Derrick Walker at Tennessee/Matt Haarms at Purdue/Samba Ndiaye at Charleston): how did being around all of this great competition improve your own skills? It helped prepare me because I got to go against top players each and every day, which I also did during AAU ball. I remember playing Vermont Academy when they were the #1 team in the country, and we beat them.
Coach TJ Otzelberger was named 2018 conference COY last week: what makes him such a good coach, and what is the most important thing that you have learned from him? He is not too worried about winning/losing: he cares more about his players. We had a conditioning test earlier this year and 1 of our guys could not make it: he just cared about the progress of his players even if it would end up costing us a win. He really believes in us no matter what. I had a terrible game in our conference tourney opener and he sat me. He knew that I would have a bounce-back game if I was more aggressive, and I did.
The awards continued last week as you were named 2018 conference ROY: what did it mean to you to receive such an outstanding honor? It is obviously a blessing but I could not have won it without my teammates. They keep telling me to be aggressive on the offensive end night in and night out.
In the Summit tourney title game on Tuesday you scored a team-high 29 PTS in a 10-PT win over South Dakota: how big a deal is the rivalry, and how were you able to play your best when it mattered the most? The rivalry is huge: my guys told me coming into the season that it would be a big game. We just executed down the stretch even after our best player Mike Daum went out.
Daum ended up being named Summit tourney MVP for the 3rd straight year: what makes him such a great player? Just his ability to score at such a high clip both inside and out. He is 1 of the best shooters I have been around in a long time: when he actually misses a shot I am surprised. He can shoot over defenders, pump-fake, and makes FTs at a very high rate.
The other 4 starters on your team (including Daum) are all juniors/seniors: how have you been able to fit in with these veterans? My guys believe in me the same way I believe in them. They do not treat me as a freshman. A big part of my success was the maturity I gained from my year at prep school.
Your 1st 2 road losses this season were to the 2 best teams in the state of Kansas (Kansas/Wichita State): which of these projected tourney teams impressed you the most? I would say Wichita State: even though we competed with them (eventually losing 95-85) they are really good defensive team. I feel that we had a bad game against Kansas (a 98-64 loss). Even though the Jayhawks are a high-level team, I think that the Shockers would be harder team for us if we end up having a rematch in the NCAA tourney.
Your team is ranked in the top-10 in the nation in FGM/3PM/FTM/REB/PPG: what makes your team so successful on offense? A big part is to get in our individual work in and be in the gym all of the time: FTs before practice, extra shots after practice, etc. Coach sometimes makes time for us to get extra shots up during practice.
What kind of seed do you think that you deserve, and what kind of seed do you think that you are going to get? I feel that we should get a #12 or #13 seed. We were a #16 seed last year (after going 8-8 in conference play during the regular season) but we went 13-1 in the league this year. A better seed would help so we could play a team that we can beat and then try to make a run.