On Tuesday Charleston beat Northeastern 83-76 in OT in the Colonial title game to earn an automatic bid to next week's NCAA tournament. The Cougars lost last year's tourney title game by 9 PTS but bounced back this year to win 26 games and claim the school's 1st NCAA tourney bid since they made it 3 years in a row from 1997-1999. Earlier this week HoopsHD's Jon Teitel got to speak with assistant coach JD Powell about losing an NIT title in the final seconds as a player at Clemson and winning a Colonial title in OT as a coach at Charleston.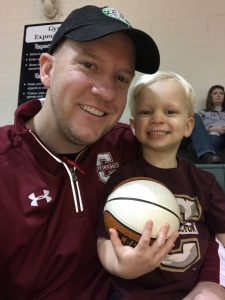 You went to college at Clemson: how were you able to make the progression from team manager to walk-on to scholarship player, and what will you do if you end up playing the Tigers next week?! I have always wanted to be a college coach since I was a kid. I was not heavily-recruited coming out of high school so I figured the next-best thing was to go be a manager at an ACC-level school. Coach Larry Shyatt held walk-on tryouts and was not crazy about any of the guys who tried out.  He asked me if I wanted to be a walk-on and my answer did not take long because it was a dream come true. It was a great time for Clemson basketball and we ended up making the NIT title game that year. I have faced the Tigers 4-5 times thus far in my coaching career so I am pretty used to playing them.
In the 1999 NIT title game Geno Carlisle made a STL/layup/FT to complete a 3-PT play with 4.7 seconds in a 1-PT win by Cal: where does that rank among the most devastating losses of your career? It was hard but it made me realize that you have to enjoy the moment. I have been in college basketball for almost 20 years but next week will be my very 1st time in the NCAA tourney. I have had a lot harder losses: just 1 year ago we lost the CAA title game and to see my son crying after that loss was difficult.
You are a basketball lifer who has done a little bit of everything at several different schools: how did you 1st get into coaching, and what do you hope to do in the future? When I got done playing I assumed that I would be done with the sport because I was burned out. I got a job in the retail industry and was making a lot of money…but I hated it. I left to take an internship with the D-League team in Greenville called the Groove: I was making $25/game…and loved it. To be at Charleston and see how the city has gotten behind us has been incredible. Like every assistant coach I want to eventually become a head coach: I have a vision of how I want to run a program but the key is to love your guys/take care of them/be part of their lives. In 20 years we will get together and celebrate this team because we are so connected.
You have spent the past few years as an assistant to Coach Earl Grant at Charleston: what makes him such a good coach, and what is the most important thing that you have learned from him? I have thought a lot about this over the past 1-2 weeks. He got the job in September of 2014, which is unheard of to be hired so close to the start of the season…and we proceeded to have the worst season in school history (9-24). He helps our young men believe in themselves more than they ever thought they could. Our togetherness as a unit helps us beat teams who are more talented than us. He created a great culture of service: guy care more about each other and cheer for each other, we laugh together and cry together, etc. I have known him for 19 years ever since we were roommates at former Charleston Coach John Kresse's basketball camp.
In the 2017 NIT you had a 7-PT loss to Colorado State: what did your team learn from that game that you think can help them this March? We learned from the NIT loss but probably even more from the CAA title game loss the week before. We celebrated making the NIT: we had a watch party, cheered when they announced our name…and then realized we had to get on a plane the next day to fly to Colorado! The biggest thing we learned is that you have to live in the moment. When we lost the CAA title game we just wanted to get back there. We were not guaranteed to get back there so we were excited to beat William & Mary in the semifinals to finally get the opportunity that we had been waiting for.
This season your team is among the top-10 in the nation in terms of fewest turnovers: how do you coach a team to take care of the basketball? 1 thing that really helps us is that our primary ball-handlers are juniors/seniors, led by the best player in the CAA (SR G Joe Chealey). After every game we discuss our 5 standards, 1 of which is taking care of the ball. Since those 5 standards are controllable our guys have bought into it (including contesting shots, defensive rebounding, etc.). There is no magical formula in practice: we just consider it our basketball/our possession.
Your roster features players from several different states throughout the Southeast as well as a couple of international players from Nigeria/Senegal: what sort of recruiting philosophy do you have? We are in what many travel guides consider to be the #1 city to visit in the US, which is a big thing we talk about in our city. We feel that if we can get you on campus to see our facilities, we will have a good chance of success in getting you to sign here. If you draw a circle around our city going out 6 hours in each direction, that is our main focus. Earl's message is to simply try to be great within our region by signing guys within a 6-hour drive of campus.
In the CAA title game last Tuesday Chealey scored 32 PTS (including 16-16 FT) in a 7-PT OT win over Northeastern to clinch your school's 1st spot in the NCAA tourney since 1999: how much of a home-court advantage did you have while playing in North Charleston, and what has the reaction been like on campus this week? We did not lose a game on campus all year long, which carried over to North Charleston. There were 8000 people at the title game…and probably 7950 of them were cheering for us! When they originally made the decision to have the tourney in Charleston several years ago, it was due to the fact that there was nice weather…and perhaps there was also a thought that it would not be unfair to the other teams in the conference because we did not have a great record back then. Even with 5 minutes left in regulation you could feel the crowd willing us to win the game. It was an incredible atmosphere and a huge advantage for us.
You lost to a pair of great mid-majors on the road in non-conference play this season (Rhode Island/Wichita State): which of these projected tourney teams impressed you the most? At the time Wichita State was just a buzz-saw. Our all-conference forward Jarrell Brantley got hurt a few days before our game against the Shockers, which made it really hard for us. They posted us up in such a physical way that they were hard to guard. Coach Grant was an assistant in Wichita for a long time so to be there with him was incredible. By the time we got to Rhode Island we had adjusted to life without Jarrell and were up with 2 minutes left before letting them off the hook.
What kind of seed do you think that you deserve, and what kind of seed do you think that you are going to get? I really believe that we are a #12 seed. You hear about the importance of injuries (such as guys like Bonzie Colson at Notre Dame/Donte Grantham at Clemson). We had some bad losses back in November before winning 11 consecutive games in the 11th-best conference in college basketball. We have won 14 of our last 15 games even though our RPI might not be as high as last year/next year because we were not in a high-level tourney this year. I am in charge of scheduling and can tell you that getting teams to play us is not very easy! With that being said, I could see us as a #13 seed based on our tier-1/tier-2 wins: the strength of our league from 1-10 is the best that I have seen during my 4 years here. I hope we end up on the #13 line but the great thing is that we are having a huge party on Sunday and will be glad to go wherever they send us.