On Sunday Lipscomb beat Florida Gulf Coast 108-96 in the Atlantic Sun title game to earn an automatic bid to next week's NCAA tournament. The Bisons won 20 games last year but took it up a notch this year to go 23-9 and claim the 1st NCAA tourney bid in school history. Earlier this week HoopsHD's Jon Teitel got to speak with Coach Casey Alexander about his difficult non-conference schedule and winning a title without a single senior in the starting lineup.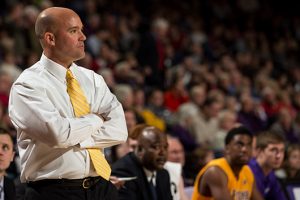 You made the Belmont Hall of Fame after playing for Coach Rick Byrd, then spent 16 years as his assistant in Nashville: what makes him such a great coach, and what is the most important thing that you ever learned from him? He is extremely well-prepared and is brilliant with Xs and Os. The thing I learned the most is not to compromise the values of the program.
You made 4 NCAA tourneys during your final 6 years as an assistant: what is your favorite memory of your time in the tourney? Just going to the 1st 1 will always be my best memory. We played a UCLA team in 2006 that made the title game before losing to Florida. As far as a most significant moment, it was almost beating Duke in 2008 (the Blue Devils won 71-70).
You began your head coaching career at Stetson in 2011: was it weird to get hired away by conference rival Lipscomb in 2013? When I went to Stetson I was coming over from a Belmont team that was also in the league at that time. I am not sure which job switch was more awkward, but I think the familiarity with other schools from being in the league helped me get both jobs. In my opinion there is no way that I would have been hired at Lipscomb directly from Belmont, but I think the 2-year buffer in between helped a bit.
In 2016 you went 12-21: how were you able to turn things around only 2 years later? That was a tough season for a lot of reasons: we had a lot of injuries and were over-scheduled so we lost a lot of close games. However, we finished with a .500 record in the league and even won a game in the conference tourney, so it was not as terrible as it seems. It is just the cumulative effect of building incrementally with the same staff. We did not cut any corners and were patient with what we were doing.
This season you faced several good teams on the road in non-conference play including Alabama/Texas/Tennessee/Purdue: which of these possible tourney teams impressed you the most? They were all really good in their own way. At the time Purdue (with a 12-2 record at Christmas) was as good as anyone in the country: they were throttling everyone.  I think that they were the best team that I have ever faced in 20+ years as a college basketball coach.
In the Atlantic Sun tourney title game on Sunday you beat Florida Gulf Coast in their own gym: how did you guys almost blow a 32-PT 2nd half lead, and what was the feeling like in your locker room afterward? We only have 1 active scholarship PG on the roster and he was sitting on the bench for most of the 2nd half with 4 fouls. It was a great atmosphere as the Eagles were playing on their home court but somehow we found a way to finish it in the final minutes. The most joy I have ever had as a coach was seeing my guys celebrate in the locker room.
This will be the 1st NCAA tourney appearance in school history: what was the reaction like when you got back to campus? We did not get back until about 11PM the following night: it was a long wait for us to get home. We thought there would be only 3-4 people waiting to greet us but there were 300-400 people. You have to remember that we have only been a D-1 school for less than 2 decades.
Your entire starting lineup is made up of sophomores/juniors: did you think you were ready to win it all this year, and are you guys just going to be unstoppable next year?! We did think that we had what it would take to win this year. FGCU had more talent and won the league last year but we returned so much talent from last year's 20-win team. We also lost our starting returning PG (Nathan Moran) due to injury so we had a lot of games early in the year as we were still scrambling around with the PG position, but next year he will return along with our other top-6 players from this season.
You have 7 players on the roster from Tennessee: what sort of recruiting philosophy do you have? We will always be as local as we can be, which makes the most sense to me for a lot of good reasons. I think that will be cyclical. We have 2 all-conference players from the area so there is a lot of talent nearby.
What kind of seed do you think that you deserve, and what kind of seed do you think that you are going to get? I think that we deserve a #15 seed but I have no idea what we will get. I know that we are the new kid on the block and they are just trying to fill holes with the teams at the end of the seed list.  However, we will be ready to play wherever they send us.