On Sunday Lipscomb beat Florida Gulf Coast 108-96 in the Atlantic Sun title game to earn an automatic bid to next week's NCAA tournament. The Bisons won 20 games last year but took it up a notch this year to go 23-9 and claim the 1st NCAA tourney bid in school history. Earlier this week HoopsHD's Jon Teitel got to speak with JR SG Garrison Mathews about his team's difficult non-conference schedule and winning a title without a single senior in the starting lineup.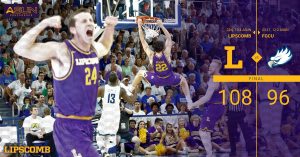 You grew up in Franklin, TN: what made you choose the Bisons? I was actually born in Louisville but moved to Franklin in the 6th grade. I had a few other D-1 offers and took a couple of visits to different schools. I loved Coach Alexander and felt that I fit in well here. It is a huge plus that my family can come see me play in person as well.
What makes Coach Alexander such a good coach, and what is the most important thing that you have learned from him? He is great at Xs and Os, which is awesome. He is intense and really gets into our games. The greatest thing I have learned from him has nothing to do with basketball. He is a big man of God, which is important to me as a Christian, and that is how he treats his players/assistants.
As a freshman you led the team with 15.2 PPG in conference play: how were you able to come in and contribute right from the start? It was tough for me during non-conference play: I did not play much at all. Our star SG Josh Williams ended up tearing his ACL 1 month into the season so I worked my hardest to try to play up to his level and help the team.
This season you faced several good teams on the road in non-conference play including Alabama/Texas/Tennessee/Purdue: which of these possible tourney teams impressed you the most? Tennessee is having a great year but the team that impressed me the most was Purdue. It is super-tough to play at their arena, their big men are great, and it was tough to score against Dakota Mathias.
In the Atlantic Sun tourney title game on Sunday you scored a team-high 33 PTS in a win over Florida Gulf Coast en route to being named 2018 conference tourney MVP: how did you guys almost blow a 32-PT 2nd half lead, and how were you able to play your best when it mattered the most? We were up by 29 PTS at half but Coach told us that the Eagles could come out and beat us by 29 in the 2nd half. They came out after halftime and pressed us all over the court: our PG Kenny Cooper was in foul trouble so it was hard for us just to get the ball over half-court. When Kenny came back into the game he was able to advance the ball and made some clutch FTs.
This will be the 1st NCAA tourney appearance in school history: what was the reaction like when you got back to campus? It was incredible: we had close to 500 students/fans who showed up to greet us when we rolled in at 11PM the following night. It was very loud/exciting and there were a lot of news crews there.
You led the conference in PTS this season: what is the secret to being a great scorer? I do not think it has to do with anything that I did: it is all about my teammates.  They set great screens, know when to pass the ball, and it helps to have a guy like Rob Marberry in the post who can attract off-side help that allows me to get open.
Your entire starting lineup is made up of sophomores/juniors: did you think you were ready to win it all this year, and are you guys just going to be unstoppable next year?! We knew that we were going to be a good team coming into this year after having a 20-win season last year because we returned almost everyone. It hurt us when Nathan Moran needed hip surgery but we had a little chip on our shoulders after losing 3 games in a row toward the start of conference play in January.
In 1962 your grandfather won the NCAA football title as a player at Ole Miss: who is the best athlete in the family, and do you credit at least some of your success to genetics? For sure! My great-great-grandfather was actually Vanderbilt's all-time winningest coach. It was cool to watch the 30 for 30 that ESPN did on the Ole Miss football team a few years ago ("Ghosts of Ole Miss"). My brother is also a great athlete who pushed me to become the best that I could be.
What kind of seed do you think that you deserve, and what kind of seed do you think that you are going to get? I think we deserve a #15 seed. We only have 9 losses and had an RPI that was as high as 23 earlier this year. If we do not get a #15, I will still be happy just to make the NCAA tourney for the 1st time ever.