On Tuesday Wright State beat Cleveland State 74-57 in the Horizon title game to earn an automatic bid to next week's NCAA tournament. The Raiders won 20 games last year but took it up a notch this year to go 25-9 and claim the school's 1st NCAA tourney bid since 2007. Earlier this week HoopsHD's Jon Teitel got to speak with SR SG Grant Benzinger about his favorite birthday gift and his famous father.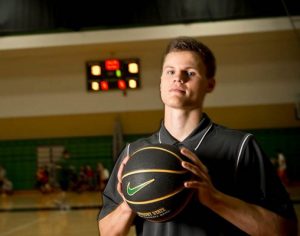 1 of your high school teammates was Trey Stacey, who is now 1 of your college teammates: how long have you 2 known each other, and what made you choose the Raiders? We have known each other since we met at a basketball camp at Moeller all incoming freshman. I remember that he shot the lights out, which motivated me to get into the gym more often.
In January of 2016 you scored 9 PTS in a win over Valparaiso: how on earth were you able to make a 70-foot shot?! That shot was an absolute prayer. I was fortunate enough to have Mark Hughes pass me the ball after he secured the rebound.
You faced a pair of possible Cinderellas in November with losses to Loyola-Chicago/Murray State: which of these fellow tourney teams impressed you the most? They were equally impressive. The leadership on those teams is what separates them from other teams. Everyone in college basketball has talent but not everyone has great leadership.
You finished this season by leading the conference with 88 FT%: what is your secret for making FTs? There is no secret. It is all about the time you put in on your own: sweat equity!
Your team has had to deal with the loss of multiple players during the past year including Ryan Custer fracturing his vertebrae at an off-campus party last April and Justin Mitchell leaving the team 2 months ago for personal reasons: how have you been able to stay focused on the court with so much happening off the court? It was sad to lose both of those guys: I pray for them every day in some way. In order to stay focused through all of it, we just tried to remember why we were playing the game. I always try to think about why I am playing and what actions will align with my goals, and the rest of the team feels the same way.
Last week FR C Loudon Love was named 2018 conference ROY: how has been able to come in and contribute right from the start? He has been incredible: the MVP of our season for sure. The guy puts in the work: he is a gym rat and loves the weight room. Wright State is in great hands for 3 more years with him.
The awards continued with Coach Scott Nagy being named 2018 conference COY: what makes him such a great coach, and what is the most important thing that you have learned from him? Coach is the best because he is the humblest man in the world. His perspective on life is something that everyone needs to have: it is contagious.
In the Horizon tourney title game on Tuesday you scored a game-high 19 PTS in a win over Cleveland State en route to being named 2018 conference tourney MVP: how were you able to play your best when it mattered the most, and have you ever had a better birthday gift (after turning 22 last week)?! I told 1 of our coaches that if we made it to that championship game I was not going to let us lose it again. Wright State has now been to 4 of the past 6 Horizon tournament championship games and this time we finally got the win. It was important to me for our program to get that win for all of the guys before me who did not win it. It was for all the great players in the past who laid the foundation for us to be successful. There is no better gift in this world for a 22-year old basketball player!
Your father Todd spent almost a decade as a pro baseball player and caught the final out to win the 1990 World Series with Cincinnati: who is the best athlete in the family, and do you credit at least some of your success to genetics? I would have to say that my mom might be the best athlete in the family. She is still amazing at golf/darts/bowling: she is a stud! My dad is still in great shape too: he kicks my butt in ping pong all the time. I was blessed with great genetics but I think the biggest factor in my success is my mindset. My parents built that mindset with my upbringing so they get all of the credit.
What kind of seed do you think that you deserve, and what kind of seed do you think that you are going to get? We think that we deserve higher than a #15 seed but it does not really matter. We will more than likely get a #15 seed, which is okay with us. Everyone is talking about who we have to play…but they forget that the other team has to play against us too!