On Sunday Georgia State beat Texas-Arlington in the Sun Belt tourney title game to earn an automatic bid to this week's NCAA tournament. The Panthers made the CIT before losing to Texas A&M CC in 2017, but bounced back this year to claim the school's 2nd NCAA tourney bid in the past 4 years. Earlier this week HoopsHD's Jon Teitel got to speak with SR F Jordan Session about winning the conference tourney and preparing to face Cincinnati on Friday afternoon in Nashville.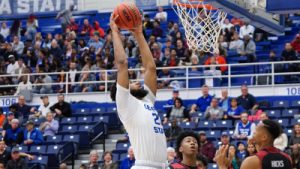 You play for Coach Ron Hunter: what makes him such a good coach, and what is the most important thing that you have ever learned from him? He is a good coach because he is a high energy guy. He coaches with a lot of fire and cares about winning. One of the most important things I have learned from him is how to play the right way.
In the 2015 NCAA tourney your team had a 1-PT upset over Baylor: what is the key to success for a Cinderella in March? I think the key to our success in that game was our defensive effort. Our defense was great that night and a lot of players stepped up big when their time was called. We will need to do the same this week against Cincinnati.
In the 2017 CIT you scored 13 PTS in a loss to Texas A&M CC: what did you learn from that game that you think will help you this March? Last year's postseason was a tough one. We all wanted the season to end differently and after that game I learned how quickly the season can end if you do not give it your all. I think that our desire to keep playing will help us a lot in March because we all like playing together and think that we have a good chance of winning.
After starting only 18 games during your 1st 3 years you have started all 34 games as a senior: what is the biggest difference between coming off the bench vs. being a starter? Being a starter has been huge for me, especially with my confidence on the court. It helps a lot when I can go out there and just play so I focus on that. I have worked really hard the last three years and this just shows that my hard work/dedication have paid off.
In February you scored a career-high 22 PTS/10-14 FG in a win over Louisiana-Lafayette: was it just 1 of those scenarios where every shot you put up seemed to go in because you were "in the zone"? The game was really hyped up so we had to lock in or get into "the zone". My teammates kept finding me on some good looks and I was just able to finish on the offensive end. At this part of the year every game is fun because you have to be "in the zone" each and every night.
In the Sun Belt tourney title game on Sunday you scored 7 PTS in a win over Texas-Arlington: what did it mean to you to win the title, and what was the feeling like in your locker room afterward? It is an amazing feeling to be able to win a championship with all of the guys I basically grew up with here at Georgia State. Guys like Jeff, Devin, D'Marcus, Malik, and Isaiah are all guys who I have played with for a long time and we have talked for a long time about how we were going to win a championship. We always said that we had all the pieces to win but it is truly a blessing and a tribute to the benefits of all of our hard work over the past couple of years.
SO SG D'Marcus Simonds was named 2018 conference POY/conference tourney MVP: what makes him such a great player? D'Marcus is a walking bucket! He is a great player because he competes every night on both ends of the floor, can score on all three levels, and is a willing passer/rebounder.
You and Isaiah Williams are the only 2 seniors on the roster: how will you prepare the younger guys for the task at hand? I think that me and Zeke will help the younger guys on the team by reminding everyone to just have fun and appreciate being in the moment. At the same time, we have a big task at hand and want to win games in the NCAA tournament, and I think that our team is good enough to do it. When we are having fun and playing with passion on both ends of the floor we are really hard to beat.
What do you think about getting a #15 seed, and do you expect to have a lot of fans in attendance since it is only 250 miles from Atlanta to Nashville? I think that we will have a pretty good crowd in attendance. We really need all of our fans there: their energy really gets us going. I think that there will be a lot of people coming, especially since Nashville is not far from Atlanta.
What do you know about Cincinnati, and what will it take to beat the Bearcats? I have only seen Cincinnati play once this season so I do not really know that much about them yet. I do know that they are a #2 seed and a pretty good defensive basketball team, so it will be a battle of two really good defenses. We are looking forward to getting ready to play. It is going to take another great defensive effort/good offensive effort by everyone on our team.