On Saturday NC Central beat Hampton 71-63 in the MEAC tourney title game to earn an automatic bid to this week's NCAA tournament. The Eagles won 25 games and made it to the 1st 4 before a 4-PT loss to UC-Davis in 2017, and despite going 19-15 this year they were good enough to claim the school's 3rd NCAA tourney bid in the past 5 years. Earlier today HoopsHD's Jon Teitel got to speak with SR F Pablo Rivas about winning the conference tourney and preparing to face Texas Southern tomorrow night in Dayton.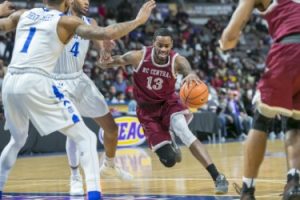 (photo courtesy of Mark Sutton)
You were born/raised in Panama: how did you 1st get into basketball, and what made you choose the Eagles? My dad was a big-time basketball player so I looked up to him. I played soccer at 1st but later tried to follow my dad's basketball legacy.
You play for Coach LeVelle Moton: what makes him such a good coach, and what is the most important thing that you have ever learned from him? He is so smart/humble: he always comes up with a good game plan for us to execute and emphasizes all the right things that it takes to win. We try to avoid making minor mistakes because that is what good teams do.
Last year you led the conference with 69.8 FG%: what is the key to being a great shooter? Just working hard, getting into the gym, and plenty of repetition. You have to build up your confidence because sometimes the crowd is against you on the road and you have to stay focused.
In the 2017 1st 4 you scored 12 PTS in a 4-PT loss to UC Davis: how close did you come to winning the game, and what did you learn from that loss that will help you this March? We had played well all season long but kind of lost a sense of who we were at the wrong moment. It was great to be on a big stage so we just need to play together as a team and take it 1 possession at a time.
In November you only played 7 minutes in an 8-PT loss to Marshall: what impressed you the most about your fellow NCAA tourney team? That is a tough place to play. They are a great team as well and we battled with them all game long.
In January you had a career-high 23 PTS/14 REB in a win at Coppin State: where does that rank among the best all-around games of your career? That game meant a lot to me because it helped establish my confidence so I learned to just keep attacking.
After entering the MEAC tourney last week as a #6 seed you had to win 4 games in 5 days to clinch the title: how exhausted were you by the end of the weekend, and what was the reaction like when you got back to campus? I was very exhausted so my legs were dead tired. When I got back I took an ice bath and just tried to take care of my body and recover. Almost everyone is on spring break but the people who did stick around were going crazy at our Selection Sunday party at the Student Union: it was a great event.
You ended up being named 2018 conference tourney MVP: how were you able to play your best when it mattered the most? I just locked in more than I ever have in my life. I felt like I had to take a bigger role this time around and I am proud of myself for being able to do that.
You are 1 of 4 seniors on the roster: how do you help prepare your freshman backcourt of Jordan Perkins/Reggie Gardner for the challenge ahead? I try to act as a big brother as much as I can and give them advice…just like my older teammates did for me in the past. I simply tell them to run the team, play relaxed, and not turn the ball over. Sometimes they try to do too much but that is natural for freshmen.
What do you know about Texas Southern, and what will it take to beat the Tigers on Wednesday night in Dayton? They just won the SWAC tourney and are a good team, but so are we so it will be a good battle.