On Sunday Penn beat Harvard 68-65 in the Ivy tourney title game to earn an automatic bid to this week's NCAA tournament. The Quakers only won 13 games in 2017, but bounced back this year to go 24-8 and claim the school's 1st NCAA tourney bid since 2007. Earlier today HoopsHD's Jon Teitel got to speak with SR PG Darnell Foreman about winning the conference tourney and preparing to face Kansas on Thursday afternoon in Wichita.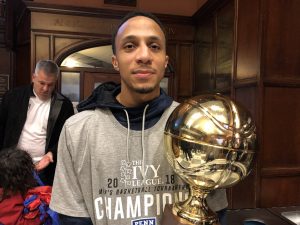 You grew up in New Jersey: what made you choose the Quakers? I am a local guy from Camden which is right across the Ben Franklin Bridge from Philly so it was a no-brainer for me. I watched many games in the Palestra while growing up and always wanted to be a part of the Big 5. I get a top-notch education and get to do something I love so it is pretty great.
You play for Coach Steve Donahue: what makes him such a good coach, and what has he told you about his own run to the Sweet 16 with Cornell in 2010? He is very understanding of all the responsibilities that student-athletes have as well as the social media era we live in. He holds everyone accountable but not with a harsh tone: he comforts us, which is what we need since we are critical of ourselves. He says that past seasons are part of the past: we are a new team.
You played in all 28 games as a freshman: how were you able to come in and contribute right from the start? I just tried to bring energy/effort, especially on the defensive end. I was still adjusting to the pace/physicality of the college game but Coach Jerome Allen thought that I could do something to help the team.
In November you scored 13 PTS in a loss to Villanova: what impressed you the most about your fellow NCAA tourney team from the Big 5? It was amazing to see how easily they can get points from different players throughout their entire rotation: there are no weak links. They compete hard against whoever they are playing, whether it is a top-25 team or a low-major team.
In the Ivy tourney title game on Sunday you scored a game-high 19 PTS in a 3-PT win over Harvard: how worried was the team when you were down by 13 PTS in the 1st half, and how on earth were you able to respond by going on a 24-0 run? It was not a sense of worry: we just lost our energy and needed to find a way to get some momentum. We stayed patient and once we saw that our fans stayed with us we were locked in.
At the end of the 1st half you made a deep 3-PT shot over a double-team to beat the buzzer and give your team a 34-32 halftime lead: did you think the shot was going in, and where does that rank among the highlights of your career? It is up there just because of the time/situation/magnitude. I think that all of the shots I take are going in and I had a good feeling once it left my hand, which is why I started jogging toward half-court. I am grateful to be a part of the long list of great Palestra memories.
AJ Brodeur was named 2018 conference tourney MVP: what makes him such a great player? He is so versatile and can score in so many ways. He also bring the energy on defense and is a great teammate.
You and Caleb Wood are the only 2 seniors in the starting lineup: how do you try to prepare the younger guys for the challenge ahead? This is a new experience for me but I have been playing for a while so I am just telling the guys to enjoy the process and play as hard as they can.
During your 1st 3 seasons your team won 9 games, then 11, then 13: when you were starting this season 4 months ago did you honestly believe that a 24-win season was even a possibility? Yes! I am not arrogant but we worked so hard to get here and winning 20 games was our goal. We set the bar pretty high and we accomplished our goal.
What do you know about Kansas, and what will it take to beat the Jayhawks in Wichita on Thursday afternoon? They are a top-5 program with a track record of pros/Hall of Famers. It will be tough for us since it will almost be like a home game for them in Wichita, but we like when the odds are stacked against us and are willing to go toe-to-toe with them.