Tennessee lost to South Carolina in the SEC women's tourney earlier this month but still earned an at-large bid to this week's NCAA tournament. Head coach Holly Warlick has now led the Vols to 6 straight NCAA tourneys since taking over in 2012, but this year she has someone new to rely on in the form of assistant coach Bridgette Gordon. As a player at Tennessee in the late-1980s under Coach Pat Summitt she pretty much owned the sport: 1986 co-SEC ROY, 4 consecutive trips to the Final 4, and winner of the 1989 Honda Sports Award as the top female college basketball player in the nation. HoopsHD's Jon Teitel got to speak with Coach Gordon about winning a pair of NCAA tourneys as her team prepares to host #14 seed Liberty on Friday afternoon in Knoxville.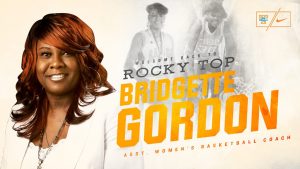 In 1986 you were named co-SEC ROY: how were you able to come in and contribute right from the start? I attribute it to my work ethic and the competitiveness that I always had. I was able to win a spot on the team and the whole atmosphere prepared me for what I was up against in the conference.
You set an NCAA record with 4 consecutive trips to the Final 4 at Tennessee: what made Pat Summitt such a great coach, and what was the most important thing that you ever learned from her? Her ability to get the best out of each and every 1 of her players. She knew how to cater to each individual by pushing certain buttons. She developed me into the player she saw that I could be. We were ranked 13th in the SEC my freshman year and Georgia was the favorite but we were able to upset them: when we lost in the Final 4 it just made me want to get back there the following year.
Even though Louisiana Tech had beaten the Volunteers in 11 of their previous 12 meetings entering the 1987 NCAA tourney title game, you scored 13 PTS and held the Lady Techsters to their lowest point total in school history during a 67-44 win to clinch the 1st title in Tennessee history: how did you play what Louisiana Tech coach Leon Barmore called "the greatest defensive game I have ever seen"? That was the good old hard days when you played the final the very next day after the semifinals. We could have thrown in the towel after beating Long Beach State in the semis but we walked through everything that Louisiana Tech did. We knew their plays better than they did and were calling them out in advance: they were just starstruck! It came from us imagining what their plays would be like.
In the 1988 Olympics you won a gold medal with team USA: where does that team rank among the best that you have ever been a part of, and what did it mean to you to win a gold medal? That is the ultimate goal when you are representing the USA and you have an entire nation rooting for you back home. It meant so much to me and will always remain dear to my heart: there is nothing else like it. It was special to take on all of the big challenges with Russia back in the Olympics. As a little girl I aspired to win a gold medal: even today it seems surreal. When they played the anthem after we won it was amazing: I still get a chill thinking about it now. I remain the best of friends with all 11 of my teammates: it was 12 ladies competing for 1 goal. God bless Coach Kay Yow: she was a great woman and we wanted to win it for her. To have your dream come true is just so special: Pat told me when she was recruiting me in my living room that it would happen if I just played hard enough.
In 1989 you were named SEC POY and won the Honda Sports Award as the top female college basketball player in the nation: what did it mean to you to win such outstanding honors? When I look back at it they were great individual accomplishments and it showed that all of my hard work/dedication had paid off, so that was something I loved. Being a champion comes 1st…but individual awards are a close 2nd.
Take me through the magical 1989 NCAA tourney:
You set an NCAA tourney record by making 17 FTs in a win over Long Beach State: what is the secret to making FTs? I kept saying to myself that I would just put the icing on the cake and try to win another title for Pat before we graduated. We panicked during the 1988 Final 4: our hotel was 1 hour away from Spokane, it was pouring rain, and we were stuck in traffic without a police escort! Our senior class was determined to go out with class: they called us "money players".
You tied a championship game record held by Cheryl Miller/Cynthia Cooper with 27 PTS in a win over Auburn en route to being named tourney MOP: is it true that Coach Summitt got angry at you during a 2nd half timeout and told you to play harder and that you made 4 straight shots despite having a tooth knocked loose that later required a root canal to save it?! I had to pinch myself and ask if this was real! If I had to do it all over again I would choose Tennessee every time. Those stories are true. I got hit when I went up for a rebound and even though I was focused on winning a title I came over to the bench holding my tooth: I was worried about looking like Michael Spinks! Pat ignored the rest of the team and told me that Ruthie Bolton wanted it more than me: she pushed my button and the light just went on for me. We could not get by them for a few years due to their match-up zone.
You led the SEC in scoring in 1988 and you still hold the school record with 338 career STL: how were you able to balance your offense with your defense? Just due to my competitiveness: I hated to lose more than I loved to win and had so much pride that I did not want to let anyone score on me. Melissa McCray was a great on-ball defender so I just had to get in the passing lanes and steal the ball. Pat gave me an autographed photo and wrote that I was "1 of the best players she ever coached". I am competitive in everything I do: washing dishes, playing cards, etc.
You won 7 straight Italian League Championships as a pro player from 1990-1996: how was your team able to be so dominant for such a long period of time? We had some of the better Italian players on the team, but it was also due to my competitive mentality. My 1st year as a pro we were runner-up to Clarissa Davis, who I could not stand losing to in college when she was at Texas: I just told my team that we would not lose to her again. I have won titles at the high school/college/pro/Olympic level, and the European Cups were also the biggest of the big. I hope to go down in history as a winner. Pat played a huge part in my life: God blessed me with a lot of talent but she just brought so much out of me.
In 2007 you were elected to the Women's Basketball Hall of Fame: where does that rank among the highlights of your career? I was also elected to the Lady Vols Hall of Fame in 2001 and had my jersey retired on 1/27/90 so I have had a lot of highlights throughout my life. I lost my father during my 1st year as a pro and Pat was with me the whole time: talk about a roller coaster of emotion. I think about all of my teammates/coaches: there are so many people who helped me along the way and made me who I am. I played against boys while growing up and they all challenged me. I am just blessed to have received so many prestigious awards. The only 1 that is missing is Springfield: hopefully 1 day they will come knocking.
You worked as an assistant coach at several different schools before joining your alma mater as an assistant to Holly Warlick last July, and it seems to be working as the Lady Vols won their 1st 15 games this season: how do you like being a coach, and what will it take to get back to the Final 4 for the 1st time in a decade? I try to instill success in our young ladies because I have been there/done that. My father is a native Jamaican so I have always had to work for everything I got: my upbringing has a lot to do with it. It is a great honor to work for Holly at a place where I helped win 2 titles as we try to add to the legacy. We could not duplicate what we did with Pat because this is a whole different generation: the NCAA now will not let us develop them the way we did back in the day. I was a center growing up but they spent hour after hour with me in the gym to teach me how to dribble and develop me into a forward. Holly has a vision of how we will win and we have had some great recruiting classes so we just need to have some nasty defense/relentless rebounding. That is why I came back and we have all the ingredients to win a title: the kids just need to be willing to put in the work.