Earlier this month Belmont lost 68-51 to Murray State in the OVC tourney title game, but even though their season has come to a close the awards keep rolling in. On Monday JR wing Dylan Windler was named an Academic All-American. On the court he averaged 17.3 PPG/9.3 RPG for the Bruins: off the court he averaged a 3.84 GPA while majoring in Accounting. Earlier today HoopsHD's Jon Teitel got to speak with Dylan about facing Providence/TCU earlier this season and leading the conference in FG%.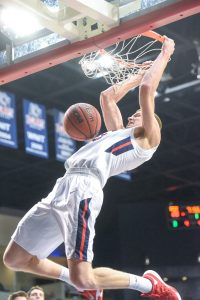 You grew up in Indiana: what made you choose the Bruins? They showed a lot of interest in me from the start and came to my high school while I was a sophomore.  It was appealing, especially because other schools were not showing as much interest. Once I got to meet the coaches and get to know my players during my campus visit it seemed like I was able to fit into the direction they wanted the program to go in. It is a great school in the booming city of Nashville where there is a lot of stuff to do.
You play for Coach Rick Byrd: what makes him such a great coach, and what is the most important thing that you have ever learned from him? He does a lot of great things and 1 of the best offensive minds in the nation. He has a great ability to adapt from game to game: it feels like we are running a new offense in every game we play. He gets players started in the system early and by the time we are juniors/seniors it is like 2nd nature to us. He raises us to be good men and sets a good example for us both on/off the court.
You played 32 games as a freshman: how were you able to come in and contribute right from the start? We had a really good team with guys like Evan Bradds/Craig Bradshaw so I just slid into my role as a freshman around all of that great firepower. They lacked a little athleticism on the wing and I just tried to fill the gap with defense/rebounding.
Last month you had 36 PTS/20 REB/14-17 FG in a win over Morehead State: where does that rank among the best all-around games of your career? I would say it is up there: those kind of stats are not easy to get and to do that against a quality team is a big accomplishment.
You finished the year by leading the conference with 55.6 FG%: what is the secret to being a great shooter? Repetition for sure: you have to get a lot of shots up and feel confident with your stroke. Shot selection is also a big part of it: we do not shoot a lot of mid-range shots because Coach Byrd is a big numbers guy and knows that mid-range shots are not the most efficient ones.
In the OVC tourney title game you scored 10 PTS in a loss to Murray State: how did the Racers pull away from you after you build a 5-PT lead early in the 2nd half, and how do you think that they will do against West Virginia on Friday? They are a really good team who got really hot at the end of the season. They have 2-3 really good players like Jonathan Stark/Terrell Miller/Temetrius Morant. The title game was a game of runs but we just did not make enough shots down the stretch. I think that they have a good shot against West Virginia: they are 2 high-caliber teams who have good athleticism inside.
You had road losses to 2 other NCAA tourney teams last November in Providence/TCU: which of those 2 teams impressed you the most? We lost to Providence on a 3-PT buzzer-beater but they are both really good teams. TCU has an all-around good team even with their starting PG hurt. I think that both of them could make a run this month.
Do you consider this season to be a success (due to winning 24 games), or a failure (due to not making the postseason and having to play Georgia yet again), or something else? It is tough to define an entire season but I cannot say it is a failure. It was frustrating to not make the NCAA tourney but we had a really good year so I would call it a success, although it obviously did not end the way that we wanted it to.
Earlier this week you were named 2nd-team Academic All-American: how do you balance your work on the court with your work in the classroom? All student-athletes know how hard it is to find the perfect balance to excel at both aspects at the same time. The key is time management: there are only so many hours in the day.
You have a 3.84 GPA while majoring in Accounting: how did you pick that subject, and what do you hope to do with your degree? I have always been a big math guy dating back to middle school. I later took some finance classes that I liked and met some people who made a good living out of it so that is why I took that route. I am planning to do an internship this summer with PricewaterhouseCoopers for a couple of months, get my CPA after I finish college, and then try to do something in public accounting to get started.