Earlier this month Elon lost 86-79 to Delaware in their CAA tourney opener, but even though their season has come to a close the awards keep rolling in. On Monday JR PF Tyler Seibring was named an Academic All-American for the 2nd year in a row. On the court he averaged 15.4 PPG/6.8 RPG for the Phoenix: off the court he averaged a 3.95 GPA while double-majoring in English/Economics. Earlier this week HoopsHD's Jon Teitel got to speak with Tyler about facing Duke/Charleston earlier this season and making shots from behind the arc.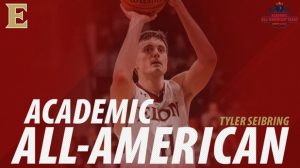 You grew up in Illinois before coming to the Phoenix to play for Coach Matt Matheny: what makes him such a good coach, and what is the most important thing that you have ever learned from him? His knowledge of the sport is really strong because he has been around the game for such a long time. He does a great job of passing down information to us: it just radiates from him.
In 2016 you were named to the CAA All-Rookie Team: how were you able to come in and contribute right from the start? There was a lot of trust placed in me to start that season. We put in a lot of hard work and I was given an opportunity to play right away: everyone on the team helped me a lot.
In February of 2017 you scored a career-high 30 PTS/8-11 3PM and had 12 REB in a 1-PT 2-OT loss to Northeastern: was it just 1 of those scenarios where every shot you put up seemed to go in because you were "in the zone"? It was a really intense game: obviously the result was not what we wanted but it was still a lot of fun. It felt like the basket kept getting bigger after each shot that I made.
In your season opener this year you scored 11 PTS in a loss at Duke: what makes the Blue Devils so great and how far do you think that they can go this month? The structure that they have put in place for their team is 2nd to none. They have earned their reputation and continue to further it each year. They have so much talent that anything is on the table: they could beat anybody.
In January you scored 17 PTS in a 5-PT win over Charleston: what is your scouting report on the Cougars as they prepare to face Auburn in the NCAA tourney on Friday? They can defend and have a lot of different guys who can score. PG Joe Chealey is a really talented player who can create/score, Jarrell Brantley can play both inside/outside, and SO SG Grant Riller is a good young scorer so they will be tough to beat.
You beat Delaware last month to improve to 14-11 this season before losing 7 in a row to finish 14-18: what the heck happened?! It was a tough stretch for us. A lot of guys lost their confidence after the 1st couple of losses in February and we just could not recover. We will try to get better and start next year off well, which is what we are training for right now.
Your 40.8 career 3P% is #2 in school history: what is the secret to making shots from behind the arc? If I knew the secret then I would probably be #1! For me it is about getting into the gym and shooting as much as possible to get the practice. The team puts me in great positions to knock down shots.
In 2017 you were named 3rd-team Academic All-American and earlier this week you were named 1st-team Academic All-American: how do you balance your work on the court with your work in the classroom? A lot of the skills you pick up in basketball are transferable to other parts of your life. Honestly, it helps me balance my affairs because I need to keep a rigid schedule. We have great academic advisers but you need a lot of discipline to succeed as a D-1 athlete.
You have a 3.95 GPA while double-majoring in English/Economics: how did you pick those 2 subjects, and what do you hope to do with your degree? My freshman year I had those 2 classes in my course load and enjoyed each of them because they are so different from each other. I go from 1 class where I am comparing GDPs of different countries to another class where I am comparing literature from different authors. I am not exactly sure what the future holds but these 2 subjects help me discover things that I find fascinating about our world.
Your brother Trevor/sister Katy played college basketball: who is the best athlete in the family? They both played at D-3 Illinois Wesleyan. We all play a little differently but if you are talking strictly about the best athlete then I would pick my younger sister Bri: she will run and jump us under the table!