Grand Canyon had won 5 games in a row entering the WAC tourney title game last Saturday before losing 72-58 to New Mexico State.  The Lopes' 22-win season was rewarded with a trip to the CBI but they came up just short in a 5-PT home loss to Mercer on Wednesday night. However, there are still accomplishments to cheer for as SR SG Joshua Braun was named an Academic All-American earlier this week for the 3rd year in a row. On the court Joshua completed his college career by averaging 14 PPG/81.3 FT%: off the court he averaged a 3.60 GPA while getting his MBA. Earlier this week HoopsHD's Jon Teitel got to speak with Joshua about choosing business school and where he thinks the program will be in the decades to come.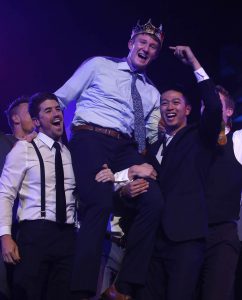 You play for Coach Dan Majerle: what makes him such a good coach, and what is the most important thing that you have ever learned from him? His competitiveness and understanding of the game is what makes him a good coach. One of the most important things I have learned from Coach Majerle is that you can never stop working and let up.
You led the team in PTS as a freshman: how were you able to come in and contribute right from the start? I think God provided an awesome opportunity for me from the start and I was able to gain some confidence early on in my career.
In the 2015 CIT you scored 11 PTS in a 5-PT loss to NAU: how did it feel to have a big-time postseason game in Arizona not involving the Sun Devils/Wildcats?! To be honest it was not the best feeling because we were unable to pull out the win.
This season Casey Benson transferred in after playing for Oregon in the Final 4 last year: how have you enjoyed having your childhood friend as a teammate? It was great being reunited with Casey! It was awesome being able to start my basketball career with him at a young age and now we have ended up finishing our college careers together!
In January of 2016 you scored a career-high 34 PTS/7-9 3PM in a win over Utah Valley: was it just 1 of those scenarios where every shot you put up seemed to go in because you were "in the zone"? Definitely! You love those games when the rim looks 5 times wider than normal and you have the confidence to shoot from anywhere.
You played a pair of NCAA tourney teams this year in NC Central/New Mexico State: which of these teams impressed you the most? NMSU impressed me the most: they are a good team. They put pressure on you on the defensive end to make mistakes and they really push the ball up the floor on offense.
Earlier this week you were named an Academic All-American for the 3rd straight year: how do you balance your work on the court with your work in the classroom? The biggest thing has always been time management when balancing basketball and academics. It is easy to fall behind or be unprepared for classes when I do not balance my time like I should.
You have a 3.60 GPA while getting your MBA: why did you choose business school, and what do you hope to do with all of your degrees? I chose business school because I believe it gives me a lot of options/opportunities for career paths. Honestly, I am unsure what I would like to do with my degree yet! I am sure there might be some trial and error when it comes to trying new job opportunities/careers but I am confident that I will eventually find the right career for me.
Your father David played college soccer and your mother Kathy played college volleyball: who is the best athlete in the family? Tough question: I am sure I could answer more confidently if I had the chance to watch them play back in college!! My brother Justin is quite the athlete as well.
You were Coach Majerle's very 1st recruit and are the only player who has been part of the GCU program for all 5 of its years at the D-1 level: what is going through your mind as your college career comes to a close, and what do you envision the Lopes program looking like 10-20 years down the road? I am so thankful for the opportunity to play for GCU. I know Grand Canyon will only continue to grow and become a major power in college basketball. 10-20 years from now I hope to see GCU looking like a Gonzaga and being a consistent top-25 program from year to year.