Even when you have 2 alma maters who make the NCAA tourney it does not always work out so well: just ask everyone's favorite Quaker-Wildcat combo! However, sometimes it works out better than expected: just ask Spike Albrecht. After helping his Wolverines almost win the NCAA title in 2013, he spent his graduate transfer year with the Boilermakers and made it to the Sweet 16 before falling to Kansas. Thanks to a miracle shot from Jordan Poole and despite an elbow injury to Isaac Haas, both of his alma maters are still alive and well this week as they prepare for their respective Lone Star State showdowns: Michigan faces Texas A&M on Thursday and Purdue faces Texas Tech on Friday. Earlier this week HoopsHD's Jon Teitel got to speak with Spike about the 2013 NCAA title game and get a scouting report on both of his schools.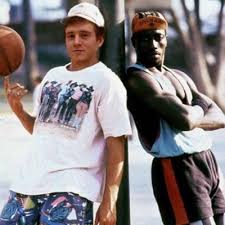 You allegedly earned your nickname at age 5 when you got your 1st pair of baseball spikes and refused to take them off: is this true, and how do you like the nickname? That is true: I wish that I had a cooler story! My 1st love was definitely baseball: I played it from an early age and literally wore those spikes everywhere I went. I wore them to school/church/restaurants/etc. I think Coach John Beilein thought that "Spike" was my real name: I am getting older so am not sure if I should go by Michael or just ride it out as Spike.
In 2012 you were named tourney MVP after leading Northfield Mount Hermon School to the New England Preparatory School Athletic Council Class AAA title: how often did you remind your AAU/future Michigan teammate Mitch McGary (who played for your semifinal opponent Brewster Academy) about that game? I do not give him too much crap for that because winning that award gave me some recognition: if we had not beaten them that night then I might not have ended up at Michigan.
What made you choose the Wolverines? They were by far the best school that I got an offer from. I always say that Coach Beilein was not recruiting me: I was recruiting him! I later had schools like Davidson reach out to me but I was not too concerned with visiting other schools once I heard from Michigan. Ann Arbor was only 3 hours from my house so it was a dream come true to go there.
Take me through the 2013 NCAA tourney:
You tied Sam Cassell by making each of your 1st 9 shots from behind the arc in the NCAA tourney: what is the secret to making 3-PT shots? I wish I could tell you. I had a little bit of luck on my side but I had put in so much hard work/preparation to be ready for my moment. I only played 5-10 minutes that season because the guy ahead of me happened to be the national POY (Trey Burke).
In the title game you scored 17 PTS in 1st half of a 6-PT loss to Louisville: how were you able to play your best when it mattered the most, and do you now feel that you should get a ring after the NCAA vacated the Cardinals' title earlier this year? I was able to do what I did because of the countless hours I spent in the gym over the years. I had envisioned that moment my entire life. I was always someone who was overlooked so I always played with a chip on my shoulder. It is so hard to think about a ring because then every other team who lost to Louisville that season could make the same argument. They beat us on that particular night but it is unfortunate that the title will just sit there empty.
After the title game you tweeted Sports Illustrated Swimsuit Issue cover model/Michigan fan Kate Upton to thank her for attending the game: do you still keep in touch with her, and has Justin Verlander ever knocked on your door in the middle of the night?! Unfortunately we did not stay in touch. I saw my shot, I took it, and it did not work out. I do not regret it and got a lot of laughs out of it.
You and Caris LeVert were named co-captains of the 2015 team: what is the key to being a good leader? There is so much that goes into being a leader but it starts with being genuine and building relationships with people. Not everyone is going to like you when you have to hold other people accountable. I struggled with it at times because it can hurt to tell your friends the truth either on/off the court, but I got better as it as I got older.
In April of 2015 you had surgery on your right hip and 8 months later you announced that you would sit out the rest of the season due to injuries: how did these injuries affect your career, and how is your health doing at the moment? It was a really tough situation: everyone in my family has messed-up hips but I got the worst of it due to the constant pounding I took on the court. I was never able to get back to where I once was but I still got a chance to go to Purdue and earn my Masters degree. I feel all right on a day-to-day basis but if I can avoid a hip replacement in 15-20 years then it is worth it because I want to have a happy/healthy life.
In the summer of 2016 you decided to become a grad transfer: why did you pick Purdue, and was it weird to face your former team in the conference tourney the following March after their terrifying plane crash? When I got my release from Michigan 1 of the 1st teams to reach out to me was Purdue. Family is a huge part of my life and the Purdue campus is only 1 hour from my hometown in Indiana. It had a very similar feel to Michigan: 1st-class program, high-class people, etc. I knew that it would be hard to stay in the same conference and I received some backlash for it, but I just had to do what was best for me at the time. It was really hard to play against my former teammates: some of them remain my best friends to this day. It was absolutely bizarre to play them after the plane crash: I wanted to win because I was a competitive person but when you put things into perspective the game becomes irrelevant after something like that.
Both of your alma maters were top-3 seeds in this month's NCAA tourney and have somehow survived all the madness so far: can you give us a scouting report on these 2 contenders, and who is your pick to win it all? Michigan had me worried for a second because I had them in the title game! They are capable of making a Final 4 run because they are getting hot at the right time and are a match-up problem for most teams. The most impressive thing is their defense: when I was there we could not guard anyone(!), but this year the staff has done a great job and is holding teams to around 62 PPG so I hope they can take care of business this weekend. It is a bummer that Isaac Haas got hurt but they have a lot of other seniors as well, which carries a lot of weight. Seniors have poise and can handle adversity so I do not think the moment will be too big for them. My Final 4 is somehow still intact: Kentucky, Michigan, Purdue, and Duke. I survived the Virginia/North Carolina upsets!
What is your reaction to all of the news that was reported during the past month concerning the college basketball FBI investigation? First off, I am not surprised because it has been a long time coming. People have been well aware of what has been going on in the sport. It is also unfortunate: it is a bit of a black eye for the college game and it sucks. I think that March Madness is the greatest sporting event in the country so to hear some people talk about boycotting it stinks. I hope they can put something in place to make it pure again because student-athletes deserve better.