The Naismith Memorial Basketball Hall of Fame announced its Class of 2018 on Saturday including NBA champions like Jason Kidd/Ray Allen, multiple-time WNBA champs like Katie Smith/Tina Thompson, and a crafty college coach in Lefty Driesell. On the court he won almost 800 games, appeared in 13 NCAA tournaments, and won the 1972 NIT title with Maryland. All he did off the court was create Midnight Madness and save at least 10 children from a burning building: now THAT is a Hall of Fame guy! HoopsHD's Jon Teitel got to chat with Coach Driesell about being part of 1 of the greatest games in college basketball history and how close he came to signing Moses Malone.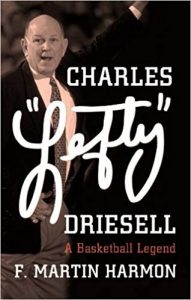 You were an All-State basketball player at Granby High School and played for coach Harold Bradley at Duke: how good a player were you back in the day, and what made Bradley such a good coach? We won the state title in my 1st year there and I was MVP of the state tourney, so I was a pretty good high school player. Coach Bradley taught us the fundamentals and I kind of copied his double-post offense.
In 1957 you became head coach at Newport News High School, where you compiled a 57-game winning streak and won a state title before turning 30: how were you able to come in and have so much success at such a young age? Those kids listened to me because they knew that I had been a good player myself. I started coaching at Granby before coming to Newport News: 1 reason that I got the job was due to a recommendation from Coach Bill Chambers (who won back-to-back titles at Newport News before becoming head coach at William & Mary). Newport News has won more championships than anyone else in the state of Virginia (9 state titles and 6 runner-up finishes from 1931-1964) so they have a great tradition.
What are your memories of the 1969 NCAA tourney as head coach at Davidson (your fellow Hall of Fame inductee Charlie Scott, who had originally committed to Davidson before becoming a Tar Heel, scored 32 PTS/14-21 FG and made a 20-foot shot at the buzzer in a 2-PT win by UNC in College Park)? Charlie and I still talk via phone and are good friends. He said that nobody would ever have known who he was until I made him famous! Charlie helped me sign Mike Maloy and his son Shannon played PG at Ohio State before turning pro.
In October 1971 as head coach at Maryland you began the tradition that is now known as "Midnight Madness": how did you come up with the idea, and could you have ever envisioned that it would become such a national spectacle more than 4 decades later? My philosophy has always been that the harder you work, the luckier you get. We had a great team coming into that season and I knew that we could have just started the following afternoon by running a mile in 6 minutes, but I decided to have them run it at midnight so that we would not have to mess around with it at practice. We had about 700-800 kids come out to watch it, which was exciting. Some of the players later suggested we have a scrimmage…and we had 10,000 people show up! I should have got a patent on it: a lot of stores now have "Midnight Madness" sales! The NCAA did not like it due to the fact that some players might have to go to class the next day if it was on a school night.
What are your memories of the magical 1972 NIT (Len Elmore had a triple-double [16 PTS/15 REB/11 BLK] in a 31-PT win over Niagara to win the title)? Back then there were only 26 teams in the NCAA tourney and you had to win your conference tourney to get in. We played great: it was fun to play at Madison Square Garden.
In July 1973 you broke down the door of a burning building at a seashore resort in Bethany Beach, DE, and saved the lives of at least 10 children: how terrifying was that night, and what did it mean to you to receive the 1974 NCAA Award of Valor? I did not do anything that anyone else would not have done. My friend and I were out fishing at around 2AM: after turning around to see a row of townhouses on fire we ran up and told people to get out. 1 lady did not enjoy us waking her up and she told us to get out before she called the police: we just told her to get out because the building was on fire!
You had a 3-PT OT loss to eventual NCAA champion NC State in the 1974 ACC tourney final, which is widely considered 1 of the greatest games in college basketball history: how devastating was it to miss out on the tourney (since only the conference champ advanced to the NCAA tourney back then)? It was tough because we had also missed out on the NCAA tourney the year before. The teams that win it now have a piece of cake as they might only have to play a couple of teams outside the top-25: at Davidson/Maryland we had to beat the best teams in the East. NC State got a 1st-round bye and only had to win 2 games to win the conference tourney so they were a little fresher than us. The very next year is when the NCAA tourney decided to expand to 32 teams and allow up to 2 teams/conference.
In 1974 you signed Moses Malone but ended up losing him to the ABA's Utah Stars on the 1st day that classes were scheduled to start: what made him change his mind, and could you tell even when he was in HS that he would become a star? He is the best high school big man I have ever seen play, and I have seen a lot of them. I knew that he was going to be a big-time player: if we had kept him around we might have won a few NCAA titles. Utah offered him $10,000 cash to sign with them. He was living in a small house with his mother at the time and he called me up and asked for my advice: I told him to chase the guy out of there and have him come see me. The guy came to see me and said he would give Moses $1 million…but I read the contract and saw that only about $400,000 of it was guaranteed. I told Moses to talk to Donald Dell (1 of the 1st pro sports agents who represented some of my other Maryland players) and that if he waited a year I could get him $2 million! Spencer Haywood (who also turned pro early to join the ABA) was his idol and he wanted to be the 1st player to go hardship right out of high school to the pros.
What are your memories of the 1983 NCAA tourney (you tried playing a slow-down game in a 10-PT loss to eventual national runner-up Houston on their home court)? I thought that we should foul Hakeem Olajuwon because he was a poor FT shooter but they were just a better team than us.
In the 1985 NCAA tourney, eventual tourney MOP Ed Pinckney had 16 PTS/13 REB in a 3-PT win by eventual champion Villanova: did you get a sense that the Wildcats were a team of destiny? We had beaten them earlier that season but were not over-confident. As you can see, we lost a lot of close tourney games to a lot of great teams that ended up making the Final 4.
Take me through the 2001 NCAA tourney as head coach at Georgia State:
Shernard Long scored all 13 of his PTS in the 2nd half and banked in the go-ahead jumper with 11 seconds left in a 1-PT win over Wisconsin: what is the key to a mid-major upsetting a high-major team in March? I do not believe in "mid-majors": that term always bothered me. Some reporter asked me a similar question after that game and I asked him what the difference was between us and the Badgers: we both had Nike uniforms, shoes, scholarships, etc. Even today, look at all of the non-state schools who have made the Final 4 like VCU/Butler/etc. I think that a lot of "mid-majors" play harder schedules than some of the big-name teams.
Lonny Baxter had 19 PTS/14 REB in a win by Maryland: how could you "not have any emotions at all" after spending 17 years with the Terps? That was a tough loss: I wanted to beat them badly. That was probably poor coaching on my part but we were only down 4 PTS at the half. We played a triangle-and-2 defense in the 2nd half to come back against Wisconsin so I tried a diamond-and-1 against Maryland but they just overpowered us.
You were the 1st coach to win 100+ games at 4 different schools, and you were named conference COY at each 1: how were you able to have so much success at so many different programs? I know how to motivate people and teach them the fundamentals. Basketball has been my life since the 2nd grade when I was a manager for the local high school basketball team. I would just outwork other people, which is why I do not like the rules today about how many days you can be on the road. Back then you could recruit 12 months/year and go see kids all the time: I probably went to see Moses 50 times in Petersburg, VA…even though sometimes he would run away from me! 1 coach from New Mexico actually rented an apartment in the area and stayed there for the entire season! I think it makes recruiting harder because in the summertime you can only recruit a couple of weeks here and there, so when you go to a summer league game there are 300 other coaches there and none of them can talk to any of the players.
Your son Chuck was an assistant at Maryland before spending several years as head coach at The Citadel: how much of an influence were you on his own decision to go into coaching, and how proud are you of his success? Chuck was a pretty good high school player who was actually recruited to play at The Citadel but I wanted him around me for 4 years at Maryland. I enjoyed coaching him and he is a great guy and a good coach who knows basketball: he was my assistant at James Madison for almost a decade. The Citadel is a tough place to recruit at but the advantage is that you do not have to go into the service unless you want to and you learn a lot about discipline. I think Duke coach Mike Krzyzewski is the best coach in the country because he was trained at Army: he is a great leader who can motivate his players to go into battle. When I was at Davidson the players needed to have a good GPA/SAT score, so I would recruit guys who were interested in the Ivy League but also needed some scholarship money. You have to use what you got to your advantage and a lot of kids today need some discipline.