If you want to win an NCAA title you need a good coach, a great resume…and a McDonald's All-American. Only 1 championship team since 1979 has not had such a player (Maryland in 2002) and Villanova's Jalen Brunson (2015 McDonald's All-American) continued the trend earlier this week. The 41st annual McDonald's All-American Game took place last week in Atlanta, GA, involving 24 of the best players in the nation who were selected from a whopping 2500 nominees. After Zion Williamson committed to Duke on January 20th, the Blue Devils lead the way with 4 All-Americans, just ahead of Kansas (who has 3). 1 of the 4 teams with 2 All-Americans signed so far is Vanderbilt, who has a big-time big man in Simi Shittu and a point guard extraordinaire in Darius Garland. HoopsHD's Jon Teitel got to chat with Darius about playing in next week's Nike Hoop Summit and winning 4 straight high school state titles.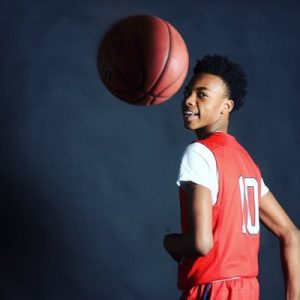 Your nickname is "Boog": who gave it to you, and how do you like it? My parents gave it to me when I was really young. Most people now call me DG: not a lot lot of people call me "Boog" besides my close family but I like it.
You attend Brentwood Academy in Tennessee where you recently won your 4th straight state title and were named state tourney MVP for the 2nd straight year: what is the key to winning championships? Just listen to the game plan every time out. We focused on defense every day in practice and were really detailed in what we did.
In February you announced that you would be attending college less than 1 hour away at Vanderbilt: why did you choose the Commodores over traditional basketball powers like Indiana/UCLA? I want to change the culture there. They are known for academics and winning baseball titles.  It just felt like home to me: I have known Coach Bryce Drew since the 2nd grade and once he was named coach in 2016 I felt that I would go there.
Coach Drew's squad went 12-20 last season and will have 3 key seniors graduating (Jeff Roberson/Riley LaChance/Matthew Fisher-Davis) in a conference that had 8 teams in the NCAA tourney (Tennessee/Auburn/Florida/Kentucky/Missouri/Arkansas/Texas A&M/Alabama): while I am sure there will be plenty of playing time available, how do you hope to get things moving in the right direction in year #1? We have a really great recruiting class with Simi Shittu/Aaron Nesmith and hopefully we can add EJ Montgomery/Romeo Langford. Saben Lee will be a sophomore, we have Joe Toye coming back, and have some good big men transferring in: hopefully we will have enough talent to make the NCAA tourney.
You are 1 of the top-ranked PGs in the Class of 2018: what is the key to being a great PG? Just being yourself. You have to be a leader and stay locked in/humble. I am blessed to be 1 of the best players in the country and will keep working hard.
Last week you had a team-high 11 AST for the East but missed a 3-PT shot at the buzzer in a 3-PT loss to the West in the McDonald's All-American Game: which of your fellow high school stars impressed you the most? On my team: RJ Barrett of course, as well as EJ/Romeo. Everyone played great and deserved to be there: we were just out there to have fun.
Your fellow McDonald's honoree/Vandy recruit Simi Shittu was unable to play due to a torn ACL in his right knee: what makes him such a good player, and do you think he will be healthy enough to play this fall? I think he will be healthy by September. He is a point forward who can do it all. I think he can help us a lot by getting rebounds/running the floor and he is also a really good shooter who stretches the court out a lot.
How are the recruiting efforts going as you try to get unsigned McDonald's honorees Romeo Langford/EJ Montgomery to join you in Nashville?! I think it is going well. I am always in their ears but will leave it up to them: as my parents told me when I chose Vanderbilt, it is their 1st big-boy decision. I would love to play with 2 of the top-25 players in the country.
On Friday April 13th you will play for team USA at the Nike Hoop Summit: what does it mean to you to represent your country, and who are you most excited about playing with/against? It is a true honor to have your country on your chest and it is 1 of the biggest events in high school basketball. I was speechless when I got the call about it. I am excited to play with everyone: there will be a lot of great players there.
Your father Winston was the 1987 MCC POY at Missouri State and played several years in the NBA: who is the best athlete in the family? I think it is me! My dad has a really good resume but I will try my hardest to get where he was: my dream is to make the NBA.