If you want to win an NCAA title you need a good coach, a great resume…and a McDonald's All-American. Only 1 championship team since 1979 has not had such a player (Maryland in 2002). The 41st annual McDonald's All-American Game will take place on March 28th in Atlanta, GA, and the rosters were announced on January 16th after selecting the 24 best players in the nation from a whopping 2500 nominees. After Zion Williamson committed to Duke on January 20th, the Blue Devils lead the way with 4 All-Americans, just ahead of Kansas (who has 3). 1 of the 4 teams with 2 All-Americans signed so far is Kentucky, who has a pair of guards in Immanuel Quickley/Keldon Johnson. Earlier today HoopsHD's Jon Teitel got to chat with Immanuel about being a McDonald's All-American and winning a state title.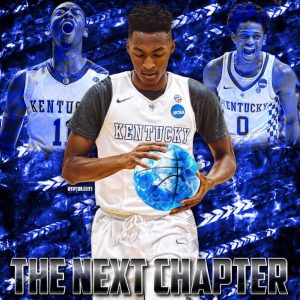 You received scholarship offers from Arizona/Cincinnati/Kansas/Miami but signed with Kentucky last September: what was your impression of Big Blue Madness last fall, and did you get to talk to any former Wildcats like DeMarcus Cousins/John Wall? Big Blue Madness was great: I had a lot of fun. I did not get to talk to any of the former players but it was nice to see them all come back to campus: it is like a family.
You spent a lot of time with Kentucky coach John Calipari on team USA at the FIBA U-19 Basketball World Cup last summer in Egypt: what makes him such a great coach, and what was the most important thing that you learned from him? The way that he pushes his players. My family spoils me a lot but keeps it real and tells me what I need to hear rather than what I want to hear, and Coach Calipari acts the same way.
In the semifinal of that tourney the #1 overall recruit in your class (RJ Barrett) scored 38 PTS in 33 minutes in a 12-PT win by Canada: where does RJ rank among the best players that you have ever faced? He is right up there: many people have him ranked as the top player in our class. He just has the mentality that nobody will stop him, which makes him a really good player.
You are a 6'3" PG with a 6'8" wingspan: what position do you expect to play in college, and how big of an advantage is your huge wingspan on the court? Whether I am playing PG or C does not matter to me: I just want to help my team win. My wingspan helps on both ends of the court, especially on defense where I can deflect passes.
Kentucky's current PGs are Quade Green/Shai Gilgeous-Alexander: are you concerned that it might get a bit crowded in the backcourt if they are not "1-and-done" players who declare for the draft? No: I am not concerned. What Coach Calipari has done with PGs like Wall/Eric Bledsoe is amazing: he just puts all of the best players on the floor.
A couple of months ago you hurt your knee during a 7-PT loss to Mount St. Joseph: how is your health doing at the moment? I am doing really good and feel 100%.
Take me through the magical MIAA "A" playoffs for your John Carroll team:
In the semifinals you scored 22 PTS including a bank shot at the buzzer in a 1-PT OT win over that same Mount Saint Joseph team: where does that rank among the biggest shots of your career, and how your fellow McDonald's All-American Jalen Smith is feeling (he left the game in the 3rd quarter with an apparent head injury)? I beat them 2 years ago on a 3-PT shot, so along with the bank shot those are 2 of the top plays of my career. Jalen is getting better: we were teammates on the East team at the McDonald's Game.
In the title game you almost blew a 17-PT 2nd half lead before pulling out an 8-PT OT win over Boys' Latin: what did it mean to you to win a state title? It meant a lot. I put in a lot of hard work over the past 4 years (as well as many years before that), but for our team to come together and overcome all of the adversity that we had faced was huge.
It is believed to be the 1st time in nearly a quarter-century that two players from Baltimore were named McDonald's All-Americans (Steve Wojciechowski/Norman Nolan in 1994): how competitive is the basketball scene in Charm City these days? It is right up there with any other city. We are really tough/scrappy, especially the guards.
Last week in the 2018 McDonald's All-American Game you had 8 AST for the East in a 3-PT loss to the West: which of your fellow honorees impressed you the most, and what was it like to face the only other Wildcat signee so far (Keldon Johnson from Oak Hill Academy who played for the West)? I guess Nassir Little: he was really good, won MVP, and did not back down from the challenge of guarding Zion Williamson. I already knew that Keldon was a great player and he played really hard that night as well.
Your mother Nitrease played basketball at Morgan State: who is the best athlete in the family? The best athlete in the family is Immanuel Quickley!