There are only a few weeks left for the college kids to impress the scouts before the NBA Draft takes place on June 21st. We will spend that time talking to the stars of tomorrow as they prepare for the next phases of their careers. Daxter Miles Jr. finished his career in Morgantown with 136 games, 1300+ career PTS, and a trio of Sweet 16 appearances. HoopsHD's Jon Teitel got to chat with Daxter about playing for Bob Huggins, attending the Pro Basketball Combine, and what it would mean to him to get drafted.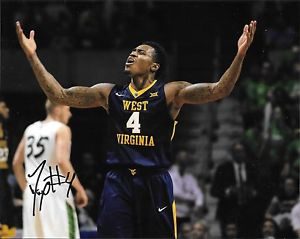 You played for Coach Bob Huggins at West Virginia: what makes him such a great coach, and what is the most important thing that you ever learned from him? What makes Huggs a great coach is that he is not afraid to be himself in any environment and will tell you the truth about every situation. One of the most important things I got from him is to never take how a message is presented to you: instead, listen to the point of the actual message.
You started all 35 games as a true freshman: how were you able to come in and contribute right from the start? I just have that hungry mentality and was determined and very confident in myself!
You made the game-tying basket at the end of regulation in a 1-PT OT win over TCU in January 2015 and made the game-winning free throw at TCU with 4.7 seconds left in February 2017: how excited do you think the Horned Frog fans are to see you finally stop beating up on them?! I was happy that my coach went to me at the end of the game and I was able to execute the play. It showed us that he believed in the young guns. I do not know how the TCU fans felt: you would have to ask them.
Last November you scored a career-high 32 PTS/12-15 FG in a win over Morgan State: was it just 1 of those scenarios where every shot you put up seemed to go in because you were "in the zone"? My teammates were finding me and I was making plays: that is all. The basket kept getting larger as each shot I took went in.
You were named to the Academic All-Big 12 Team for 3 straight years: how did you balance your work on the court with your work in the classroom? Nobody in my family ever did that but I was fortunate enough to do so: I just wanted to make my family proud! It is honestly easy: I have a set of goals for myself and if I want to achieve those goals then having good grades is a must. It is a part of that process.
In the 2015 NCAA tourney you lost to an undefeated Kentucky team, in the 2017 NCAA tourney you lost to a 35-1 Gonzaga team, and in the 2018 NCAA tourney you lost to eventual champion Villanova: how did it feel to keep reaching the postseason and then running into 3 of the best college basketball teams in the nation over the past 5 years? I am very proud of my team for reaching the Sweet 16 in each of those years. I would say that we were overachieving but I think that we could have went even deeper in the tournament. We just made some minor errors that we should not have been making throughout the games.
Last week you participated in the Pro Basketball Combine: how did it go, and what part of your skill set set you apart from the other guys? The Combine was great. I have a certain mindset that is relentless and most guys do not have that. I am fearless on the court, very athletic, and smart for a guard. One of the most important tools that I bring to the table is being a great teammate because when my teammates are happy/comfortable it make the game easier most of the time.
There are several Big 12 players projected to be selected in the top-15 of next month's draft (Mo Bamba/Trae Young/Zhaire Smith): which 1 of them impressed you the most? I am most impressed with Zhaire because of his athleticism and the fact that he is very calm on the court. No disrespect to any of those other players because they are all fun to watch and are good players, but I believe that I am better than them in most aspects. If they switched teams with me I do not think that they would have accomplished more than what we did at West Virginia.
Your former teammates Esa Ahmad/Sagaba Konate both declared for this year's draft but decided to return to the Mountaineers: how do you think the team is going to do next year without a backcourt of you/Jevon Carter? I felt like they made good decisions because the team needs them and they can prove themselves for at least one more year and develop more aspects to their games.
What would it mean to you to get drafted? Answering this question by saying something like "it would mean everything to me" would be an understatement! All of my life basketball has kept me out of trouble and safe from the grimy streets of Baltimore City. My family struggles every single day to survive! Basketball took me places where I could never have imagined going. It actually showed me that there are other ways of living: not just growing up among all these drugged-out neighborhoods and seeing kids get shot every day. It allowed me to grow as a man and meet many different types of people…and I became one hell of a ballplayer along the way. I just want to be able to provide for my mom/dad like they did for me but on a much larger scale, and make sure that my siblings are in a good position to become successful. I would cry so much: I probably would have to get rushed to the hospital due to too much water on the brain! It would truly be my dream come true.