There are only a few weeks left for the college kids to impress the scouts before the NBA Draft takes place on June 21st. We will spend that time talking to the stars of tomorrow as they prepare for the next phases of their careers. Keenan Evans finished his career in Lubbock as a member of the All-Big 12 1st-Team and a 2nd-team All-American. HoopsHD's Jon Teitel got to chat with Keenan about making the Sweet 16, his amazingly athletic family, and what it would mean to get drafted.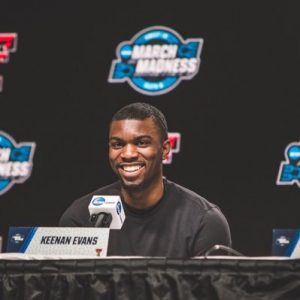 You grew up in Richardson, TX: what made you choose the Red Raiders? I saw the opportunity when Coach Tubby Smith started recruiting me. They were at the bottom of the Big 12 at the time and I thought that I could get some playing time right away and be a difference maker.
You played for a pair of coaches in Tubby Smith/Chris Beard: how difficult was the transition from 1 to the other, and what is the most important thing that you learned from either of them? It was a pretty tough switch but was also a good learning experience. Tubby is very hard on PGs, as is Coach Beard, and I learned a lot from both of them. I got to showcase all of my skills under Coach Beard after playing an old school PG style under Coach Smith.
You played in 29 games as a freshman: how were you able to come in and contribute right from the start? I got to campus pretty early, tried to transform my body by putting some muscle onto it, and competed in practice to get my minutes.
Last January you scored a career-high 38 points/18-20 FT including a step-back 17-footer at the buzzer in a 2-PT OT win over Texas: did you think that the shot was going in, and where does that rank among the highlights of your career? That was probably #1 in my career just because it was a buzzer-beater to win the game. It felt good as I shot it so I knew that it was going in. It is 1 of my go-to moves that I have practiced a bunch of times.
After injuring your toe earlier this year you began sleeping in a hyperbaric oxygen tank: did it help, and how weird was it? I am not sure if it helped but I was hoping it did. It was definitely weird: I had never even heard of such a thing but eventually I was able to fall asleep pretty fast inside it.
You finished the season by being named 2nd-team All-American: what did it mean to you to receive such an outstanding honor? It was a dream come true. I put in a lot of hard work that had gone unnoticed and was really proud of myself. I was thankful to the team and the people around me who encouraged me and kept me on the right path.
Take me through the 2018 NCAA tourney:
You scored 22 PTS in a 3-PT win over Florida: how big a deal was it to help the school reach the Sweet 16 for the 1st time since 2005? It was huge. You hear some of the alumni talk about how they had the best team in school history so it was great to get back to the Sweet 16 and exceed expectations.
You scored a team-high 12 points in a loss to eventual champion Villanova: where does that Wildcat team rank among the best that you have ever seen? It is probably the best team I have seen in college. They deserved everything they got and had so much talent across the floor.
Your PPG/APG/FG% improved during each year of your college career: how were you able to keep getting better every single season? After every season I just told myself that I could take it to another level by getting into the gym, watching film, and listening to my coaches.
Your father Kenny was a high jumper at the 2000 Olympics and your mother Shantell was an all-conference basketball player at Arkansas-Pine Bluff: who is the best athlete in the family? I would say my dad because not a lot of people get to go to the Olympics.
You attended the NBA Combine earlier this month despite the fact that your right foot was in a boot: how is your health at the moment, and what would it mean to you to get drafted? My health is great at the moment: I am now out of the boot and doing rehab to get back on the floor. It would be amazing to be drafted.