There are only 3 weeks left for the college kids to impress the scouts before the NBA Draft takes place on June 21st. We will spend that time talking to the stars of tomorrow as they prepare for the next phases of their careers. Jordan Capps won a national championship at Northwest Florida State College before finishing his career at SE Louisiana in Hammond as the team's leader in PPG/BPG last season. HoopsHD's Jon Teitel got to chat with Jordan about winning a title, overcoming an injury, and what it would mean to get drafted.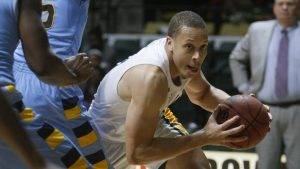 You played in all 33 games as a freshman at Samford: how were you able to come in and contribute right from the start? As a freshman it was really a culture shock because you were the man in high school but everyone in college was a great high school player. I tried to play my role and do what I do best, which is score.
As a sophomore you transferred to Northwest Florida State College and won a NJCAA D-1 title: what did it mean to you to win a title? That team was really talented. I did not know my future path but we had a couple of guys who went to D-1 colleges. We gelled really well and nobody had a big ego that the team could not handle. Everyone is hungry at the JUCO level to get to D-1.
In 2016 as a player at SE Louisiana you were named to the Southland Conference All-Tournament Team: how were you able to play your best when it mattered the most? My role on that team was much larger: my world got bigger as I got older. I played both in the post as well as outside but during the tourney I just tried to step up for my team so we could make a name for ourselves.
You began the 2017 season by averaging 22 PPG (17-23 FG) during your 1st 2 games before missing the rest of the year with an ankle injury: how bad was it, and how were you able to get back onto the court? It was a very humbling experience. I never had that kind of injury before but fortunately I had the best doctor in the state. It was really tough because I was not sure if I would ever play basketball again, but I just stayed patient through 8 months of rehab and worked very hard to get back onto the court.
In January 2018 you scored a career-high 31 PTS/12-18 FG in a win over Houston Baptist: was it just 1 of those scenarios where every shot you put up seemed to go in because you were "in the zone"? That game was a good 1 and the gym was pretty packed. I was very aggressive in the 1st half and just tried to keep up the energy by being aggressive.
Last year you led the team in PPG/BPG: how do you balance your offense with your defense? Most college coaches will tell you that if you do not play defense then you will not play at all. I take pride in playing well on both ends of the court and I enjoy protecting the rim. I have good timing to get off the floor and have always been a good shot-blocker.
In the 2018 NIT you scored a team-high 19 PTS/9-15 FG in a loss at St. Mary's: how satisfying was it to show people that you could play well against a top-25 team, and where does Jock Landale rank among the best players that you have ever seen? The Gaels were a top-10 team at 1 point during the season and Jock is a very good player. I wanted to show the scouts that I could play against anyone at the highest level. I use to think that mid-major players had a lower talent level but if you can consistently play well then you have a great chance to play at the next level. I also had a good game against Notre Dame last December (17 PTS) but scouts want to see that you played against the best opponents regardless of the outcome.
You played for the Southland team in the inaugural 3X3U National Championship on Final 4 weekend in San Antonio: how did you play, and was it weird to see guys like Shawn Johnson (Incarnate Word)/Joseph Kilgore (Texas A&M-CC)/Travin Thibodeaux (New Orleans) switch from opponents to teammates? People from the outside might think it is weird because we competed against each other during conference play but we all respected each other. They are all good dudes and I would play basketball with them anytime. We meshed really well and won 2 of our 3 games: they are low-maintenance guys who were just there to play basketball.
Your uncle Orlando Lynch played baseball at ASU and your cousin Jaylen Brown just helped the Celtics reach Game 7 of the Eastern Conference Finals: who is the best athlete in the family? I would always say me but I cannot hate on Jaylen because he is balling right now!
What would it mean to you to get drafted? It would mean everything. As a kid you work hard from day 1 to chase your dreams but there are always bumps in the road. It is humbling to see the end of the tunnel and hopefully I can make it and have a long career. Getting drafted also gives you opportunities to help your family, which is a pretty cool thing.