There are only 2 weeks left for the college kids to impress the scouts before the NBA Draft takes place on June 21st. We will spend that time talking to the stars of tomorrow as they prepare for the next phases of their careers. Kendrick Nunn started his career at Illinois as a member of the Big 10 All-Freshman Team and finished his career at Oakland as the Horizon League POY. HoopsHD's Jon Teitel got to chat with Kendrick about winning a gold medal, making the most threes in the nation, and what it would mean to get drafted.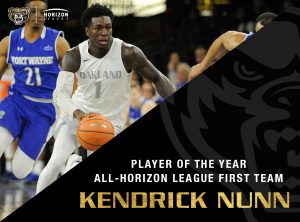 You went to high school at Simeon Career Academy and then began your college career at Illinois: what did it mean to you to continue the tradition of wearing #25 in memory of Ben Wilson? It meant a lot to me to wear #25. A lot of great players wore that number at Simeon as well as at Illinois in memory of Benji Wilson: I wanted to show him respect and keep that tradition alive. Being from Illinois and playing at Simeon, I have a lot of pride in where I am from and a lot of respect for the past players who were the greats that came before me.
1 of your high school teammates was Jabari Parker, who won a gold medal with you as part of team USA at the 2012 FIBA U-17 World Championship in Lithuania before getting drafted #2 overall in the 2014 NBA draft: have you talked to him at all about what it takes to make it to the next level? Jabari and I are very close: we call each other brothers. We talk all the time about being a professional at the NBA level. I have had the vision of playing on that level since I was a kid and he tells me to just continue being myself and that I have what it takes to make it.
In 2014 you were named to the Big 10 All-Freshman team along with 3 guys who made the NBA (Nigel Hayes/Noah Vonleh/Derrick Walton Jr.) and 1 guy who made the Elite 8 last March (Kendall Stephens): how were you able to make such a smooth transition from high school to college? The transition was not as smooth as it looked. I started off the season by not getting any playing time and I had to adjust to what the coach wanted me to do. Towards the end of the season I made my way into the starting lineup and the rest is history.
Why did you decide to transfer after your junior year, and what made you choose Oakland? I was dismissed from Illinois and I chose Oakland because I already had a relationship with a coach there who had recruited me out of high school (Coach Cornell "Corn" Mann). I did my research on the school/head coach Greg Kampe and saw how much success they have had with scoring guards, so I knew that I could also have a lot of success there.
In 2018 you were named conference POY: what did it mean to you to receive such an outstanding honor? Receiving that honor was a great feeling: it was a goal that I had in mind since the 1st day I decided to attend Oakland. I did everything that I needed to do behind the scenes to accomplish that goal and it eventually happened: it was an awesome feeling.
Your 25.9 PPG last year was #2 in the nation to Trae Young and you led the nation with 4.47 3PM: what is the key to being a great scorer, and what is the secret to making shots from behind the arc? I believe the ability to score is a 50/50 thing: half is God-given talent and half is constantly working on your game. Knowing how to attack defenders and find a way to score is also key. There is not any secret to making shots from behind the 3-PT line. 1 of my favorite quotes is, "You grind, you shine," and that is really what it takes. It is about the reps you put up and the muscle memory you build. Most people are not willing to spend an insane amount of time perfecting their shot, but that is something that I have done.
You also ranked 5th in the conference with 3.8 APG: how do you balance your scoring with your passing? My passing ability is a very underrated part of my game: I am an unselfish scorer. What I mean is that I always try to make the right play, which is how I create that balance.
Last month you participated in the Portsmouth Invitational Tournament and were named to the All-Tourney team after leading everyone in scoring with 20.7 PPG: how satisfying was it to show the scouts that you could hold you own against high-major guys like Jaylen Barford (Arkansas)/George King (Colorado)/Desi Rodriguez (Seton Hall)? Honestly, it was just normal for me. I have played against high-major guys during my entire career and have played both with/against a lot of guys who are now in the NBA. I have always competed at a high level and played very well while doing so.
Your father Melvin/sister Kendyl both played basketball: who is the best athlete in the family? I am obviously the best athlete in my family at this point! However, growing up it was not always like that. My sister used to be better than me…but those days were over once I turned 11.
What would it mean to you to get drafted? It would mean the world to me to get drafted, not only me but for my family. My dad has done everything in his power for me to become the best player I can possibly be. It has been a dream of mine ever since I was about 6 years old. After all of the early mornings and late nights that I have been training, it would be an unbelievable feeling and something else that I can check off of my list of goals.