There are only 2 weeks left for the college kids to impress the scouts before the NBA Draft takes place on June 21st. We will spend that time talking to the stars of tomorrow as they prepare for the next phases of their careers. Joel Berry II finished his high school career as a McDonald's All-American before making back-to-back NCAA title games as a player at North Carolina. HoopsHD's Jon Teitel got to chat with Joel about winning a title, being named NCAA tourney MOP, and what it would mean to get drafted.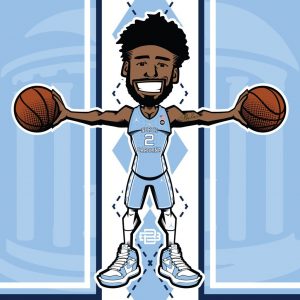 In the 2012 FIBA U-17 World Championship title game you scored 2 PTS for team USA in a 33-PT win over Australia: what did it mean to you to win a gold medal, and what was it like to face a pair of future lottery picks in Dante Exum/Ben Simmons? It was a fun time. It is hard to be away from home for so long when you are so young, but we had a great group of players and we really battled.
In the 2014 McDonald's All-American Game you had a 2-PT win over the East: which of your fellow honorees impressed you the most (Devin Booker/D'Angelo Russell/Karl-Anthony Towns/other)? All of those guys impressed me. It was a blessing for me just to play alongside them but I knew that they would all become future NBA stars. I was not getting the same amount of hype as those guys but it was still an honor.
You played for Coach Roy Williams at North Carolina: what makes him such a great coach, and what is the most important thing that you ever learned from him? He knows how to get the full potential out of all of his players whether you are a 2-star recruit or a 5-star recruit. Some coaches can only get the best out of their best players. I knew that he was a great coach on the court but he helped me continue to grow as a man off the court. He taught me to always put others before myself and he is a great man behind the scenes.
In the 2016 NCAA tourney title game you scored 20 PTS/4-4 3PM but Kris Jenkins made a title-winning 3-PT shot at the buzzer in a 3-PT loss to Villanova: where does that rank among the most devastating losses of your career? I think that is at the top. I never had anything like that happen to me before but it was a life lesson. It was the craziest shot that I have ever seen.
In the 2017 NCAA tourney title game you scored 22 PTS in a 6-PT win over Gonzaga: what did it mean to you to win a title, and what was the reaction like when you got back to campus? Losing the year before made that title even more special. When we got back to campus there was a lot of excitement: the fans filled the Dean Dome and some players gave speeches to show our appreciation for them sticking with us. Everyone thought we would win it the year before but we broke their hearts.
In 2016 you were named ACC tourney MVP and in 2017 you were named NCAA tourney MOP despite having a pair of injured ankles: how were you able to play your best over and over when it mattered the most? Being confident in what I can do and knocking down big-time shots. Those are the moments you go to college for: that is the time for big-time players to play their best games. I put my ankle pain aside and just wanted to be there for my teammates.
You missed this year's season opener with a broken right hand after punching a door: what do you say to scouts who question your maturity? They have not asked me about it but I do not mind discussing it a little if it comes up during interviews. It was a mistake and is something that I will never do again. I hope they see that it shows how competitive I am: it does not say anything about my maturity.
There are several ACC players projected to be picked in the 1st round this year (Lonnie Walker/Jerome Robinson/most of the Duke guys): do you think that playing in a conference with such other great players gives you an advantage or disadvantage? I think it is an advantage because every year I am going against the top guys in our league who end up as some of the top picks in the NBA draft. However, it can be a disadvantage if teams overlook people like myself who played well against those guys: I just want a chance to prove myself.
Your father Joel Sr. played football/basketball/track and field and your sisters Kourtnie/Kasie played college basketball: who is the best athlete in the family? I would say my sister Kasie: she loves basketball and was a great player but just got tired of it.
What would it mean to you to get drafted? It would mean a lot to me. I have dedicated a lot of time to my game but was always overlooked growing up due to my size. I do not have the flashiest game but if you look at who is winning games and getting the job done, I am 1 of those guys. I kept it simple because that is what wins championships. I just want them to see me for what I have done. I feel like someone will take a chance on me and I think it will be a testament to what I have done.
For Tar Heel fans everywhere: do you prefer a BLT from Merritt's or a Chicken Biscuit from Sunrise Biscuit Kitchen? A Chicken Biscuit!