There are only 2 weeks left for the college kids to impress the scouts before the NBA Draft takes place on June 21st. We will spend that time talking to the stars of tomorrow as they prepare for the next phases of their careers. Jairus Lyles attended a couple of different schools before arriving at UMBC, but he finished his college career with a pair of memorable performances including a buzzer-beater to win the American East tourney and 28 PTS to help upset Virginia in the NCAA tourney. HoopsHD's Jon Teitel got to chat with Jairus about winning a game as a #16 seed, having a 20 REB game as a guard, and what it would mean to get drafted.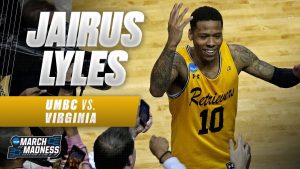 You played 58 minutes as a freshman at VCU in 2014, then transferred to Robert Morris but did not play for them, then transferred to UMBC in 2015: why did you leave the Rams, and what made you choose the Retrievers? I left VCU because I did not feel that I was getting the opportunity I wanted and they were bringing in some more guards the following year. UMBC was 1 of the only schools that could offer me a mid-semester scholarship. It was close to home and they welcomed me with open arms.
In December of 2016 you had 32 PTS/20 REB in a 9-PT 2-OT win over the Citadel: how on earth were you able to do that as a 6'2" guard?! That game was funny: I did not realize I had 20 REB until someone told me afterward. Rebounding was an area of our team that was a weakness so all of our guards tried to focus on that.
You received your undergraduate degree from UMBC with a double major in psychology/sociology in May of 2017, then enrolled in graduate school and had a 4.0 GPA in your 1st semester while continuing to play for the Retrievers: how much importance do you place on academics? There is always life after basketball and if you are not 1 of the top players like LeBron/Steph/KD there is no guarantee of how long you will play. You could get hurt tomorrow and you need something to fall back on.
In the 2018 America East tourney title game you were named tourney MVP after scoring 27 PTS including the game-winning 3-PT shot with 0.5 seconds left in a 3-PT win over Vermont: did you think the shot was going in, and what was the reaction like when you got back to campus? Once the ball left my hand it felt good. My coaches/teammates had confidence in me and it is a shot that I had been working on all season. There was real love all over campus: we had not beaten Vermont in almost a decade so it was a big deal.
In the 2018 NCAA tourney you scored a game-high 28 PTS/9-11 FG (despite cramping up in the 2nd half) in a 20-PT upset over Virginia: how on earth were you able to become the 1st #16-seed to even beat a #1-seed, and how has that game changed your life (if at all)? I could tell during our practices leading up to the game that we had a different level of focus. Virginia was a great defensive team but struggled offensively, so we knew that if we pressured them we would have a chance. Their ACC Sixth Man of the Year (De'Andre Hunter) was injured and our confidence showed on the floor. Winning that game was bigger than just me: our school has undergone a change and the program going forward will have a bigger platform to showcase what it can do.
Your 20.4 career PPG is #1 in school history and you finished #1 or #2 in the conference in STL during each of the past 3 seasons: what is the secret to being a great scorer, and how do you balance your offense with your defense? I have been a scorer all of my life: I think it was something I was just born with. I took some of my moves from my teammates' games and have watched a lot of video of players whose styles I like. I love scoring so I take a lot of pride in that. We made it our mission last season to lock down and make it tough for our opponents when they were on offense. Sometimes it is about being at the right place at the right time when your teammates deflect passes.
You played high school basketball at DeMatha with guys like Quinn Cook/Victor Oladipo and AAU basketball for Team Takeover with guys like Josh Hart: have you had a chance to speak with any of them about what it takes to make it to the NBA? Everyone says it involves putting in hard work every single day because everyone at the next level is good. You need something to separate you from the rest of the players: how good is your defense, are you willing to watch film with the coaches, take care of your body, stay out of trouble, be a good man off the court, etc.
You turn 23 next month: what are your plans for the big day? Hopefully I will be busy in the gym playing on someone's team in the summer league: that would be a great birthday blessing!
Your father Lester played 7 years in the NFL and your sister Symone played basketball at Ohio University: who is the best athlete in the family? I would say I am! My brother does not play football/basketball any more but he was a tremendous athlete: he could dunk back in the 7th grade. I have the edge in terms of longevity.
What would it mean to you to get drafted? That is what we play the game for when growing up. I have dreamed about getting drafted and hearing my name called. Just to have the opportunity is humbling so it would be a dream come true.