There is only 1 week left for the college kids to impress the scouts before the NBA Draft takes place on June 21st. We will spend that time talking to the stars of tomorrow as they prepare for the next phases of their careers. Jemerrio Jones only played 2 years in Las Cruces but he accomplished a lot, including a 20-game winning streak, a triple-double, and leading the nation in REB. HoopsHD's Jon Teitel got to chat with Jemerrio about being named WAC POY, having a double-double in the NCAA tourney, and what it would mean to get drafted.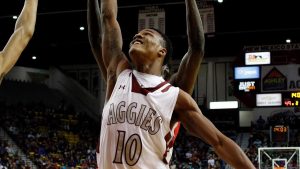 You tore your ACL as a junior in high school: where did you want to go to college, and how did you end up at New Mexico State? I had wanted to go to a place like Arkansas/Auburn but after a couple of years at junior college I got in some trouble and got kicked out. New Mexico State reached out to me through my baby mama and I gave it a shot.
You played for a pair of coaches in Paul Weir/Chris Jans: how difficult was the transition from 1 to the other, and what is the most important thing that you learned from either of them? Coach P was smart/attentive and knew basketball: I was really cool with his assistant coaches as well. I will really miss Coach Jans: he put me on scholarship as soon as he came through the door and was hard on me but he knew how to win and I liked his system/assistants. He knew what he was talking about on defense.
Your team had a 20-game winning streak in 2016-17: did it reach a point where you just expected to win every single time that you stepped onto the court? We came out on fire as a group: we had senior leaders and we just followed them.
You did not start as a junior but started all but 1 game as a senior: what is the biggest difference between starting a game vs. coming off the bench? It was my 1st time that I ever came off the bench but I just ran with it. As a starter you have to bring the same energy every night: I felt like I did when I was a starter back in the day.
Last December you had triple-double with 10 PTS/11 REB/11 AST in a win over Eastern New Mexico: where does that rank among the best all-around games of your career? Coach Jans got on us in the huddle 1 time and I just started hooping.
You led all of D-1 with 450 REB last season (including 3 straight games with 20 REB) despite standing only 6'5": what is the key to being a great rebounder? You just have to play harder than your opponent and want it more than other people. I just go hard every game.
You averaged a double-double and were named 2018 WAC POY/AP honorable mention All-American: what did it mean to you to receive such outstanding honors? I appreciate that people recognized what I was doing: I wanted it and it showed.
In the 2018 WAC tourney title game you had 15 PTS/19 REB in a win over GCU en route to being named WAC tourney MVP: how were you able to play your best when it mattered the most? GCU brought a lot of intensity to the game and I did not want to lose my final game as a senior.
In the 2018 NCAA tourney you had 13 PTS/14 REB in a loss to Clemson: was it important for you to show the scouts that you can succeed even against ACC opponents? I have been doing it throughout my career and I just keep doing it against every opponent I face.
What would it mean to you to get drafted? It would mean everything to me. It is my dream and I really want it.