There are only a few days left for the college kids to impress the scouts before the NBA Draft takes place on June 21st. Luckily, the scouts have spent months and months evaluating the stars of tomorrow as they prepare for the next phases of their careers. Bob Ferry knows what it takes to make it to the NBA because he successfully completed the journey: All-American at St. Louis, drafted in 1959, and made it to Game 7 of the NBA Finals as a rookie. HoopsHD's Jon Teitel got to chat with Bob about facing Bill Russell, winning an NBA title as a GM, and his role as a scout for Brooklyn.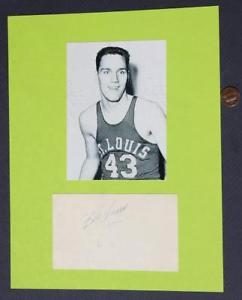 You played college basketball for Hall of Fame coach Eddie Hickey in your hometown of St. Louis: what made him such a great coach? I played for Coach Hickey and then 1 year for John Benington. In those days things were a lot different because the head coach mostly ran the show himself: we did not have 3-4 assistant coaches. Our 1 assistant back then was Hank Raymonds. All of Coach Hickey's drills involved bringing the ball up the court as fast as we could to make things happen.
As a senior you were named All-American: what did it mean to you to receive such an outstanding honor? There were not that many All-Americans back then so it was quite an honor. There was not as much publicity but it was a great award sponsored by Look Magazine.
In the 1959 NIT quarterfinals you had a 3-PT 2-OT loss to Providence (who was led by Lenny Wilkens and his 30 PTS): how close did you come to winning the game? I recall not winning against Providence a lot: we lost to them in the finals 2-3 times and they were our big nemesis. The NIT was a much bigger deal back then.
You were selected by the St. Louis Hawks as a territorial pick of the 1959 NBA draft (with the only other territorial pick being a guy named Wilt Chamberlain): did you consider that a validation of all your hard work, or the realization of a lifelong dream, or other? It was a combination of both. We did not have the facilities/technology to take advantage of everything we could do. I remember making my own weight rack in order to lift weights: it was unheard of before that era. Future Hall of Famer Clyde Lovellette had his Kansas team create a weighted vest to help him shoot.
As a rookie you played 3 minutes in Game 7 of the NBA Finals before losing at Boston (Bill Russell had 22 PTS/35 REB): what was it like to face that legendary Celtic dynasty with a championship on the line? I was on a veteran team so I did not get to play that much. The series got so competitive that even the owners got upset at the referees! I wish I could have played more. Russell was a great player: he rose to the occasion every single time I played against him. He did not really turn it on until he had to, at which point he would become the force behind the win (rebounding, shot-blocking, etc.). The Celtics only had 1 play back then ("the 6 play"), and you needed someone like Russell who could pass the ball to make it work.
In the 1965 Western Division Finals you scored 2 PTS in a 2-PT home loss to the Lakers in the decisive Game 6: how unstoppable was Jerry West (who scored 42 PTS)? We came home for Game 3 and nobody was expecting us to win, but after we got 2 victories in a row we had to fly all the way to the West Coast for Game 5. I remember Jerry as being such a pure shooter and always a class act.
After retiring as a player you became an assistant coach/GM for the Bullets, where you won an NBA title in 1978: what did it mean to you to win a title? It meant a lot to me and was the highlight of my career. I made a couple of moves toward the end of the season that helped us win it all. I picked up Charlie Johnson as a free agent after he was waived by Golden State and Bobby Dandridge as a free agent from Milwaukee, both of whom helped us with the 1 thing we needed to do in the East: stop Dr. J.
You were a 2-time NBA Executive of the Year: what is the key to being a great NBA executive? The biggest thing you have to do is be prepared as best you can and hope you are lucky. Luck is a huge factor: injuries and other things you cannot control have spoiled so many good teams. We were the team of the 1970s with stars like Elvin Hayes/Wes Unseld.
Your son Danny was 1989 national POY at Duke, played 13 years in the NBA, and later worked in the front office for several teams: how proud are you of all his success? He has been a joy to have as a son. Basketball is just a part of his life: he is a good guy and a great father. He knows everything about the game.
I ran into you at the A-10 tourney in DC last March: are you still scouting? My exact role in DC was to do some scouting for Brooklyn: I live in Annapolis so it was not a lot of travel.
What was your reaction to the college basketball FBI investigation? I do not know enough about it but what I have read is confusing. As long as there is recruiting there will always be some moves that are questioned, but nothing really seems to come from it. We got more perks back then they get now: there were fewer rules back then and now they look at everything with a fine-tooth comb! As a high school senior I probably had 20 dinners and as many campus visits as I wanted to take, but now the stakes are higher.
When people look back on your career, how do you want to be remembered the most? That I worked hard and enjoyed every minute of it.