There is only 1 day left for the college kids to impress the scouts before the NBA Draft takes place on Thursday. We will spend that time talking to the stars of tomorrow as they prepare for the next phases of their careers. Robert Johnson finished his career in Bloomington as 1 of the best 3-PT shooters in Hoosier history and started his pro career early by winning the inaugural 3X3U national championship in March. HoopsHD's Jon Teitel got to chat with Robert about making 9 threes in a game, playing for 2 different coaches, and what it would mean to get drafted.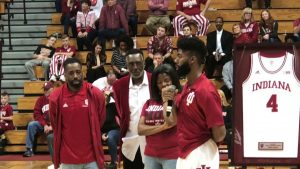 You grew up in Virginia: what made you choose Indiana? The primary reason was Coach Crean: his vision/plan for me, showing me how I could develop there, etc.
You played for a pair of coaches in Tom Crean/Archie Miller: how difficult was the transition from 1 to the other, and what is the most important thing that you learned from either of them? It is always challenging to have change during your final year but I am glad that I got to play for the both of them. The main thing I learned from Coach Crean is to trust my preparation: if you work hard enough then you can trust whatever you have been working on. Archie taught me to approach every day the same and get a little bit better every day so that the team could reach a common goal.
In February of 2017 you became just the 2nd player in 20 years with 19 PTS/6 REB/7 AST/5 STL in a 6-PT OT loss at Iowa: where does that rank among the best all-around games of your career? It definitely ranks up there as 1 of my better all-around games. I also had a nice game the following month against Ohio State (26 PTS/6 REB/6 AST/2 STL/0 TO). I was locked in the whole time and effective in so many different ways.
In February of 2018 you scored a career-high 29 PTS and tied a school record with 9 3PM in a 2-PT win at Iowa: was it just 1 of those scenarios where every shot you put up seemed to go in because you were "in the zone", and how happy are Hawkeye fans that you are finally graduating?! I remember talking to our strength and conditioning coach before that game: I had a lot of faith that something special would happen. God let it play out that way and I ended up tying the school record: it was just a blessing.
You graduated #4 on the school's all-time list with 239 3PM: what is the secret to making shots from behind the arc? Just repetition. It is something I have always been taught to do so I put in the work and then expect the results that come with that. I just became better and better as a shooter.
Take me through the inaugural 3X3U national championship in March when you scored 5 PTS including the title-winning shot in a 21-13 win for the Big 10 over the Big West:
Where does that rank among the highlights of your career? It was definitely big and I was glad to be a part of something like that. It was a cool moment.
Was it weird to have guys like Jae'Sean Tate (Ohio State)/Nate Mason (Minnesota)/Vincent Edwards (Purdue) switch from opponents to teammates? After getting used to competing with them for so long it was a special moment. It is a transition as you finish your college career but it really was not weird: we clicked right away and it was evident on the court. Basketball is a big brotherhood and we have mutual respect for each other.
What are you going to do with your share of the total winnings ($55,000)? I am just saving it! If different situations come up and I can help my family then I will do that, but otherwise I will just use it as financial security during this transition period.
During your college career you played both PG/SG: what position do you feel most comfortable at on the court? Either 1: I am excited to play more PG as a professional and I think it will add a lot of value to my game.
You turned 23 last month: what did you do for the big day? I did not do a whole lot. I was staying with my aunt in Atlanta while doing some training so we just stepped out for a second.
You played with a couple of guys who made it to the NBA in OG Anunoby/Yogi Ferrell: have you talked to them at all about what it takes to make it to the next level? I talk to those guys all the time and it comes down to the same thing: grinding every day and just waiting for your opportunity.
What would it mean to you to get drafted? It would mean a lot. It was a dream of mine as a kid and 1 of my main goals has always been to hear my name called on draft night.