What a difference a year makes: the Quakers had 5 straight losing seasons from 2013-2017, then flipped the switch last season by winning 24 games (their most since 2002), including a 3-PT win over Harvard to clinch their 1st-ever Ivy tourney title, and even had a double-digit lead over Kansas in the NCAA tourney before eventually falling to the Jayhawks. Coach Steve Donahue lost 2 key seniors from last year (Caleb Wood/Darnell Foreman) but has a strong group of veterans who are preparing to defend their crown.  As for the freshmen-to-be, only time will tell but on paper they look even stronger than last year's class. HoopsHD's Jon Teitel recently got to chat with incoming Penn freshman Bryce Washington about why he chose the Quakers and his very athletic family.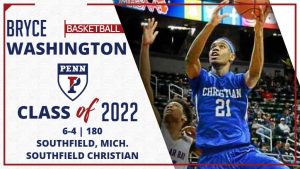 At Southfield Christian you won 4 conference titles and had 12 PTS/9 REB to help clinch the 2018 MHSAA Class D state championship over Buckley last March: what did it mean to you to win all of those titles? It was the best feeling in the world: after all the work that our team had put in I felt that we deserved it.
You won a state title in the high jump in 2016: how much of an advantage is your athleticism on the court? It is a huge advantage on the court. I can defend pretty much any position and I am also very fast.
You graduated as the leading scorer in school history with 1685 career PTS: what is the secret to being a great scorer? Just reading your defender, being able to get ahead of him by running the floor, and figuring out how you can take advantage of his weaknesses.
You averaged almost a 4.0 GPA in high school and graduated summa cum laude: how do you balance your work on the court with your work in the classroom? I try to get in the gym as early as possible so I can make it to class on time, then get back in the gym right after class so I will have time to do my homework afterward. Whenever I want to go out and have fun I just make sure that my classwork is already taken care of.
You grew up in Michigan and received plenty of scholarship offers: what made you choose Penn? I really believe in their system: they are a very good team coming off of an Ivy title and Penn is 1 of the best academic schools in the country. I also feel that I can make an immediate contribution to the team.
What do you know about Coach Steve Donahue, and have you talked to any members of the defending Ivy champs? Coach Donahue is out recruiting right now but I have communicated with the guys on the team a lot. I am actually on campus and have been able to meet a lot of my new teammates.
Have you had a chance to meet any of your fellow incoming freshmen (Alex Imegwu/Griffin Ryan/Michael Wang) and which of them has impressed you the most? I have not had the chance to meet any of them yet but I can tell that we have a really strong class coming in. Michael is a 6'10" center coming from a really good school out in California, Alex is from New Jersey and can jump high/shoot well, and Griffin seems like a pretty good player too out of Chicago.
You are 6'4": what position did you play in high school, and what position are you most comfortable at on the court? I was 1 of the tallest players on my team so I played every single position at some point during my high school career. I will be comfortable wherever Coach Donahue wants to play me: I can handle the ball as a PG or guard the opposing SF.
Your brother Blake won 2 state basketball titles and was on the track team at Michigan, and your brother Brock won the 2014 state basketball title and now plays for Coach Tom Izzo at Michigan State: who is the best athlete in the family? I am sure they would say otherwise but I would say that I am!
Your favorite player is LeBron James: were you surprised that he left Cleveland this summer, and how do you think he is going to do in Los Angeles? I was a big Cleveland fan but I feel that he had to get out of there because it was not working. I think that he will be able to build his brand in LA so I cannot be mad at that decision.