What a difference a year makes: the Quakers had 5 straight losing seasons from 2013-2017, then flipped the switch last season by winning 24 games (their most since 2002), including a 3-PT win over Harvard to clinch their 1st-ever Ivy tourney title, and even had a double-digit lead over Kansas in the NCAA tourney before eventually falling to the Jayhawks. Coach Steve Donahue lost 2 key seniors from last year (Caleb Wood/Darnell Foreman) but has a strong group of veterans who are preparing to defend their crown. As for the freshmen-to-be, only time will tell but on paper they look even stronger than last year's class. HoopsHD's Jon Teitel recently got to chat with incoming Penn freshman Griffin Ryan about why he chose the Quakers and where he ranks within his very athletic family.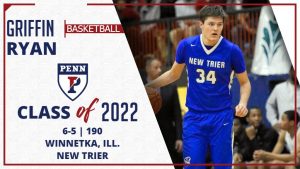 At New Trier High School you lettered in basketball/baseball/football: how much of an advantage is your athleticism on the court? It has really helped me with unfamiliar movements that I might have to pull out during a game. It helps me get into good position a lot quicker.
You won conference titles in all 3 sports: what did it mean to you to win all of those titles? It really meant a lot. We had a rough season in basketball during my junior year but it was great to come back and work as hard as we could going into our senior year. There was 1 football team that won its conference 12 years in a row so it was a really special moment when we were finally able to beat them. We had some alumni on the sideline during that game and some of them were shedding tears that we finally won that game. Continuing our proud baseball tradition of success was also special.
Last March in the sectional semifinal you scored 16 PTS in a 5-PT 2-OT win over Niles North: how one earth were you able to overcome a 22-PT deficit in the 3rd quarter? That is probably going to be 1 of my favorite basketball memories ever. We just agreed to do whatever it would take to claw back into the game. We forced 9 turnovers on defense in the 4th quarter, which really helped us get back into it.
You grew up in Illinois: what made you choose Penn? Academics 1st and foremost: it is a great school. I absolutely love Philadelphia: I took a trip to a bunch of colleges last year and just fell in love with the city/campus. I have some cousins who live in the area so it has been an awesome experience to go to Penn.
What do you know about Coach Steve Donahue, and have you talked to any members of the defending Ivy champs? Coach Donahue is used to recruiting the Chicago area so he knows what type of kids come out of here. He has obviously had a successful coaching run at Penn. I got to talk to some of his players during the summer before my senior year and they were all great guys. I asked them a bunch of questions and they were open/honest with me about how they balance everything going on in their lives.
Former Penn PG Darnell Foreman graduated but the other 4 starters are returning: how did that affect your decision? It will be great to learn from those guys as they pass down their leadership lessons and show us the way to win.
The Quakers were 1 of the worst FT shooting teams in the nation last year at 65.9 FT%: what is your own key to making FTs? My biggest thing is just sticking with my routine. I do not let any situation get into my head and just imagine I am shooting them in the gym by myself, which relieves any pressure.
Have you had a chance to meet any of your fellow incoming freshmen (Alex Imegwu/Michael Wang/Bryce Washington) and which of them has impressed you the most? I got to meet Alex at an elite camp and we even ended up playing on the same 5-on-5 team, which was a total coincidence. He is super-athletic and commanded everyone's respect on the court: I thought he was a very good player. I have seen highlights of Michael/Bryce and I think that we can all become part of something really special.
You are 6'5": what position did you play in high school, and what position are you most comfortable at on the court? My 1st 2 years I was actually a center but by my junior year we had a 6'8" guy and a 6'9" guy who might both end up playing in the Ivy League as well (Spencer Boehm/Ciaran Brayboy). Their presence down low really allowed me to work on my outside game, which was huge for my development as a player. It was great to go against them every day in practice.
Your father played football at Princeton, your brother James played club volleyball at Wake Forest, and your sister Taite plays basketball/volleyball: who is the best athlete in the family? That is a GIGANTIC debate within my family. My brother will claim that it is him but it just might be my sister: she is a freak of nature on the volleyball court and recently got into Dartmouth. I will claim that I am the best…but my siblings will kill me for saying that!