CLICK HERE for all of Jon Teitel's Season Previews and Interviews
Labor Day weekend signals the start of college basketball preview season: we will spend the next 2+ months interviewing the players/coaches whose teams hope to win a championship next spring. There are only 6 coaches who won at least 3 titles during their career: Mike Krzyzewski/John Wooden/Roy Williams/Adolph Rupp/Bob Knight/Jim Calhoun. 3 are retired, 2 are still battling it out in the ACC, and 1 is still going strong at the University of Saint Joseph in West Hartford, CT. It has been more than a decade since Coach Calhoun was inducted into the Hall of Fame but he shows no sign of slowing down anytime soon. HoopsHD's Jon Teitel got to chat with Coach Calhoun about the Tate George shot, the 6-OT Big East tourney game, and all 3 of those national championships.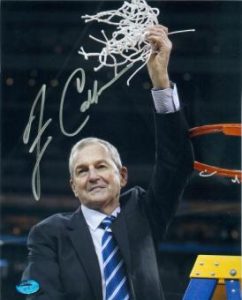 You went 9-19 in your 1st year at UConn but in year #2 you made the 1988 NIT title game and had a 5-PT win over Ohio State: how were you able to turn things around so quickly? We had Cliff Robinson who was a 19-year NBA veteran and Tate George/Steve Pikiell who were freshmen the year before. Cliff became a terrific player but the biggest thing we did was change our culture.
Take me through the 1990 NCAA tourney:
Scott Burrell threw a pass the length of the court to Tate George, who made a turnaround jumper at the buzzer in a 1-PT win over Clemson: how often did you practice that play, and did you think the shot was going in? We practiced it every day with 5 different versions based on how many seconds we had left in the game. It was a major league pitcher throwing to a future NBA player: it only worked 5% of the time in practice but it worked 100% that night!
Christian Laettner scored 23 PTS including a jumper at the buzzer in a 1-PT OT win by Duke: where does that rank among the most devastating losses of your career? Pretty close: I thought that we were good enough to make the Final 4. We had a great year but I do not like seeing Laettner any more.
In the 1998 NCAA tourney Rip Hamilton scored 22 PTS including a fadeaway jumper at that buzzer in a 1-PT win over Washington, and in the 1999 NCAA tourney title game Hamilton scored 27 PTS in a 3-PT win over Duke to snap their 32-game win streak: how on earth were you a 9½-PT underdog to the Blue Devils despite your 33-2 record, and how was Hamilton able to play his best when it mattered the most? He practiced the same way: he always wanted the ball when it counted and never worried. He had a 16-year NBA career and won an NBA championship because he just went out and played. We always got the ball in the hands of the guys who could make plays, be it Donyell Marshall/Ray Allen/etc. It was special because I knew that we were good enough to beat Duke but I was not sure how well we would play. People automatically assumed Duke was better due to their talent but we had a better team.
Take me through the 2004 Final 4:
In the semifinals Emeka Okafor had 24 PTS/15 REB in a 1-PT win over Duke: how were you able to overcome an 8-PT deficit in the final 3 minutes? It was a foul-filled game. Emeka picked up 2 quick fouls and I sat him for the rest of the half. He was dying to get back in and was certainly 1 of the best players I ever coached.
Tourney MOP Okafor had 24 PTS/15 REB in a 9-PT win over Georgia Tech to clinch the title: how did the 2nd title compare to the 1st? It is like asking which kid you love more: you love them all! That was the best team we had: Okafor/Ben Gordon/Charlie Villanueva/Hilton Armstrong/etc. That was the only team that I felt could answer all problems in all games.
In 2005 you were inducted into the Basketball Hall of Fame and in 2006 you were inducted into the National Collegiate Basketball Hall of Fame as a member of its founding class: where do those moments rank among the highlights of your career? Dean Smith was a great mentor to me in many ways: he told me that the Hall is a reflection of what your players do. When you stand there with your family and reflect back on what you did, it conjures up special moments. My dad said that you are known by the company you keep, and to be in the company of legends like Wilt/Oscar/Havlicek/West was very humbling.
In the 2006 NCAA tourney George Mason had all 5 starters score in double figures during a 2-PT OT win over your team: what is the biggest factor to pulling off an upset in March (confidence/destiny/officiating/other)? People forget that they were on an incredible roll after beating Michigan State/North Carolina/Wichita State. They beat us fair and square but we only had about 100 people rooting for us in DC. We were Goliath and they were definitely David.
In the 2009 Big East tourney quarterfinals you had a 10-PT 6-OT loss to Syracuse: how exhausted were you by the end of the 2nd-longest game in college basketball history? I went back to the hotel with my wife and I just could not fall asleep. I kept trying to find more players to substitute in but they took advantage of us down the stretch. Both programs were great and would not give in.
Take me through the 2011 postseason:
You entered the Big East tourney as the #9 seed but won 5 games in 5 days (including each of the last 4 over ranked teams): was it just a case of Kemba Walker (who scored 130 PTS en route to being named tourney MVP) putting the entire team on his back for the week? We were an awfully young team but were as healthy as we had been all season. Our backcourt had 3 future NBA players in Kemba/Jeremy Lamb/Shabazz Napier. It was the best individual effort I have ever seen. We had won the Maui Invitational earlier that season so we knew that we had great potential and we just came together at the right time. That ride was magical as I got to watch the young kids like Kemba, who is 1 of my favorite players/people of all time.
In the NCAA tourney title game you had a 53-41 win over Butler: was it a case of amazing defense (your team set a title game record with 10 BLK) or an ice-cold shooting performance (the Bulldogs set a title-game record with 18.8 FG%) or a little bit of both? Someone did a survey after the game and found that almost every shot Butler took that night was blocked/contested. The only way they could come back was to drive to the rim, which is when our size/athleticism took over. Jeremy got us some space but our defense was textbook. We caused the frozen shooting part.
In 1990 you were named national COY and you are 1 of only 6 coaches in D-1 history to win 3 NCAA titles: what makes you such a great coach? Good players! I have always had a competitive spirit and I try to pass that along to my players. It was about 2 main things: we would compete harder than anyone else and grasp all of the fundamentals, which gave us some separation.
In 2012 you retired with 873 wins (becoming the 1st coach in NCAA history to win at least 240 games at 2 different D-1 schools), which remains #13 all-time, but last year you came out of retirement to become head coach at D-3 Saint Joseph: how is it going so far, and how long do you plan to stick around? I love coaching and missed it greatly. It was wonderful to work at ESPN but I always had an empty feeling that I was not truly part of the game. It did not fulfill the need I had to be involved as I had been my whole life, and I want to get this program going in the right direction.