CLICK HERE for all of Jon Teitel's Season Previews and Interviews
We continue our season preview coverage with new Memphis assistant coach Sam Mitchell. He 1st gained notoriety as a player at Mercer, where he was named the 1985 conference POY. After joining the NBA in 1989 he spent over a decade with Minnesota/Indiana and even made it to Game 7 of the 1995 Eastern Conference Finals. Since retiring as a player in 2002 he got into coaching and was named 2007 NBA Coach of the Year with Toronto. This season he will be returning to the college ranks as an assistant to new Memphis head coach Penny Hardaway. HoopsHD's Jon Teitel got to chat with Coach Mitchell about facing Mark Price in the NCAA tourney and having a 13-year NBA career.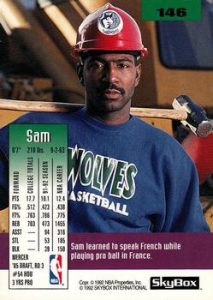 In 1985 you were named conference POY and graduated as the leading scorer in Mercer history: did you realize at the time how prolific a player you were? I never thought about it at the time. After my junior year my coach called me into his office and asked me if I wanted to turn pro: I said, "what are you talking about?!" The big schools that I looked at out of high school wanted me to redshirt but I chose Mercer because I wanted to get a good education.
What are your memories of the 1985 NCAA tourney, the last time that Mercer made it to the tourney until 2014 (you scored 17 PTS in a 7-PT loss to Georgia Tech in Atlanta, who was led by Mark Price with 14 PTS)? We were down by 2 PTS with a minute left but missed a pair of FT and had to foul Price. We lost by 7 but the game was much closer than that. If we had a shot clock and a 3-PT line back then we might have won the game. If you have 1 great player today you can upset a big school.
In the summer of 1985 after being named MVP of the Portsmouth Invitational Tournament pre-draft camp, you were selected in the 3rd round by Houston (12 spots ahead of Michael Adams): were you thrilled to realize your dream of making it to the NBA, or disappointed that you did not get picked earlier despite your performance in Portsmouth, or something in between? My 1st night at Portsmouth we had to introduce ourselves and a lot of the ACC/SEC guys started laughing because they did not think a guy from Mercer could play that well. I had to force my coach to play me because everyone was supposed to get an equal amount of playing time: I scored 20 PTS in 20 minutes and we went on to win the tourney. I had to fight for every little thing every single day. I was not highly recruited coming out of high school and played in a small conference so just getting drafted meant a lot to me. I was at basic training at Fort Bragg when they called me in and told me I had been drafted. I thanked them for letting me know and asked them I could go to bed: we had only been getting about 2 hours of sleep that week!
Instead of going straight to the NBA you spent several years playing professionally in the CBA (where you won a title) and in France: what did you learn from these experiences, and how did they compare to college basketball? I was the last man cut by Houston. The day before they had told me that they were making a trade that would allow me to make the team but the trade fell through and they ended up cutting me. I showed up in Oshkosh and was competing with 50 guys for 10 spots in the CBA. Playing in college was fun but all the pro guys took basketball so seriously because that check was their livelihood. I had to take my concentration to a whole other level. The CBA taught me how to survive: it is hard to live on $300/week…before taxes. I was sleeping on a sofa and decided that instead of giving up I would just keep trying to make it as a pro.
In 1989 you signed your 1st NBA contract on player personnel director Billy McKinney's back prior to a summer league game and join the expansion Minnesota Timberwolves for their inaugural season: what was it like to finally make it to the NBA, and what was it like to play for an expansion team? I played great in our 1st summer league game. Billy asked me if I wanted to sign after game #2 but I ran right off the court and signed a 2-year deal for about $125,000. We won more games than any expansion team had up to that point and could have even won a few more. I loved playing for Coach Bill Musselman: it was a great experience even though we did not play for a championship.
What are your memories of the 1995 Eastern Conference Finals with Indiana (after losing 3 games to Orlando by a total of 11 PTS, you won Game 6 by 27 points, then scored 5 PTS in 6 minutes off the bench in a Game 7 loss)? That was the year Houston won their 2nd straight NBA title. We were disappointed because we had beaten Houston earlier that season. Our team was loaded (Reggie Miller/Rik Smits/etc.) but we just could not get over that hump. I felt disappointed because I thought that we were the better team. If you are not close-knit as a team then you will have no chance at all.
You averaged 8.7 PPG and 3.7 RPG during your 13-year NBA career: how satisfied are you with your pro career? I honestly feel that I left the game with nothing else to give. I was not the most talented player but I competed hard and played until I was 38 years old. As I always tell young people it is not about being the most talented but about being the most persistent.
After retiring as a player you became coach of the Toronto Raptors, where you led them to their 1st division title in franchise history and were named 2007 NBA Coach of the Year: what was it like to coach an NBA team in Canada, and how proud were you of your team's success? Toronto is a great city even though we were a little off the NBA radar. Coaching is so stressful that it is hard to appreciate any accolades until after you get fired. Being named Coach of the Year taught me to slow down and smell the roses.
In 2007 you surpassed Hall of Fame coach Lenny Wilkens for the most wins in Toronto history, but in 2008 you were fired after starting the season with a record of 8-9: how did it feel to go from Coach of the Year to fired within such a short time span? It left a sour taste in my mouth but made me realize that life is not fair. I can forgive…but it took me a couple of years to get over it because it was not based on how we were doing as a team. We rolled the dice on signing Jermaine O'Neal and trying to work him into the rotation, and then he ended up missing half the season due to injury. I would love to get back into coaching 1 day. It is not like I forgot how to coach but we were starting 4 European players and a young Chris Bosh.
When people look back on your career, how do you want to be remembered the most? Just as someone who gave the most he could and took care of his players. Coaches get too much credit for the wins and too much blame for the losses: players win games for you. The job of a coach is just to put his players in a position to succeed.