CLICK HERE for all of Jon Teitel's Season Previews and Interviews
We continue our season preview coverage with new CSUN assistant coach Jim Harrick. When Mark Gottfried was hired in March to lead the Matadors he decided to have his former Bruins boss join his coaching staff. If there was an NCAA tourney from 1982-2002 there is a good chance that Harrick was there: 4 tourneys as head coach at Pepperdine, 8 in a row as head coach at UCLA (including a national title in 1995), 2 during his 2 years as head coach at Rhode Island, then 2 more as head coach at Georgia. HoopsHD's Jon Teitel got to chat with Coach Harrick about working with John Wooden and winning a title.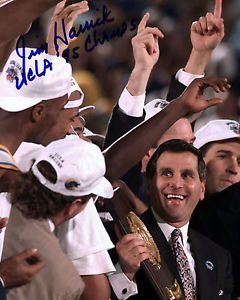 John Wooden made you the director of his basketball camp while you were a high school coach in Los Angeles: what role did Wooden play in your life, and what was your reaction when he passed away in 2010? He played a tremendous role in my life including mentor, leader, and teacher. I think his system of basketball was the best of all-time. We used to have meals together at his camp and he would hold court for me and a bunch of other coaches. My wife and I once took him to a UCLA football game and got to spend the entire day with him. It was a thrill when he came out to join us for the Final 4 in 1995. I view his passing as a terrible loss: he was 1 of the greatest human beings I have ever known.
In the 1983 NCAA tourney as head coach at Pepperdine you had a 2-PT 2-OT loss to eventual champion NC State: how were they able to overcome a 6-PT deficit with 24 seconds left in the 1st OT? It was a knockdown drag-out game. Coach Jimmy Valvano started having his players foul us at the end of the 1st OT and we missed some FT down the stretch.
What are your memories of the 1986 NCAA tourney (Len Bias scored 26 PTS in a 5-PT win by Maryland, the last win of Bias' career before he died a few months later)? We had a chance to win the game at the end but we were called for traveling. Bias was absolutely a monster: he made a dunk that brought OUR team off the bench!
Take me through the 1990 NCAA tourney as head coach at UCLA:
Freshman Tracy Murray made 2 FT with 9 seconds left to clinch a 1-PT win over Kansas: did you think that Coach Roy Williams' decision to call back-to-back timeouts was going to freeze Murray, and where do those FTs rank among the most clutch that you have ever seen? Tracy was only 6 months out of high school yet he was pretty clutch. As he was just a freshman, it was a smart move by Roy to call the timeouts.
Christian Laettner had 24 PTS/14 REB in a 9-PT win by Duke: where does Laettner rank among the best college basketball players you have ever seen? He is probably 1 of the top 10 college players ever. We kept it close in the final minute but just could not get it done.
What are your memories of the 1992 NCAA tourney (Calbert Cheaney scored 23 PTS in a 27-PT win by Indiana, the most lopsided loss by a top-seeded team since the selection committee started seeding teams in 1979)? We had beaten them in the Hall of Fame Game earlier that season but they beat us really good the 2nd time.
In the 1993 NCAA tourney Jimmy King made a controversial put-back with 1.5 seconds left in a 2-PT OT win by #1-seed Michigan: did you think his shot should have counted? King pushed Tyus Edney right out of bounds…with 2 hands. The Loch Ness Monster (Chris Webber) helped the Wolverines come back.
You started the 1994 season 6-0 before a 10-PT loss on the road at Oregon, then won 26 games in a row over the next 3 months: how were the Ducks able to beat you, and did you say anything special after the game that got the team refocused on winning? That is not totally accurate: Cal beat us by 7 PTS in late January in a game that they later forfeited. We were a really good team and ranked very high.  After a tough 5-games-in-10-days stretch in February (the 2 Arizona schools, a road trip to the 2 Bay Area schools, and a game against Duke) we won all 5 and became #1.
Take me through the 1995 NCAA tourney:
Tyus Edney scored 15 PTS and dashed the length of the court in 5 seconds to make a layup at the buzzer in a 1-PT win over Missouri: how did you draw up the play, and where does that rank among the biggest wins of your career? We used to work on a play that I got from the NBA…but nobody could ever make it all the way down the court in 5 seconds! We would work on that play once a week and Tyus was fast enough to get it done. I would say that was the defining moment of my coaching career.
Tourney MOP Ed O'Bannon had 30 PTS/17 REB in a win over defending champ Arkansas to win the title: what did it mean to you to win the title, and what was the reaction like when you got back to campus? I had spent the prior 2 decades as a coach so it was a true honor to finally reach the pinnacle of the profession. We spent the summer partying: we were on the Jay Leno Show and even went to Disneyland.
You finished that season by going 32-1 and being named Naismith COY: what did it mean to you to win such an outstanding honor? It comes from your peers voting on you so I was humbled by that tremendous honor.
In the 1996 NCAA tourney Steve Goodrich made a bounce pass on a backdoor play to Gabe Lewullis for a layup in a 2-PT upset by #13-seed Princeton: where does that rank among the most devastating losses of your career? Being in the college game for 33 years I thought that I had seen it all. We had 9000 chances to win that game but just missed some layups/FTs. How did the San Francisco Giants win the 2010 World Series after barely making the playoffs?  They were just meant to win it.
UCLA fired you shortly before the start of the 1996 season after you were accused of falsifying receipts at a student-athlete recruiting dinner (the NCAA later exonerated you): do you think that you did anything wrong, and do you have any regrets about the situation? Nobody is perfect, including me, but I did not do anything to get fired. It is a very political thing and being a coach is a very volatile position: you have to take the good with the bad.
Take me through the 1998 NCAA tourney when you were head coach at Rhode Island:
Cuttino Mobley scored 27 PTS in a 5-PT upset of #1-seed Kansas: how were you able to beat a team featuring a pair of All-Americans in Paul Pierce and Raef LaFrentz? The Jayhawks came into the game with a record of 35-3 but Cuttino was such a confident guy that he felt nobody could play better than him. We shot the ball very well that night.
Antonio Reynolds-Dean had 16 PTS/11 REB in a 6-PT win over Valparaiso: was it weird to coach against the Crusaders with your son Jim Jr. as 1 of their assistant coaches? Valpo had hit the home run play with Bryce Drew in the 1st round: it was so exciting to watch that I had to go home and take a nap afterward! Homer Drew and I are great friends…but when the game starts you forget about everything except the game.
Tyson Wheeler scored 24 PTS but missed 3 FTs with 5 seconds left in a 2-PT win by Stanford: how devastating was that loss (you were up by 6 PTS with 1 minute to play), and did you expect Wheeler to make all of his FTs? That is the worst tourney loss that I have ever had. It is hard to make FTs when you are down and we had lost our momentum by that point.
What are your memories of the 2001 NCAA tourney as head coach at Georgia (Clarence Gilbert made a baseline jumper with 0.9 seconds left in a 2-PT win by Missouri)? We had the #1 schedule in the nation that year, which is what the committee tells you to do, but we somehow ended up with a #8 seed. The Tigers held the ball for the last shot and we were 1 second away from winning.
In the 2002 NCAA tourney you had a 2-PT loss to SIU: do you think that Jonas Hayes was correctly called for an intentional foul with 14 seconds left? We were up by 19 PTS, and in retrospect I should have rested my PG. Hayes just grabbed the guy, which they had not been calling all year, but that play did not cost us the game.
After resigning in 2003 you worked as a scout for the Nuggets and helped develop basketball in China: how did you like being a scout? I had a wonderful time in Denver with some great guys on the staff: Scott Brooks, Adrian Dantley, etc.