CLICK HERE for all of Jon Teitel's Season Previews and Interviews
We continue our season preview coverage with Charleston PF Jarrell Brantley. Despite having only 3 seasons under his belt he already ranks in the top-25 in school history in career PTS/REB. He is no stranger to the Cougars, having been born in Charleston. He started all 31 games as a freshman en route to being named CAA ROY, and his FT%/PPG have gone up during each of his 1st 3 years on campus. HoopsHD's Jon Teitel got to chat with Jarrell about a near-perfect performance on New Year's Eve and how close his team came to upsetting Auburn in the NCAA tourney last March.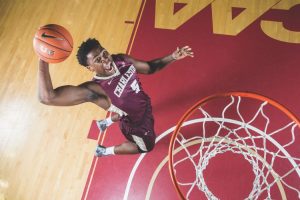 You play for Coach Earl Grant at Charleston: what makes him such a good coach, and what is the most important thing that you have learned from him? He has been amazing: I have played for a lot of coaches in my life but he is the 1st 1 to allow me to use every tool in my game. What makes it easy to play for him is that he is willing to fight for us: he runs conditioning drills with us, stretches with us, and that makes us want to fight for him.
On New Year's Eve 2015 you scored 29 PTS/13-14 FG in a 3-PT win at James Madison: was it just 1 of those situations where every shot you put up seemed to go in because you were "in the zone"? I felt good that night. Our leading scorer Marquise Pointer was having a really tough game but I was just starting to get the hang of the college game. Things started to click for me that night and it was fun.
You started all 31 games as a freshman and were named conference ROY: what did it mean to you to receive such an outstanding honor? It meant a lot and showed that hard work pays off. We had a lot of injuries that season but it gave me a chance to get on the court and help the team.
In the 2018 CAA tourney title game you had 18 PTS/11 REB in a 7-PT OT win over Northeastern: how much of a home-court advantage did you have while playing in North Charleston, and how were you able to overcome a 17-PT 2nd half deficit? The fans were unbelievable and completely helped us get back into the game. That game was a testament to everything that we had gone through since the 1st day I stepped onto campus. It was like a yearlong comeback in just 1 game if that makes sense: it showed how tough our team was.
In the 2018 NCAA tourney you scored 24 PTS/9-16 FG in a 4-PT loss to Auburn: how close did you come to pulling off the upset, and what did you learn from that game that you think will help you this year? We came really close. The biggest takeaway is that we are not far away from any team in the nation. We just have to make sure that we close out every game: we missed a few FTs, which cannot happen if we want to make a deeper tourney run.
You missed the 1st 10 games of last season due to a knee injury: how is your health doing at the moment? Honestly, I feel better than I ever have right now and am getting back into shape with conditioning drills. I feel really explosive so God willing I can stay healthy.
Your non-conference schedule includes games against Rhode Island/Oklahoma State/LSU: which of these games do you feel will present your biggest test? If we come in and do what we are supposed to then we should have a chance to win every game. I am just looking forward to competing at a high level against high-quality opponents.
Your FT% has increased during each of your 3 seasons (from 71.6 FT% to 75.8 FT% to 82.1 FT%): what is your secret for making FTs? Getting into the gym every day. We put our work in and finish our workouts by trying to make 20 straight FTs: I can usually make 18 of 20.
You are 1 of 5 seniors on the roster: how crucial will all of that experience be to your team's success this year? I think it will play a big role: we have all played valuable minutes and won a lot of big games so we need to lead the younger guys.
What are your goals for the upcoming season, and what are your expectations for the upcoming season? The only goal right now is to continue to get better at winning. If so then everything else will fall into place and we should be able to win games and make a tourney run.