CLICK HERE for all of Jon Teitel's Season Previews and Interviews
We continue our season preview coverage with TCU PG Alex Robinson. When Jaylen Fisher suffered a right knee injury last January that knocked him out for the rest of the season, fans in Fort Worth were fearing the worst. Fortunately, Alex Robinson jumped right in with a 17-AST game in a win over Iowa State and continued to impress over the final 16 games: 11.8 PPG/7.3 APG/1.6 SPG/39.5 3P%. The Horned Frogs had 3 crushing losses to end the year (4-PT loss at Texas Tech in the regular season finale, 2-PT OT loss to Kansas State in the Big 12 tourney, and a 5-PT loss to Syracuse in the NCAA tourney), but they return a ton of talent this year to compete in the most competitive conference in the country. HoopsHD's Jon Teitel got to chat with Alex about winning an NIT title and being a senior leader this season.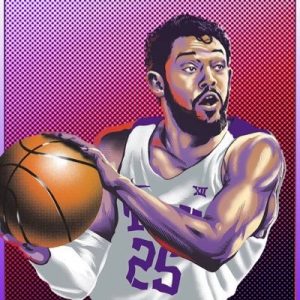 You originally signed with Texas A&M and played 32 games as a freshman: why did you decide to transfer, and what made you choose TCU? I wanted to be closer to home after getting into a car accident.
You play for Coach Jamie Dixon: what makes him such a good coach, and what is the most important thing that you have learned from him? He is like a basketball guru: he knows what is going to happen even before it happens. He is right 99.9% of the time.
In the 2017 Big 12 tourney you had 13 PTS/7 REB/7 AST/5 STL in a 3-PT win over top-ranked Kansas: how were you able to pull off the upset? That was the turning point for our program. Everyone bought in and adapted to the winning culture.
In the 2017 NIT title game you had 10 PTS/11 AST/4 STL in a win over Georgia Tech: how were you able to play your best when it mattered the most, and what did it mean to you to win a title? Playing for a championship for the 1st time in school history in Madison Square Garden was like a dream come true.  We just had to make the most of the opportunity, and we did.
You led the Big 12 in AST in 2017 and last January you set a school record with 17 AST in a win over Iowa State: what is the key to being a good PG? Getting to know your teammates: where they like the ball, who has the hot hand, etc. You cannot try to do too much and you have to make sure that everyone is communicating.
In the 2018 NCAA tourney you had 8 AST in a 5-PT loss to Syracuse: what did you learn from that game that will help you this year? We did not talk as much as we usually do so I will make sure that I am consistent in my leadership this year and that we are all on the same page. I also need to pick and choose when to be aggressive.
You are 1 of only 2 seniors on the roster: how much pressure is there on you to be a leader this year? None at all: we are a big family so there is not any pressure. Everyone holds each other accountable so it is a good situation to be in.
Your non-conference schedule includes games against USC/Florida: which of these games do you feel will present your biggest test? Both of those teams are really good and will give us a different look as we prepare for Big 12 play. We will have to really prepare for both of them.
Your mother Darla played for the TCU women's basketball team: who is the best athlete in the family? Probably her: it is great that I came here to wear her number (25) and see her smile. She has done a lot for me so it means the world to me.
What are your goals for the upcoming season, and what are your expectations for the upcoming season? My goals are to win the Big 12 regular season title, the Big 12 tourney championship, and then make a deep run in the NCAA tourney.