CLICK HERE for all of Jon Teitel's Season Previews and Interviews
We continue our season preview coverage with Old Dominion coach Nikki McCray-Penson. There are several successful women's players who have gone on to become successful women's coaches: just look at South Carolina's 2017 NCAA championship coach Dawn Staley (who was 2-time national POY in 1991/1992 at Virginia). With Tina Thompson/Lindsay Whalen joining the coaching ranks at Virginia/Minnesota respectively, perhaps this will become a common occurrence. Coach McCray-Penson had a rough 1st season in Norfolk but if her playing career is any indication then the future is bright. She went to 4 straight Sweet 16s as a player at Tennessee, made 3 straight WNBA All-Star games, and won a pair of Olympic gold medals. HoopsHD's Jon Teitel got to chat with Coach McCray-Penson about winning gold medals and being inducted into the Women's Basketball Hall of Fame.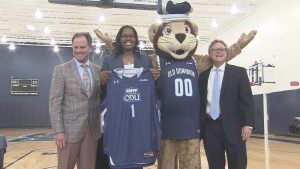 In the 1994 NCAA tourney as a player at Tennessee you had a 111-37 win over North Carolina A&T, which remains the largest margin of victory ever in an NCAA tourney game: did it reach a point where you were worried about running up the score? I do not remember that game but sometimes you just get into a groove. The NCAA tourney is a new season and you want to set the tone heading into your opening game. We played a certain way: every possession mattered and we tried to do things the right way.
In the 1995 NCAA tourney title game you had a 6-PT loss to an undefeated Connecticut team: how close did you come to ruining their perfect season in your final college game, and what was your reaction when the 2 schools announced last month that they will be renewing the rivalry in 2020 after discontinuing it in 2007? Every year we played 1 of the toughest non-conference schedules in the country to prepare us to win a national title. We were up at halftime and had a chance to win so I will always remember that game. I am happy the rivalry is re-starting: Pat Summitt/Geno Auriemma are so respected within our sport and have a rich tradition of winning.
You were a 2-time SEC POY/2-time All-American: what did it mean to you to receive such outstanding honors? I credit a lot to my teammates/coaches. Pretty much every year someone from our school was an All-American: when you compete against high-level teammates every day in practice you just have to try to separate yourself.
You were known for being a great defender: what was your secret? It is really about desire/decisions. I grew up with cousins who never thought that I was good enough to play with them so I always tried to prove myself.
In 1997 you were named American Basketball League MVP and after the league folded you became a 3-time WNBA All-Star: what is the biggest difference between college basketball and pro basketball? The pace is definitely different: everything is faster. Body types/mentality are also different. You have to work on your diet and be efficient at what you do.
As a member of team USA you won gold medals at the Olympics in 1996/2000: what did it mean to you to represent your country, and what did it mean to you to win a pair of gold medals? That is the ultimate sign of success and a beautiful thing that you dream of as a kid. It is not about you: it is about your country. Now as a coach I try to instill that in my young ladies: there are only a select few who get to wear that USA uniform.
You played for 1 Hall of Famer at Tennessee in Pat Summitt and worked for another Hall of Famer at South Carolina in Dawn Staley: what is the most important thing that you learned from either of them? Both of them have impacted the lives of their players and both have great coaching trees thanks to their former players. It is more than just about wins: it is about relationships and how you treat people. They were great at inspiring the people around them to be better.
In 2012 you were inducted into the Women's Basketball Hall of Fame: where does that rank among the highlights of your career? It is not something that you think about growing up but as you keep checking goals off your list you realize that it is an amazing blessing. I have had great coaches/teammates/family members/friends who helped me along the way, which is how I was able to achieve that.
Last year you became head coach of the Old Dominion Lady Monarchs: why did you take the job, and what was the best part of year #1? This is where I am supposed to be. This school is rich in tradition and has great people. After leaving a great place like South Carolina it was a no-brainer to come her due to the great fans: now it is about restoring the tradition.
What are your goals for the upcoming season, and what are your expectations for the upcoming season? We will continue to build on our culture. We brought in some more talent this year so we want some more wins: as long as we are dedicated to being champions on and off the floor I think that it will happen. We are getting more pieces so I am excited about building on last year's run.