CLICK HERE for all of Jon Teitel's Season Previews and Interviews
We continue our season preview coverage with Tennessee PF Kyle Alexander. It has been a pretty good summer for Canadian basketball players: Tristan Thompson made the NBA Finals for the 4th straight year with Cleveland, Shai Gilgeous-Alexander was selected 11th overall by Charlotte in the 2018 NBA draft before being traded to the Clippers, and Steve Nash was inducted into the Naismith Memorial Hall of Fame last weekend. Ontario native Kyle Alexander hopes to keep the ball rolling this fall in Knoxville after coming THIS close to a Sweet 16 trip last March. HoopsHD's Jon Teitel got to chat with Kyle about growing up in the Great White North and being a great shot-blocker.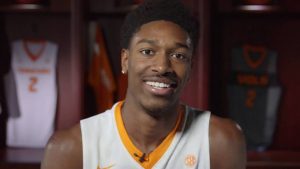 You grew up in Canada and did not play basketball until your junior year of high school: how did you 1st get into the sport, and how good was your classmate Jamal Murray back in the day? I did not start playing basketball until I was 16 years old. My dad came home 1 day while I was playing "Call of Duty": he told me that I was tall/athletic and not using any of the gifts I got from God.  I ended up going to a skills academy and then got a scholarship to prep school. I went from only playing for 5 months to being on the same court as Jamal. He was unbelievable and made all of us wonder how he could do some of the things he did, which is why he is now on the Nuggets.
What made you choose Tennessee? I had only been playing basketball for a couple of years at the time and was choosing between New Mexico (who has a great film program) and Tennessee. The Vols were starting fresh with Coach Rick Barnes who had coached a couple of Canadian players in the past at Texas (such as Cory Joseph/Tristan Thompson), and I felt it gave me the best chance to become the best player I can be as I try to get to the next level.
You play for Coach Barnes: what makes him such a good coach, and what is the most important thing that you have learned from him? He coaches everyone the same way and has built a great culture here.  He has helped transform us into a good team: even if we have won 10 games in a row and are feeling great, he will remind us that it is still not the same as winning a national championship. He met with his former Texas player Kevin Durant and told us about KD's incredible work ethic: he gets into the gym 2-3 times/day and really works hard for it.
In January of 2016 you tied a school single-game record with 6 BLK in a loss at TCU: what is the secret to blocking shots? That is 1 thing that always helped me out when I was starting: my offensive skill set was not there at the very start but my defense kept me out on the floor. That day was also the most minutes I have ever played in a game (31). I just have good timing and long arms.
In the 2018 NCAA tourney Clayton Custer scored 10 PTS including a jumper in the final seconds of 1-PT win by Loyola-Chicago: what did you learn from that game that will help you this year? Something that everyone learned from Loyola is that if you are disciplined and play hard then you can make a run to the Final 4. The other thing that happened was when #16-seed UMBC beat #1 Virginia: you just have to put in the work.
Your brutal non-conference schedule includes games against Georgia Tech/Louisville/Gonzaga/Wake Forest/West Virginia: which of these games do you feel will present your biggest test? I see every game as a test this year: last year we were picked 13th in the SEC so nobody respected us but now people will be looking at us as the team people want to beat to help boost their record. As the tallest guy on the roster every game is a test for me: every single game is important.
Last year you led the SEC in ORB%: what is the key to being a good offensive rebounder? I did not know that! Long arms and tenacity. Admiral Schofield is like my brother and we are really close: his brother O'Brien is in the NFL and wants to see us both succeed. He will send me texts every day about Tristan Thompson's rebounding stats: if I want to be productive or get a double-double I need to find my own way on the offensive boards. That is my role so it is a conscious reminder.
You got your degree in Communications last May and are currently pursuing your master's degree: how do you balance your work on the court with your work in the classroom? I wanted to get a film degree but all the film classes at Tennessee are from 1-3PM…which is the same time as our practices. That is the sacrifice I had to make. My goal was to graduate in 3 years: I decided to do an internship with a local film studio and learn how to use their editing software. When you love what you do it is easy to do it, but it was hard to love taking 6 classes in a semester.
Your father Joseph played basketball at Niagara and your sister Kayla graduated from Syracuse as the all-time leading scorer in school history: who is the best athlete in the family? I will say me but I get everything I have from my parents (my mom also played volleyball). I learned my work ethic from my sister: she is tall but all of her coaches/teammates who I have talked to say that it was her work ethic that helped her succeed.
What are your goals for the upcoming season, and what are your expectations for the upcoming season? I have never won any type of accolade so I really want to lead the SEC in BLK/ORB% this year and see our team go as far as we can. There were a lot of games last year where I did not do my part as an upperclassman so I want to be more consistent: I cannot take any plays off. I am focusing on that every single day both in practice and in the weight room.