CLICK HERE for all of Jon Teitel's Season Previews and Interviews
We continue our season preview coverage with Kentucky SG Maci Morris. When you hear the phrase "Big Blue Nation" you probably think of John Calipari and a bunch of super-frosh…but Maci Morris might end up changing that. After starting all 33 games in 2016 and being named to the SEC All-Freshman Team, she led her team with 88.1 FT% as a sophomore, and was #2 in the nation last year with 47.5 3P%. Her 1209 career PTS is already #20 in school history and if she has a great senior season then she might just make the all-conference 1st team in 1 of the toughest leagues in the country. HoopsHD's Jon Teitel got to chat with Maci about becoming a Wildcat and being a great shooter.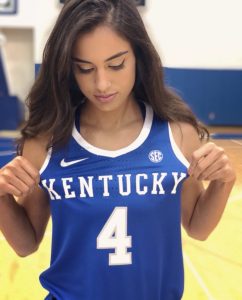 You grew up in Kentucky, were named after former Kentucky player Kyle Macy, and wear his uniform number (4): have you ever had the chance to meet him, and was it inevitable that you would become a Wildcat? That is true. I have met him a couple of times: we usually talk about basketball whenever I see him. When you are born in Kentucky you are raised as either a Kentucky or Louisville fan and my household is UK. My dad was a big fan of Kyle's so that is where they got the inspiration.
In 2016 you started all 33 games and were named to the SEC All-Freshman team: how were you able to come in and contribute right from the start? My parents/coaches really pushed me to work my hardest every day and just compete. I earned myself a spot in the starting lineup and tried to help the team in any way I could.
Last February you scored a career-high 35 PTS/5-9 3PM in a loss to South Carolina: was it just 1 of those scenarios where every shot you put up seemed to go in because you were "in the zone"? Kind of. I wanted to win every game and the best way I could help our team do that was to score. I was more open than usual in that game and I was getting a lot of good looks. It was a fun game even though we lost and their fans were very respectful toward me.
Last year you ranked #2 in the country with 47.5 3P%: what is the secret to making shots from behind the arc? Just practicing: getting into the gym and getting shots up. Your shot/form needs to be consistent and you need a good quick release: when people are chasing you around the court you cannot be hesitant.
You are a career 86.3 FT% shooter: what is the key to making FTs? I have had the same routine for as long as I can remember. My consistency helps me focus on my shot: I get in a rhythm and it makes it easier for me to shoot FTs.
The final women's basketball rankings last year had 6 SEC teams in the top-25 (Mississippi State/South Carolina/Texas A&M/Tennessee/Georgia/Missouri): is it slowly changing from a football conference to a women's basketball conference?! For sure! I think the SEC is the toughest league in almost every sport. Tennessee used to be the big powerhouse and now it is South Carolina/Mississippi State: it is a very competitive league.
You are 1 of 4 seniors on the roster: how crucial will all of that experience be to your team's success this year? It will be very crucial: 1 of our coaches told me that Pat Summitt always said a team is only as good as its seniors. We have to set the tone for the younger players and give our best effort.
What was the best part of your team's trip to Italy in August? The history/beauty of the country. The gelato was also amazing: I think I ate it every day I was there! It was an awesome experience.
It seems like everyone in your family played 1 or more sports in college: who is the best athlete in the family? I would say my dad: he was named Kentucky athlete of the year. He played baseball/basketball so to play 2 sports in college is pretty impressive to me.
What are your goals for the upcoming season, and what are your expectations for the upcoming season? I want to finish my senior year with a winning season, win an SEC title, and make a good run in the NCAA tourney.