CLICK HERE for all of Jon Teitel's Season Previews and Interviews
We continue our season preview coverage with Penn coach Steve Donahue. If you need someone to turn around your Ivy League program, Coach Donahue is your man. After Cornell had 3 straight losing seasons from 1998-2000, he took over and became the 1st Big Red coach to ever go to 3 straight NCAA tourneys (including the 2010 Sweet 16). After Penn had 3 straight losing seasons from 2013-2015, he took over and last year led the Quakers to 24 wins, an Ivy tourney title, and their 1st trip to the NCAA tourney in 11 years. HoopsHD's Jon Teitel got to chat with Coach Donahue about being named Ivy COY and trying to take down Kansas in Wichita.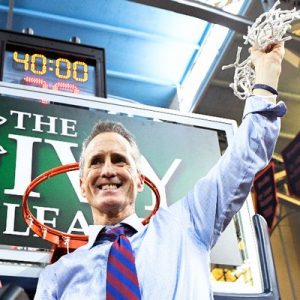 You were captain of the basketball team at Ursinus: how good a player were you back in the day, and how did you 1st get into coaching? I was an average player even by D-3 standards. I fell in love with coaching early: going to Big 5 doubleheaders at the Palestra made me enamored of the whole circus. I thought that I would be a high school coach.
You spent the 1990s as an assistant to Fran Dunphy at Penn: what makes Dunphy such a great coach, and how did you enjoy the glory days of winning 48 straight conference games/being ranked in the coaches poll/beating Nebraska in the NCAA tourney? We coached 3 NBA players as well. At the time I probably did not appreciate it as much as I should have but I did realize how great a person Fran was. He treated everyone well and that has stuck with me. He allowed his assistants so much latitude to coach whatever we were good at: he was egoless and put the team before himself.
Take me through the magical 2010 NCAA tourney as coach at Cornell:
As a #12 seed you beat Temple by 13 PTS and Wisconsin by 18 PTS: how on earth did a good Ivy League team beat a pair of top-5 seeds by double-digits, and what was it like to face your old boss Dunphy in the postseason? We had the culmination of a perfect storm: a veteran team of 7 seniors who were prepared for the postseason by playing a very difficult non-conference schedule. We played 2 really good teams at a neutral site and were an incredible offensive team that could compete against high-majors. Playing Dunph was the worst part of it: he had 1 of his best teams ever and could have made a deep run but we had a loose attitude and things went our way.
In the Sweet 16 you lost to #1 seed Kentucky: how did you prepare to face a team with so much future NBA talent? I think that was 1 of the most talented college basketball teams in the past 20 years with future All-Stars like John Wall/DeMarcus Cousins. If we had played them on 1 day's notice and somehow beaten them then I think we could have made it all the way to the Final 4.
In February 2014 Olivier Hanlan scored 20 PTS as your 6-19 BC team had a 3-PT OT upset of 25-0 Syracuse in the Carrier Dome: where does that rank among the highlights of your career? I think it was the 1st time a 25-0 team that was ranked #1 had ever lost a home game. It was a thrill for me even though we had just lost our school's SID guy the previous week (Dick Kelley). We played with a patch on our jersey and it was 1 of the most emotional games I have ever coached.
After only winning 13 games in 2017 you went 24-9 in 2018 and were named conference COY: how were you been able to turn things around in just 1 year, and what did it mean to you to receive such an outstanding honor? It is always great when your peers vote for you: it means a lot to me because I have so much respect for all of those guys. It is a collaborative effort: excellent assistant coaches, great players, an administration that does everything you could ask for to help us compete. It had nothing to do with me being a special coach: this is a great place with an incredible history of success.
In the 2018 NCAA tourney as a #16-seed you led Kansas by double-digits in the 1st half before losing by 16 PTS: how big a deal was it for the Quakers to make the NCAA tourney for the 1st time in 11 years, and how much of a home-court advantage did the Jayhawks have in Wichita? Getting back to the tourney means a lot to a lot of people here. Fans do not realize that only a very few number of players across the country actually make it to the NCAA tourney. Kansas definitely had a home-court advantage but it made the experience that much more special: our shoot-around the day before was sold out! I think the NCAA should continue to give #1 seeds the chance to play in front of their home fans.
You return 4 of your 5 starters from the defending Ivy champs: how crucial will all of that experience be to your team's success this year? It is critical to have a bunch of players back but it is not necessarily a formula for success. A lot of other teams last year in the Ivy League brought back a lot of their own players but we found a way to figure it out. You have to focus on the task at hand and realize that it is a new year.
Your non-conference schedule in December includes back-to-back games against Miami/Villanova: how do you prepare for what could be the toughest home schedule in Ivy League history? I have been in this league for almost 30 years: we can do a home-and-home series with great teams and it will be a daunting task but what an exciting time for our guys to play against talented teams. This is what our program is about: challenging ourselves. In November 1998 we played Kansas/Temple back-to-back to start the season when they were both in the top-10 (Penn beat the Owls by 3 PTS in OT), which is what it reminds me of.
The Ivy tourney moves from the Palestra to New Haven next March: any thoughts? I think it was a great success at the Palestra but the fair thing is to try and move it around to figure out what is best for the league. I am all for it but the fact that Yale has a small arena (Lee Amphitheater, which has room for 2,532 spectators) might make it even more special. It shows on TV great and if we can grow the league and get better players then it makes sense.
What are your goals for the upcoming season, and what are your expectations for the upcoming season? I do not talk about goals too much: I am actually kind of anti-goals. We want to be in the NCAA tourney but I try to control the controllables: how hard we play, how efficient we can be in everything we can do.  In March we just want to be the best possible team that we can be.