CLICK HERE for all of Jon Teitel's Season Previews and Interviews
We continue our season preview coverage with Louisville G Asia Durr. Another year =  another award for the Cardinal superstar: 2015 McDonald's All-American, 2016 ACC All-Freshman team, 2017 All-American, 2018 ACC POY. There are few better shooters in the country: her 115 3PM last year was best in the ACC and her 84.8 FT% was not too shabby either. HoopsHD's Jon Teitel got to chat with Asia about almost making the NCAA title game last spring and her close relationship with 1 of her team managers.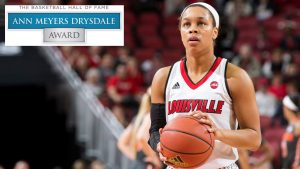 In the 2015 McDonald's All-American Game you scored 14 PTS for the East in a 2-PT win over the West: which of your fellow honorees impressed you the most (Napheesa Collier/Arike Ogunbowale/Katie Lou Samuelson/other)? To be honest everybody stood out. It was such a great opportunity to get to know those girls even better. Some of us had played together for USA Basketball and now I get to face some of them again during college. We were just trying to soak it all up and have fun.
You grew up in Georgia: what made you choose Louisville? I 1st came here before my senior year of high school on my 1st official visit. It was just over the top: every piece just clicked for me and it was great to meet some of the best players in college basketball. They made me feel like it was home and they felt like part of my family. The fans here are just amazing: they are so committed/dedicated and the coaching staff was very straightforward/truthful.
In 2016 you averaged 11 PPG and were named to the ACC All-Freshman team: how were you able to make such a smooth transition from high school to college? My parents did a good job of helping me adjust to college. The schoolwork at my high school was very challenging and they pushed me to get my work done so that I could make time for basketball. I knew that if I wanted to play basketball in college then I would have to finish my schoolwork.
As a sophomore your 119 3PM was #2 in the nation, and as a junor you led the ACC with 44.5 3P%: what is the secret to making shots from behind the arc? Practice! If you put your mind to something then you can do anything. My dad and I would practice together in the gym ever since I was in junior high school: my trainer has also been a big help.
Last November you scored a school-record 47 PTS (2 more than Wes Unseld had in a game against Georgetown in 1967)/9-15 3PM in a 5-PT OT win at Ohio State: was it just 1 of those scenarios where every shot you put up seemed to go in because you were "in the zone"? I was very focused and that game was amazing. I wanted to win because we had never beaten a ranked team on TV so I was very excited. We were going up against my good friend Kelsey Mitchell and I knew that she would put on a good show. It came down to who was playing harder and could execute their game plan better. Kelsey missed some FTs toward the end but it was still a great game. I credit my teammates for finding me in good spots on the court.
In the 2018 Final 4 you scored 18 PTS in a 10-PT OT loss to Mississippi State: how close did you come to winning the game, and how unstoppable was 6'7" Teaira McCowan (21 PTS/Final 4-record 25 REB)? We were 1 possession away from making the title game. Their whole team was unbelievable but McCowan was a monster: even if we had a body on her and were boxing her out she still found a way to get the ball. She just did what she does all the time: that is what big-time players do.
You are a 2-time All-American and the 2018 ACC POY: what did it mean to you to receive such outstanding honors? It means a lot: anytime you win an award while doing something you love it makes you feel good. It shows that my hard work is paying off: you remember why you are getting up at 5AM to prepare and making so many sacrifices.
Your younger brother TJ is 1 of your team managers: what kind of relationship do you 2 have? We are very close: he is like my best friend. We are only 14 months apart so we have been side-by-side all the time: we always went to the same school  as kids so I am used to it…but I will never take it for granted. Some of my teammates never get to see their own brothers so I am very thankful for mine.
You have several relatives who served in the military: what impact has their service had on you (if any)? A lot. Anytime you have someone fighting for your country you realize all of the hard work that it takes. My aunt/grandfather are the 2 that stand out: I thank them all the time and it shows me that you can be brave even when things get shaky.
What are your goals for the upcoming season, and are we going to see you spending your 22nd birthday at the Final 4 in Tampa? That is my goal and the team's goal. I came here to win a championship so I do not care how well I play this year: it is team-1st not me-1st. As a captain, the coach will look to put the ball in my hands when the game gets close and I am ready for whatever comes my way. We have been working/training hard and we are striving for a title.