CLICK HERE for all of Jon Teitel's Season Previews and Interviews
We continue our season preview coverage with new Middle Tennessee head coach Nick McDevitt. I do not know if it is harder to start a new job or have a new addition to your family but I assume that it cannot be easy to do them both simultaneously. Coach McDevitt had quite an eventful March: a 5-PT home loss to Liberty in the Big South tourney with UNC Asheville, a 2-OT road loss at USC in the NIT, the birth of his daughter Kathryn, and 1 day later the birth of his new career as head coach at Middle Tennessee. He has big shoes to fill after Kermit Davis won 332 games in 16 years in Murfreesboro before taking over at Mississippi last spring, but with 3 straight postseason appearances under his belt he will do his best to make it 4 in a row. HoopsHD's Jon Teitel got to chat with Coach McDevitt about his new job and his new team.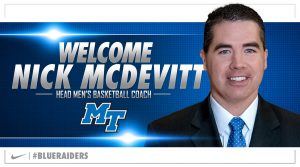 You were a player/assistant to Eddie Biedenbach at UNC Asheville: what made him such a good coach, and what was the most important thing that you ever learned from him? He was very good at understanding young people and was involved in college athletics for 4 decades. To adapt to the game, the rule changes, and how young people have changed over that stretch was great. He got his kids to play hard and I learned a lot from him.
In the 2016 NCAA tourney as head coach at Asheville you lost to Villanova: what is it like to face Coach Jay Wright in March? It is fun to watch him on film…but not quite as fun to face him in person because his teams are very well-schooled. They were 1 of the better passing teams that I have ever seen. They are talented and do things the right way thanks to his leadership. They run a great program and he does a phenomenal job.
In 2017 you were named conference COY: what did it mean to you to receive such an outstanding honor? It just speaks to the help that I had around me from both assistant coaches/players. Anybody who runs a team/business will only be successful if they have talented people around them. Everyone was all-in and it was great for all of us to get that recognition.
In the 2018 NIT Jonathan Baehre set a bunch of career-highs with 28 PTS/14 REB/5 BLK in a 5-PT/2-OT loss at USC: how much do you think Brad Brownell is going to enjoy his new Clemson transfer? Jon is a very talented young man: his best basketball is still in front of him as he is just scratching the surface of how good he can be. Coach Brownell is a good friend of mine and I know that he will get the most out of Jon.
Last March you were hired to be the new head coach at Middle Tennessee: how difficult was the decision to walk away from your alma mater after spending the past 2 decades there, and how is it going so far in Murfreesboro as you try to balance a new job with your new daughter? There were a lot of things that my family and I really enjoyed about Asheville. It is a great place to raise a family and has a great university so if we were to leave we needed to be running toward something since we had nothing to run from. When the new opportunity came about I was fortunate enough to get the job the day after our daughter was born. Being in a new state and coaching a new team with a new addition to our family is a lot, but we are very fortunate to be here and are loving it so far. At times you feel like you are drinking out of a firehose but things are good.
It took you 3 years to make the postseason with the Bulldogs, which you did during each of the past 3 years: what is the key to building a successful program in only a few years? You need to establish an identity of who you want to be day in and day out. You have to lean on your core values to guide your program whether things are going well or not (both on and off the court). We will not win every game so you have to manage the highs and lows. If my players are hurt or have to redshirt or struggle with a class that is not clicking for you, I tell them to remain grounded so they can handle being a young student-athlete. It does not happen overnight so it is key to establish what you care about early and then stay true to that.
The Blue Raiders lost each of their top-3 scorers from last year (Nick King/Giddy Potts/Brandon Walters): does that make your job that much harder or have you already found some new leaders for this season? Any time you lose 3 players of that caliber (including a 3rd-team All-American in Nick) that is a lot of production that you do not have going forward so we will just try to continue to build the program. Ed Simpson also did a lot for this program as a leader and they will all be difficult to replace. Everyone needs to step up as they take on new roles: we have 12 scholarship players and only 3 have ever played a game here. 7 are newcomers and 2 were redshirts so during the early part of the year we will be trying to figure out a rotation while the new players try to figure out what it takes to play at this level.
Last year's team was top-20 in the nation by allowing only 31.4 3P%: how crucial is that going to be to your own defensive philosophy? Very much so. It was a key factor for them last year and I think we led the league in that stat as well as Asheville a few years ago. Many teams use the 3-PT shot as a weapon and not just with their guards: there are even some stretch-5s shooting from out there! You have to be able to defend the 3-PT line so it is important.
Your non-conference schedule includes games against Virginia/Vanderbilt/Mississippi: which of these games do you feel will present your biggest test? If you look at the preseason prognostications you have to say that Virginia will be a tall task. Anytime you play Tony Bennett's group you know that you will have to be great because he has done a fantastic job there.
What are your goals for the upcoming season, and what are your expectations for the upcoming season? Our goal is no different than any other year: get the most out of what we are capable of doing. 3 things that we mention all the time are toughness/effort/attitude: we stress that we should try to control those things and just let everything else play out. We might play really well against Virginia in the Bahamas but still lose because they are a good team too!