CLICK HERE for all of Jon Teitel's Season Previews and Interviews
We continue our season preview coverage with St. Mary's SG Tanner Krebs. 2 things that we know for certain: Germans like David Hasselhoff and Australian basketball players like St. Mary's. Tanner is 1 of 5 Aussies on the current roster along with Jordan Hunter/Jock Perry/Kyle Clark/Alex Mudronja. Coach Randy Bennett even has a couple of New Zealanders and a 7'3″ center from England! HoopsHD's Jon Teitel got to chat with Tanner about the Gaels' popularity Down Under and being a great FT shooter.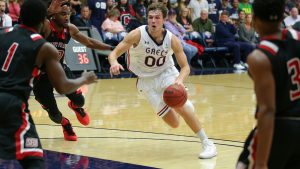 You were born in Australia: how did you 1st get into basketball, and why does every single kid in Australia end up coming to St. Mary's?! My dad played in the NBL (the top basketball league in Australia/New Zealand) so it has been in my blood ever since I was young but only recently has the sport really taken off there. The pipeline to St. Mary's started early and the success of Patty Mills/Matthew Dellavedova has made all of us want to come play here.
You play for Coach Randy Bennett: what makes him such a good coach, and what is the most important thing that you have learned from him? We have such a well-balanced team thanks to him. Everyone touches the ball on every possession and we have great teamwork. He has taught me the importance of being a good leader both on and off the floor.
In the 2017 NCAA tourney you scored 12 PTS/3-5 3PM off the bench in a 9-PT loss to Arizona: how close did you come to pulling off the upset? We were winning for the majority of the game until Allonzo Trier/Lauri Markkanen made some big shots down the stretch. We were very disappointed to lose because we felt that we had the better team.
In the 2018 NIT quarterfinals you had 10 PTS/10 REB in a 9-PT OT loss to Utah: what did you learn from that game that will help you this year? I learned that I can step up and play against Pac-12 teams in a pressure game where it is win or go home. I felt that I had a solid performance, which gives me a lot of confidence going into this season.
You are a career 84.4% FT shooter: what is the secret to making FTs? My secret is just having the same routine every time, even in practice. When you shoot it the same way every day it becomes very simple over time.
Your non-conference schedule includes games against Cal/LSU/1 of ASU or Mississippi State: which of these games do you feel will present your biggest test? All of them will be very tough games but I am looking forward to the LSU game out East. They are a highly-rated team with some big-time recruits.
You lost 3 of your top-4 scorers from last year (Jock Landale/Calvin Hermanson/Emmett Naar): how will you try to replace all of that offense? They have been key guys for us during the past 3 years so they are huge losses, but the guys who have not had as much of a chance to play in the past are really excited because now it is our team. I do not think we will have a problem filling those spots.
1 of the new guys on the roster is Aaron Menzies (a 7'3" transfer from Seattle): how is he looking so far? He is looking really good. He is a big human being and is in shape. His game has become very versatile so he will play a huge role for us.
Your father Dan played pro basketball in Australia/Iceland: who is the best athlete in the family? Me, without a doubt! He would disagree though.
What are your goals for the upcoming season, and what are your expectations for the upcoming season? As a team we are trying to win our league/conference tourney, which will be a huge challenge, but we have the manpower to do it. There is no point in selling yourself short: we want to win a national championship.