CLICK HERE for all of Jon Teitel's Season Previews and Interviews
We continue our season preview coverage with Penn State F Lamar Stevens. 2 of last spring's postseason MVPs have left college basketball (NCAA tourney MOP Donte DiVincenzo from Villanova was a 1st round pick of the Milwaukee Bucks and CIT MVP Andre Spight from Northern Colorado is playing pro basketball in Europe) but 2 decided to stick around (CBI MVP Roosevelt Smart is still at North Texas and Stevens remains in State College). The Nittany Lions have not made the NCAA tourney since 2011 but with a stacked frontcourt this just might be the year that they break the streak. HoopsHD's Jon Teitel got to chat with Lamar about a sad Selection Sunday but a powerful postseason performance.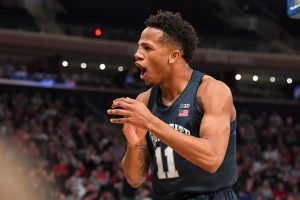 You grew up in Pennsylvania: what made you choose Penn State? Just the coaching staff: I had so much faith in them and their ability to develop the team. I had other offers but wanted to blaze my own path rather than go somewhere that already has a lot of history.
You play for Coach Pat Chambers: what makes him such a good coach, and what is the most important thing that you ever learned from him? His ability to get the best out of all of his players. He can relate to players from different backgrounds and brings the fire out of us. He holds everyone accountable, which is huge for a coach, and he expects the most out of us. The thing I learned is that every detail matters: you cannot take anything for granted.
In February 2017 you scored 26 PTS in 42 minutes during an 8-PT 3-OT loss at Indiana: how exhausted were you by the end of that game? It was a hard-fought battle. I was a little tired but our strength and conditioning coach has prepared us well.
You started 33 games as a freshman and averaged 12.7 PPG: how were you able to come in and contribute right from the start? I took a lot of pride in preparing my body/game during the offseason. I look back and wish I could have done more but it was a good learning experience.
After an 8-PT loss to Purdue in last year's Big 10 tourney semifinals your record stood at 21-13: how hard was it to sit through Selection Sunday, and what was your reaction after your team's name did not get called? It was difficult because we all believed that we could have made an impact in the NCAA tourney, but we just looked at the NIT as a chance to prove ourselves. We were hungry/excited to keep playing.
In the 2018 NIT title game you scored a game-high 28 PTS/11-15 FG win over Utah en route to being named NIT MVP: how were you able to play your best when it mattered the most, and what did it mean to you to win a title? My coaches/teammates believed in me, which pushed me to play so well. IT meant everything because it is hard to win a championship. To go out on top was great.
Your team was top-10 in the nation in STL/BLK: how much importance does your team place on defense? That is our staple and something that Coach continuously talks about: defending and rebounding. Our best defenders bring the best out of all of us.
Your non-conference schedule includes games against DePaul/Virginia Tech/NC State: which of these games do you feel will present your biggest test? I think our biggest test will just be our 1st game since we have so many young guys on the team. Each game will be a test but we will take it 1 game at a time.
You lost a pair of great guards from last year in Tony Carr/Shep Garner but have fantastic frontcourt depth including yourself/Mike Watkins/John Harrar: how is the backcourt looking at the moment? It is looking really good. Freshman Rasir Bolton has stepped up big-time throughout the summer and he is ready to play at this level right now. We have some other freshmen as well who can score at a high level so I am excited to see them shock a lot of people.
What are your goals for the upcoming season, and what are your expectations for the upcoming season? Our goal is to just win every day, be the best team we can be, and get 1% better each day. I do not know exactly where it will lead us but the sky is the limit.