CLICK HERE for all of Jon Teitel's Season Previews and Interviews
We continue our season preview coverage with Penn State head coach Pat Chambers. When you play/work for a Hall of Fame coach like Herb Magee at Philadelphia University and then work for 2-time NCAA championship coach Jay Wright at Villanova, you learn what it takes to succeed as a coach. Coach Chambers made the NCAA tourney in his 2nd year at head coach at BU in 2011, then after 6 years of hard work in State College it was lucky year #7 that resulted in a 26-win season and an NIT title game victory over Utah. HoopsHD's Jon Teitel got to chat with Coach Chambers about winning a title and having an experienced coaching staff.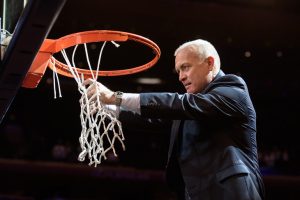 You were a player/assistant for Hall of Fame coach Herb Magee at Philadelphia University: what makes him such a great coach, and what was the most important thing that you ever learned from him? He is 1 of a kind and an offensive genius. Even if the other team knew where the ball was going, he would get our guys a good shot at the basket. My teammates and I had a great relationship with him. We did more 5-on-5 drills than I ever recall doing with another coach: he let his guys play and then coached them up.
You made the 2009 Final 4 as an assistant to Coach Jay Wright at Villanova (who has won 2 NCAA titles in the past 3 years): are we going to see the Wildcats on your schedule anytime soon? Hopefully in the NCAA tourney! Or maybe in the Gavitt Games if we continue to show improvement.
As head coach at BU in 2011 you were 10-13 entering February: how did you flip the switch to win 11 in a row (including the America East title game by 2 PTS in OT), and how did you enjoy facing the Morris twins of Kansas in the NCAA tourney? My memories of BU are incredible: I cherish those times and it really shaped me as a coach. We had a very difficult non-conference schedule but after getting punished on the road 1 night that season (a 60-48 loss at New Hampshire on 1/29) we resolved to never let it happen again. The guys believed in the game plan vs. Kansas and we were right there with them into the 2nd half. The Morris twins were great: I had recruited them to Villanova so it was a lot of fun to see them again.
Last January at Ohio State Keita Bates-Diop made a deep 3-PT shot with 5 seconds left to to tie the game, then Tony Carr banked in a shot at the buzzer to beat the Buckeyes: did you think Tony's shot was going in, and where does that rank among the most exciting finishes that you have ever seen? It is up there: Scottie Reynolds hit a last-second shot to beat Pitt and help get us to the Final 4 in 2009 when I was at Villanova. We were also losing the 2011 America East tourney title game until the very end when John Holland made some big shots. I wanted a timeout after Keita's shot and was wondering what on earth I would say in the huddle. That win in Columbus propelled us to new heights.
In the 2018 NIT title game you beat Utah to win the title: what did it mean to you to win a title, and what do you think your team learned from its postseason run that will help them this year? We beat a very tough Temple team at home and then won road games at Notre Dame/Marquette. Beating Mississippi State in the semifinals was a huge step because it taught us how to win. We wanted to be in the NCAA tourney but we showed that we deserved to be there. The NIT was a steppingstone and a great experience for our team: I take great pride in winning championships.
Your team was top-10 in the nation in STL/BLK: how much importance do you place on defense? That is our foundation: if you come to our practices you will see that is exactly what we are built upon. I do not think that our staff got enough credit for what we did but defending/rebounding is who we are. We bring back a lot of great shot-blockers this year (including Mike Watkins' 2.3 BPG) so I like the cornerstones that we have.
You have a great set of assistant coaches including Kevin Freeman (UConn's all-time leader with 140 games played) and Jim Ferry (2011 conference COY at LIU): do you find yourself leaning on different assistants for different things based on whether they were a successful player vs. a successful coach? They all have their own strengths. I put this group together over the past 2 years to help make me a better coach. Keith Urgo is my go-to guy who worked with me at Villanova and has been a staple for us. Jim is someone I can lean on to help me through some of the tough times due to his 30 years of coaching experience/wisdom. He is also an offensive genius: our spacing has gotten better and we are sharing the ball more. Knowing Kevin's background as a champion was huge: I wanted a winner and someone who can coach big men and develop them.
Your non-conference schedule includes games against DePaul/Virginia Tech/NC State: which of these games do you feel will present your biggest test? North Florida…because we open up with them. I know what I will get from the 3-5 guys who produced for me last year but I need to see what we can get from our freshmen. I am excited about the potential lineups we will be able to play but I put together a very difficult non-conference schedule because we want to take the next step.
You lost a pair of great guards from last year in Carr/Shep Garner but have great frontcourt depth including Lamar Stevens/Mike Watkins/John Harrar: how is the backcourt looking at the moment? It is looking terrific. You will like this kid Jamari Wheeler because he makes everyone around him better and distracts his opponent on defense. I love all of our freshmen: they have bought in both on and off the floor and are coachable so I just need to see who will start because they are all capable of doing so.
What are your goals for the upcoming season, and what are your expectations for the upcoming season? When I 1st got here I would answer that question by saying we want to win 20 games and make the NCAA tourney…which has only led to me getting a stomach ache, so now I just want to get 1% better every day and take it 1 day at a time. It is a totally new team so we just need to have faith because we want to take the next step.