CLICK HERE for all of Jon Teitel's Season Previews and Interviews
We continue our season preview coverage with new UNC Asheville head coach Mike Morrell. 15 years ago he was leading his college team in FT%, 5 years ago he was working for Shaka Smart as a VCU assistant during the NCAA tourney, 6 months ago he was working for Smart as a Texas assistant during the NCAA tourney…and now he is running the show in Asheville. The only downside: the Bulldogs lost each of their top-7 scorers from last year's team. HoopsHD's Jon Teitel got to chat with Coach Morrell about how to succeed on the golf course as well as on the recruiting trail.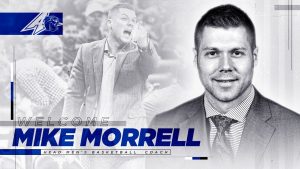 You played basketball/golf in college: which sport were you best at and which 1 did you enjoy the most? I was better at basketball but was also a decent golfer because I grew up working at a golf course. I can assure you that I enjoy playing golf more now even though I do not have much time to golf. I used to be a golf coach at King University in Bristol, TN…which just meant that I drove the van! Your life changes when you join a Power 5 school and I have only played golf about 3 times since coming here: I miss it a lot.
You led the basketball team in FT% multiple times: what is the secret to making FTs? You just have to be a good shooter! People used to ask Coach Oliver Purnell about it when I worked for him at Clemson: he said that he just needed to recruit some better FT shooters.
You spent the past 7 years as an assistant to Coach Shaka Smart at VCU/Texas: what makes him such a great coach, and what is the most important thing that you have ever learned from him? I cannot pinpoint any 1 specific thing but he has the innate ability to infuse his players/staff with a tremendous amount of confidence. He gets kids to believe in themselves more than they even thought possible. He is the best that I have ever been around at having kids literally believe that they were the best version of themselves. I worked with him at Clemson too so I have known him for about 15 years: he always challenged me to not put as much pressure on myself. He does a great job of looking at everything holistically and trying to see the good no matter what the situation is.
In 2015 you were named the top recruiter in the country under age 35: what is the key to recruiting? Just work. People put too much insight into it: the better recruiters spend more time at recruiting because it is more important to them. I have always enjoyed it, as did the head coach I worked for, so we were able to recruit some really good players. Recruiting is the lifeblood of your program.
In April you were named head coach at Asheville: why did you take the job, and how is it going so far? It was a great opportunity at a great place that has had a lot of success built on the backs of many good coaches including Nick McDevitt/Eddie Biedenbach. I grew up about 1 hour away from here so I am very familiar with the area. When I interviewed here I saw that it was a tremendous place with great support: we do not have football so basketball is very important here.  It is not the "stepchild" like it is at other schools so it is important that we are good.
You lost each of your top-7 scorers from last year's team: where are you going to find some offense? If I knew that then I would be probably be making a lot more money playing poker! We are very young but will have 8 guys out there who have never played college basketball before. We only have 2 guys who even played in a game at Asheville last year so it goes deeper. We have really good young players who I am excited about but there is a maturation process so I am glad we do not play our season opener tomorrow.
Your non-conference schedule includes games against NC State/Auburn/Vanderbilt: which of these games do you feel will present your biggest test? All of them! Schools at our level have to go out and play those kinds of games: it is a great opportunity for our guys to go to a great venue and play some good teams. We will approach it the way that we approach every game and just try to control the things that we can control.
Your assistant coach Kyle Perry was head coach at South Carolina Upstate and a 4-time member of the All-Academic team as a walk-on for Bobby Cremins at Georgia Tech: how nice is it to have a former head coach on your staff, and how smart is he?! He is a smart guy and a tremendous member of our staff: I hired him because I have known him for a long time. He has a wealth of experience at this level and know what it takes to succeed. However, it is not like I give him tests every other day: I just try to hire bright/motivated people.
What are your goals for the upcoming season, and what are your expectations for the upcoming season? Just to move forward and get better every day. It is not about being result-oriented early on since we have 6 true freshmen and 2 redshirt freshmen. We also have 2 transfers sitting out this year who I am excited about so the future is bright. I am only holding them accountable to what they can control, which will enable us to grow up quicker.