CLICK HERE for all of Jon Teitel's Season Previews and Interviews
We continue our season preview coverage with new San Jose State assistant coach Julius Hodge. If it takes 1 to know 1 then Coach Hodge knows what it takes to be a great college basketball player because he was 1: leading freshman scorer in the ACC in 2002, 1st-team All-ACC in 2003, and a game-winning shot against UConn in the 2005 NCAA tourney. After finishing his college career he was a 1st round pick of the Nuggets, then spent the next decade playing pro basketball in the US and overseas. HoopsHD's Jon Teitel got to chat with Coach Hodge about being an All-American and starting his new job.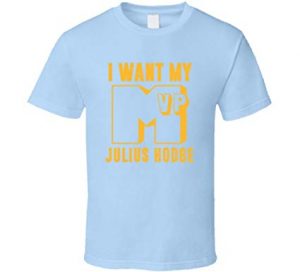 You were named after Julius Erving: was your family just huge Dr. J fans, and have you ever had the chance to meet him? My brother was a huge fan and he was the 1 who named me. I have met Dr. J numerous times but never mentioned that he is the  reason behind my name.
In the 2001 McDonald's All-American Game you scored 17 PTS for the East in a 6-PT loss to the West: which of your fellow honorees impressed you the most (Tyson Chandler/TJ Ford/David Lee/other)? I was most impressed by Mo Williams. Even before that game I had played against him during the AAU season. He could really shoot/pass and was a vocal leader: I knew that he would end up being a really good player.
You grew up in Harlem and went to high school in the Bronx: what made you choose NC State? Ironically I grew up as a Syracuse fan but once I got to campus in Raleigh and met the staff/players I just had a feeling that this was the place I wanted to be.
In December of 2002 you had the 1st triple-double in Wolfpack history (11 PTS/12 REB/10 AST in a win over North Carolina A&T): where does that rank among the best all-around games of your career? It was actually the 2nd triple-double in school history: Tynesha Lewis had 1 the year before me. It definitely ranks high on my list but some of our ACC tourney/NCAA tourney wins rank a little higher.
In 2004 you were named ACC POY/All-American: what did it mean to you to receive such outstanding honors? At the time I did not think much of it: I felt I was the best player on the conference even before I won those awards. However, I knew that it would set a great precedent for our school so I was very honored.
In the 2005 NCAA tourney you scored a team-high 17 PTS including the game-winning 3-PT play with 4.3 seconds left in a 3-PT upset of #2-seed/defending champ UConn: where does that play rank among the highlights of your career, and was it extra-special after Caron Butler scored a career-high 34 PTS against you in a 3-PT win by UConn in the 2002 NCAA tourney? Thanks for bringing up the game where Caron torched me! The win over UConn was very special, both as a redemption game and as a great moment for our university. We had battled for a long time and it was huge to beat the defending champs.
You spent the past 2 years working for your college coach (Herb Sendek) at Santa Clara, and last April you decided to join new head coach Jean Prioleau at San Jose State: why did you take the job, and how is it going so far? After speaking with Coach Sendek I felt this would be a great situation for me to move up the career ladder. It has been a great experience so far. We have 8 newcomers and they are all going through the learning process, but I think we can surprise a lot of people.
Your non-conference schedule includes games against Stanford/Cal/St. Mary's: which of these games do you feel will present your biggest test? We like to take it 1 game at a time so the team that is next on our schedule is the most important game of the year for us.
What are your goals for the upcoming season, and what are your expectations for the upcoming season? What works best for us is having small goals that we can reach every day. If we continue to improve every day in practice and the guys buy in, then we will be very happy with wherever we stand.