CLICK HERE for all of Jon Teitel's Season Previews and Interviews
We continue our season preview coverage with Incarnate Word assistant coach Darnell Archey. Coach Archey was hired by new Cardinals coach Carson Cunningham because he brings a lot to the table, but 2 things that he excels at are making FTs and making the NCAA tourney. As a player at Butler he went to 3 NCAA tourneys, made 85 FTs in a row to set an NCAA record, and finished his career as a 95.1% FT shooter. As Coordinator of Basketball Operations at his alma mater under Coach Brad Stevens, he helped the Bulldogs make back-to-back NCAA title games in 2010/2011. HoopsHD's Jon Teitel got to chat with Coach Archey about making FTs and starting a new job.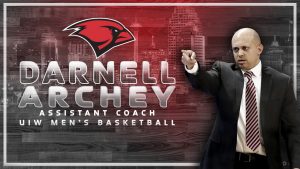 You played for a 3 different head coaches during your 1st 3 years at Butler: what was the hardest part of that constant transition, and how will you use that experience in your new role on the staff this year at Incarnate Word? The 1 thing that was unique is that they were all part of the program and just kept getting bumped up from assistant coach to head coach so it was a relatively smooth transition, which is why Butler has had so much success after the past 25 years. Barry Collier was business-like, Thad Matta was a players' coach, and Todd Lickliter was in-between. This year might be different due to some new terminology so I will try to be patient.
In the 2000 NCAA tourney you had 3 REB but Mike Miller made a runner at the buzzer in a 1-PT win by Florida: where does that rank among the most devastating losses of your career? Probably the 3rd-worst as a player. My senior year of high school was #2 because it ended my high school career. I was just a young dumb freshman at the time but I realized the opportunity we had as a #12-seed. It is rough looking back now.
In the 2003 NCAA tourney you scored 8 PTS and Brandon Miller made a runner in the lane with 6.2 seconds left in a 1-PT win over Mississippi State: did you think that his shot was going in, and have you met any other people named Miller who have had an impact on your life?! I do remember the play: I thought that he was going to pass it to me but I am glad he did not! I had seen Brandon make that shot hundreds of times in practice so I just sprinted back on defense. As far as other Millers, Brandon's dad was a coach and I always looked up to Reggie.
You set a D-1 record by making 85 consecutive FTs from 2001-2003 and were a career 95.1 FT% shooter: what made you 1 of the greatest FT shooters in college basketball history? Obviously practice: there is no magic formula. I had the same routine: dribble the ball 3 times, take a breath, and let it go. I remember my high school coach would have me make 20 FTs in a row otherwise the whole team would have to run, so it really had an impact on me of making so many in a row.
You finished your career as Butler's all-time leader with 217 3PM, were a career 44.3 3P% shooter, and won the 3-PT Championship at the 2003 Final 4: what is the key to making shots from behind the arc? A lot of repetition at game speed. A lot of kids today have a machine that feeds them the ball, but I had a dad who would go to the gym and get on me. After we came home for dinner my mom could tell if I had a good or bad day based on whether I had tears in my eyes, so I give the credit to my dad.
You spent 4 years as Coordinator of Basketball Operations at your alma mater under Coach Brad Stevens: what makes Brad such a great coach, and what was the most important thing that you ever learned from him? The 2 words that I think of the most are communication and accountability. He can communicate with players 1-12 and make every single person on the team feel important. I just set up travel and things like that but even myself and walk-on players felt like we were part of the championship game run.
In April you were hired to be an assistant to Coach Carson Cunningham: why did you take the job, and how is it going so far? It was a rough patch of our lives after getting fired from South Alabama but we got through it. I wanted to stay in college basketball but have known Carson for a long time due to our fellow Indiana roots. He has been successful at multiple places and I want to grow so I am willing to learn a different way of thinking/coaching. I came to San Antonio for the Final 4 and enjoyed the area so it was a no-brainer.
You only have 1 senior on the roster: how goes the search for some leadership? The 1 senior is Charles Brown: he has only been here 2 years but has done a phenomenal job. We are very young: we have 7-8 freshman so leadership will be key. Coach Cunningham will establish the culture: it will be tough at 1st but Charles will help us compete in the Southland Conference.
Your non-conference schedule includes games against Texas Tech/LSU/DePaul: which of these games do you feel will present your biggest test? I have played against Texas Tech coach Chris Beard multiple times in the past. His guys are so physical and are willing to pass/guard so it will be very eye-opening for our young team. Going to Baton Rouge and facing their 4-star/5-star recruits will also be very difficult.
What are your goals for the upcoming season, and what are your expectations for the upcoming season? We want to improve daily. Some people look at the big picture like winning championships but we just want to get to the conference tourney in Katy as 1 of the top-8…and then you never know what can happen!