CLICK HERE for all of Jon Teitel's Season Previews and Interviews
We continue our season preview coverage with Dayton head coach Anthony Grant. Some coaches try to build their resume by moving around every couple of years from 1 head coach to another as an assistant, but Coach Grant worked his way up the ladder by learning from 1 of the best college coaches this century. When Billy Donovan was hired as head coach at Marshall in 1994 at age 28 (making him the youngest D-1 head coach in the nation), he hired an even younger Grant to become 1 of his assistants. After 2 winning seasons in Huntington, the duo headed south to Gainesville where they lost the NCAA title game to Michigan State in 2000 and won the NCAA title game over UCLA in 2006. Coach Grant spent almost a decade as the head man at VCU/Alabama, then returned to work for his old boss in a new place for 2 years after Donovan was hired as the head coach of the Oklahoma City Thunder in 2015. Coach Grant returned to his alma mater last year as head coach and is preparing to begin year #2 with an experienced staff but a young roster. HoopsHD's Jon Teitel got to chat with Coach Grant about winning the title in 2006 and working with a pair of MVPs in OKC.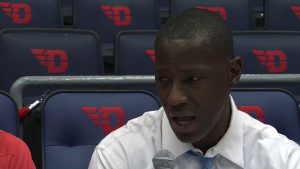 In the 1985 NCAA tourney as a player at Dayton you had 8 REB in a 2-PT loss to eventual national champion Villanova: how much of a home-court advantage did you have at University of Dayton Arena, and how surprised were you to see Wildcats win the title a couple of weeks later by beating a Georgetown team who you had faced in the tourney the previous year? All I remember about the game is that we did not win. Our fan base is 1 of the best in the country and we felt that every single night. Villanova just made some plays on both ends of the court during the last couple of possessions. To see them win it all just shows how the tournament goes: matchups, luck, talent, etc. They were well-deserving.
In the 1987 USBL championship game for the Miami Tropics, you had a 4-PT win over the Rhode Island Gulls: what was it like to have playoff MVP World B. Free as a teammate? It was a great experience to win the title. We had some other great players like Mario Elie who later won a pair of championships with Houston. I had World's poster on my wall as a kid so to play with him was a lot of fun.
In the 2006 NCAA tourney title game as an assistant to Billy Donovan at Florida you beat UCLA to win the title: what did it mean to you to win a title, and do you have any regrets about becoming head coach at VCU rather than sticking around for the 2007 title? It was an unbelievable experience to win that title: that is the goal of every competitor. What stood out to me were the guys who laid the foundation for that to happen (like Udonis Haslem) when it was not fashionable to think that Florida could get it done. I have no regrets at all: I had a great 10-year run before taking over at VCU and was fortunate enough to see the Gators cut down the nets in Atlanta in 2007.
In the 2007 NCAA tourney as coach at VCU, Eric Maynor scored 22 PTS including a 15-foot jumper with 1.8 seconds left in a 2-PT upset of Duke: did you think that his shot was going in, and where does beating Coack K in March rank among the highlights of your head coaching career? It was certainly a big shot: I felt it had a chance when he let it go and I felt good about where we were at that moment. To win a game of that magnitude and see the excitement on the faces of our guys is where my mind went.
You rejoined Donovan as his assistant with the Oklahoma City Thunder in 2015: how much fun was it to be part of a team with superstars like Kevin Durant/Russell Westbrook? It was a great experience for 2 years. Reconnecting with my dear friend Billy and being in the NBA among the greatest players/basketball minds in the world was tremendous.
In 2017 you were hired as head coach at Dayton: what was the best part of year #1, and what was the not-best part? The best part is being the head coach at my alma mater. I played here, earned my degree, and established great relationships. The 1st time that I walked out of the tunnel was a surreal feeling. The worst part was not having more success, but that is part of the process.
Your non-conference schedule includes games against Butler/Virginia/Mississippi State/Auburn: which of these games do you feel will present your biggest test? Our next practice is our biggest test because that is all that we can control.
You only have 2 seniors on the roster: what kind of leadership are you expecting out of Josh Cunningham/Jack Westerfield? Both of them have been in the program for a while and are familiar with the history of the school. We have a few other veterans like Ryan Mikesell/Trey Landers and some freshmen who have a chance to play right away if they can take advantage.
As someone who has been coaching for 3 decades, how comforting is it to have such an experienced/accomplished staff including assistant coaches Donnie Jones (2 NCAA titles as an assistant to Donovan at Florida)/Anthony Solomon (1984 Final 4 as a player at Virginia)/Ricardo Greer (2-time All-Big East player at Pitt)? I am certainly excited about the staff that we have been able to put together. When you look at their past successes I fell honored to have them here with me as a part of what we are trying to do.
What are your goals for the upcoming season, and what are your expectations for the upcoming season? The goal never changes: compete for championships and qualify for the NCAA tourney. That is what we are working toward.