CLICK HERE for all of Jon Teitel's Season Previews and Interviews
We continue our season preview coverage with Utah Valley assistant coach Chris Burgess. The Wolverines coaching staff is based on having great coaching pedigrees: head coach Mark Pope won an NCAA title under Rick Pitino at Kentucky, assistant coach Cody Fueger was a video coordinator/student assistant/manager for Rick Majerus at Utah, and Coach Burgess made the NCAA title game as a player for Mike Krzyzewski at Duke. HoopsHD's Jon Teitel got to chat with Coach Burgess about being a McDonald's All-American and playing for Coach K.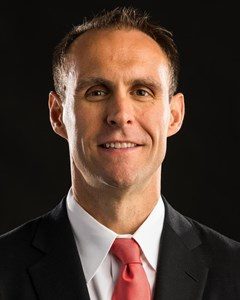 In the 1997 McDonald's All-American Game you played for the West in a loss to the East: which of your fellow honorees impressed you the most (Elton Brand/Baron Davis/Lamar Odom/other)? I grew up playing with/against Baron since 5th grade so I already knew how good he was even when he only stood 4'2"! I would say Brand because of how strong he was in the low post. He had unbelievable touch to go along with his wide body: he would just shoot tear-drops over you. I remember going against him at Duke and he would kick my butt: it was a gift to play against a future #1 overall pick…but a curse because I had to play behind him.
You decided to go to college at Duke, which caused BYU coach Roger Reid to allegedly accuse you of letting down your religion as a member of the Church of Jesus Christ of Latter-Day Saints: how did those comments make you feel, and what role does religion play in your life? The comments did not bother me for as much attention they got at the time. BYU is a wonderful university but I did not understand everything as a 16-year old kid. I loved being recruited by Coach Reid but my dream schools while growing up in Southern California were Duke/UCLA. The backlash/notoriety was unfortunate and I wish it had not happened, but it was just the way it was. I am a full Temple-worthy/tithe-paying Mormon and my wife and I are raising 5 wonderful kids in the Mormon faith.
In the 1999 NCAA tourney title game you played 7 minutes in a 3-PT loss to UConn: how close did you come to winning a title, and where does that rank among the most devastating losses of your career? It ranks #1 and nothing else is even close. You could taste it: we had blown out everyone else, similar to what Villanova just did this past spring. UConn was good: Rip Hamilton was the best player on the court and they did an unbelievable job guarding Elton. I have never watched a replay of that game but I still remember it. We turned the ball over in the final seconds and did not get a shot.
You played for Coach Mike Krzyzewski: what makes him such a great coach, and what was the most important thing that you ever learned from him? He can relate to everybody and finds a way to cultivate a relationship with you. 18 years ago at Duke we would have never played zone or taken 1-and-done players, but he has done an amazing job of adapting. He coaches through experience, motivates his players, and prepared us for battle against every single opponent. We were fresh/hungry to play harder than our opponents: I have played for a lot of coaches but I was never more ready to go to war then at Duke.
You played pro basketball in several countries for more than a decade: what is the biggest difference between basketball in the US vs. basketball overseas? The way they move the ball better overseas. They will have several guys in double-figures with a leading scorer around 15 PPG rather than just having 1 big 20-30 PPG scorer. The Jazz/Spurs are similar to that: the ball does not stick and there is less isolation. When I am recruiting I love European players because their only agenda is to win. It starts with social media and personal drills: European guys just want to get onto the court and win (like Manu Ginobili/Tony Parker/etc.).
As an assistant to Coach Mark Pope in the 2018 CBI, Kenneth Ogbe scored 26 PTS/5-7 3PM in a 5-PT loss to San Francisco: what did your team learn from that game that will help them this year? It is hard to win on the road: we were 18-1 at home but only average on the road. We can only control 1/3 of what goes on (us) rather than the other 2/3 (the refs/our opponents). We need to be tougher, block out the long travel/crowd/bad calls. We have to be mentally stronger, which will give us a chance to be special.
You have a great backcourt including Conner Toolson/Jake Toolson/Brandon Averette: how is the frontcourt looking? I love our frontcourt: we have a transfer from Eastern Michigan who has had a year to learn our system. We also have a grad transfer from New Mexico (6'11" Baylee Steele) who has a bit of a chip on his shoulder. If we can have the success with them that we have had out of our other past transfers, ten they will really compliment our backcourt.
Your coaching staff held an open tryout last month: how did it go, and did you find any keepers? We actually hold it every year to see if there are any sleepers. We did not find anyone this year that we thought could help us win games but we found a couple guys who want to be managers. There are a lot of good coaches who started as managers for free, so that would be a win for us.
Your wife Lesa played soccer at Utah: who is the best athlete in the family? I am taller but she is better. She was an all-MWC defender and is still an amazing athlete. She is a CrossFit coach and could probably dominate any of our current athletes at gymnastics/lifting. She is a freak athlete and I have injured myself many times trying to keep up with her: it is ego-crushing! My daughter is also a great volleyball player.
What are your goals for the upcoming season, and what are your expectations for the upcoming season? I think our expectations are high: conference champs/NCAA tourney. That is what we say during recruiting and we mean it. We were so close last year to a dominant New Mexico State team (28-6 overall) but that is our goal: if there is anyone in our locker room who does not feel that way then we do not want them. We will go through some adversity just like every team in America and it is our job to manage that.