CLICK HERE for all of Jon Teitel's Season Previews and Interviews
We continue our season preview coverage with NC Central assistant coach Reggie Sharp. Every year the Iron Bowl is 1 of the biggest college football games in the nation, but the Alabama-Auburn rivalry extends to the basketball court as well. Coach Sharp is responsible for 1 of the most famous plays in the history of that rivalry: in 2001 he banked in a 36-footer for the Tigers at the buzzer in OT to beat the Tide. HoopsHD's Jon Teitel got to chat with Coach Sharp about making the 1st 4 last March and having 1 of the biggest junior classes in the country this season.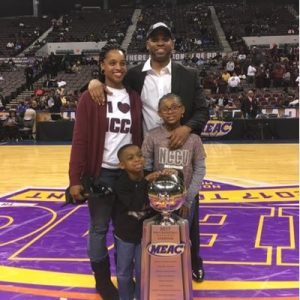 As a 1st-year player at Auburn your team started the season 25-1: did it just reach a point where you expected to win every single time that you stepped onto the court? Yes it did, which is fun! We had a really good team with a lot of guys who were returning, and the older we got the better we became.
In the 2000 NCAA tourney you had 4 REB in a 3-PT win over Creighton: how were you able to hold Kyle Korver to just 2-10 3PM, and could you have ever imagined that he would turn into 1 of the best 3-PT/FT shooters in NBA history? People do not realize how big a guy he is: he could always get a good look. Our coach was very good at taking away the other team's best player with some junk defenses. We were willing to let other people shoot that night but not him.
You were named team captain as a senior: what is the key to being a good leader? Just making sure that everyone competes every day. During the summer after my junior year I gained a lot of respect from the guys because they saw how hard I competed.
In February 2001 you took an inbound pass with 4.4 seconds left, weaved through traffic, and banked in a 36-footer at the buzzer to clinch a 3-PT OT win over Alabama at a sold-out Beard-Eaves-Memorial Coliseum, causing the fans to storm the court: did you think the shot was going in, and where does that rank among the highlights of your career? That was the best moment of my playing career for sure, especially due to the rivalry against Alabama. I practiced that shot and knew that my momentum would help: I had a good look at it and it went in.
In the 2001 NIT freshman center Kyle Davis set a postseason record with 13 BLK (including 11 in the 2nd half!) in a 2-PT win over Miami: where does that rank among the greatest defensive performances that you have ever seen? It was unbelievable. Kyle was a great athlete and is probably the best shot-blocker in our school's history.
In the 2018 1st 4 as an assistant coach at NC Central you lost to Texas Southern: what did your team learn from that game that will help them this year? If we get to the 1st 4 again that would be great, but the turnaround is so fast. You have to find a way to get off the high of winning your conference tourney and get re-focused. We were both mentally/physically tired after winning 4 games in 4 days.
You work for Coach LeVelle Moton: what makes him such a good coach, and what is the most important thing that you have learned from him? He is great at Xs and Os but what makes him really great is that he used to be a teacher. The way he conveys his message allows the team to understand a play he draws up in only a couple of minutes. We are able to cover a lot of ground thanks to the ways that he helps us interpret everything.
Your non-conference schedule includes games against Clemson/Cincinnati: which of these games do you feel will present your biggest test? Those 2 teams have a great amount of talent/size/athleticism…but LeVelle makes sure that we expect to win every game we play no matter who our opponent is.
You had 9 juniors/redshirt juniors on the roster last year: how crucial will all of that returning experience be to your team's success this season? It will be a big factor. A lot of the lineup is already in place so we just have to bring the new guys along. When you understand the system it helps practice go so much better.
What are your goals for the upcoming season, and what are your expectations for the upcoming season? The expectations are the same every year: upset some teams in non-conference play, win the conference tourney, and make the NCAA tourney.