CLICK HERE for all of Hoops HD's Preseason Coverage
We continue our season preview coverage with new USC Upstate head coach Dave Dickerson. It has already been quite an eventful year in Spartanburg, SC: the school fired head coach Kyle Perry in March after a 7-25 season, hired Coach Dickerson to replace him in April, switched conferences from the Atlantic Sun to the Big South in July, and (fortunately) avoided the wrath of Hurricane Florence in September. HoopsHD's Jon Teitel got to chat with Coach Dickerson about having Len Bias as a teammate, winning the 2002 title at his alma mater, and how the new job is going.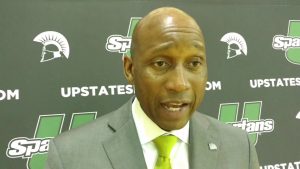 In the 1986 ACC tourney as a freshman at Maryland, Duane Ferrell stole an in-bounds pass from Keith Gatlin with 5 seconds left and made the game-winning dunk in a 2-PT win by Georgia Tech: where does that rank among the most devastating losses of your career? I have not thought about that game in 30+ years! It was one of the most difficult losses of my college playing career. We were not a good team at the start of conference play but Coach Lefty Driesell did a good job of defining our roles. Len Bias was to be our 1st option…and the 2nd option…and the 3rd option…and the 4th option: once we accepted our roles we started to play much better!
A few months later Bias died of a cocaine overdose: what was your reaction like when you heard the news, and how did his death change your life (if at all)? I was actually at the hospital that June morning and heard the news along with the rest of the team. Being a 19-year old kid from a small town in South Carolina, it was a devastating part of my life and still is. Lenny was a big part of why I chose to go Maryland. His death forced me to grow up faster than I otherwise would have. It also caused a gray cloud to hang over the university and negatively impacted many of our basketball careers at Maryland.
In 2001 as an assistant to Gary Williams at your alma mater, your team blew a 10-PT lead to Duke in the final 54 seconds of a 2-PT home loss in January, then blew a 22-PT 1st half lead and lost to the eventual champs again in the Final 4: do you think it was a matter of bad luck, or a great opponent, or the refs, or something else? When you are up by 10 PTS with 1 minute left in a game and in another game where you have a 22-PT lead, you expect to win. During that season though we were able to go on the road to Cameron Indoor Stadium and avenge the loss at Cole Field House. This was Shane Battier's last home game/Senior Night. I make no excuses for those losses but I have a lot of respect for that team because we were the first team in the history of Maryland basketball to reach a Final Four.
In the 2002 NCAA tourney title game you beat Indiana to clinch the title: what did it mean to you to win a title at your alma mater, and what was the reaction like when you got back to campus? I originally went to Maryland because I wanted to play for an ACC and a National Championship. I did not get a chance to do that as a player but as a coach I was able to fulfill my dream by winning the ACC Tournament Championship in 2004 and the National Championship in 2002.
In the spring of 2005 you were hired as head coach at Tulane a few months before Hurricane Katrina hit New Orleans: how were you able to move forward while the region tried to recover, and how is Spartanburg doing after a visit from Hurricane Florence last month? The city of Spartanburg was not affected by Hurricane Florence. Our thoughts and prayers our with our neighbors in coastal North and South Carolina. In the aftermath of Hurricane Katrina in 2005, we were able to move forward because of strong leadership at Tulane University. Athletics was able to carry the torch and be the face of the university while we were displaced at various universities in northern Louisiana and Texas for the semester.
As an assistant to Thad Matta at Ohio State you were a part of so many NCAA tourney games that went down to the final possession, both good (Aaron Craft's 3-PT shot to beat Iowa State in 2013) and bad (Brandon Knight's 15-footer by Kentucky in 2012): what makes the difference in March when the margin for error is so slim? Obviously I only remember the wins and not the difficult losses. In order to win a national championship you have to play your best basketball and be very lucky. The teams we had at Ohio State and the players we coached on those teams were a special group of young men who I will never forget.
You were hired as head coach at USC Upstate in April: why did you take the job, and how is it going so far? It was a chance for me to become a head coach again and run my own program. I was very impressed with our president (Chancellor Brendan Kelly) and his vision for the university and how athletics fit into that vision. Most importantly, it gave me a chance to return to my home state of South Carolina as a head coach. It has been 168 days and I am loving every minute of it! I have a lot of respect for our returning players who believed in me and committed to staying at Upstate when they could have chosen to leave. I am also very excited about my freshman class.
You have no juniors and 1 sophomore on the roster: I know you are focused on the season at hand but do you have any concerns about who you will turn to for leadership next season? I have no concerns about that. I have a great deal of respect for Thomas Booker (who will be a junior next year) and I see a great deal of leadership potential in my freshman class.
Your non-conference schedule includes games against South Carolina/NC State/Georgia Tech: which of these games do you feel will present your biggest test, and how do you feel about facing Frank Martin after stating last April that not joining his staff was "one of the worst mistakes" of your coaching career? When you take over a program that only won seven games the previous season, every game will present a certain level of challenges. In order for us to be a championship level program we have to be able to compete with programs like South Carolina, NC State and Georgia Tech. Every team we play in our non-conference schedule will help us to create our identity going into Big South play. I have a great deal of respect for Frank and we have a relationship that extends back to the recruitment of Steve Blake at Maryland.
What are your goals for the upcoming season, and what are your expectations for the upcoming season? I want to provide our seniors (Deion Holmes/Jure Span/Malik Moore/Pat Welch) with the best year they have had at Upstate. I also want to raise the level of our basketball program to the level of our university and put our program in position to play for (and eventually win) championships.